[Site News] A very exotic weapon given to one worthy guardian.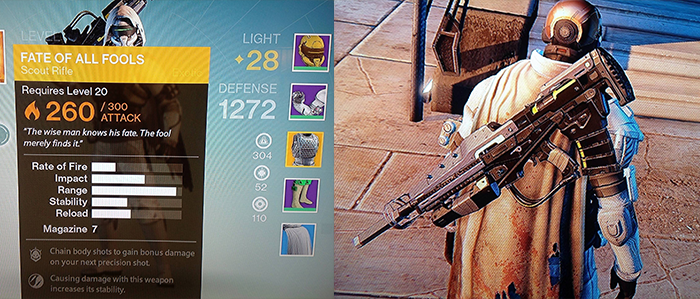 Here is the souce for this post; all credit goes to Reddit User 'BkBunny87'

Quoted directly from the users post on Reddit

''Fellow Guardians,

Yesterday I had a post talking about my husband and his Doctor recommending Destiny to serve as a form of physical therapy for him following several brain surgeries. This community was amazing, and raid groups are being organized for him out of all the people who offered to help him.

But just as amazing, Deej contacted me and has sent my husband a care package from Bungie that is on the way. Then this morning, a message from Deej told us to have my husband check the post master. Lots of screaming ensued.

He has been sent the exotic gun Fate Of All Fools, a solar primary that is currently thought to be released in the upcoming Trials of Osiris-- and if not then with the next DLC.

Vision of Confluence had been my husbands dream weapon, as scout is his favorite and he wanted that solar damage. A more perfect weapon could not have been chosen. I'm so jealous, but mostly so damn happy for him. As for him-- well, you can imagine :)

Thank you guys for being such a caring community. Thank you Deej and the crew at Bungie, you've made him ecstatic.''

My thoughts

When Halo 3 launched Bungie had an exclusive armor set known as 'Recon' slowly they gave this out to the most worthy players; and i'm glad they are carrying on this tradition.

Even though giving an in-game item is a extremely easy thing to do; it has clearly made a positive impact following these surgeries and that is what counts the most to many people.

So thank you to DeeJ over at Bungie for making a positive impact on this guardians life following the above mentioned tough time.
Another thank you to Bkbunny87 for the news.

We all wish your husband a speedy and full recovery!

LINK TO THE ITEM DATABASE

By the way; this is single and only 'The Fate Of All Fools' in the game right now!