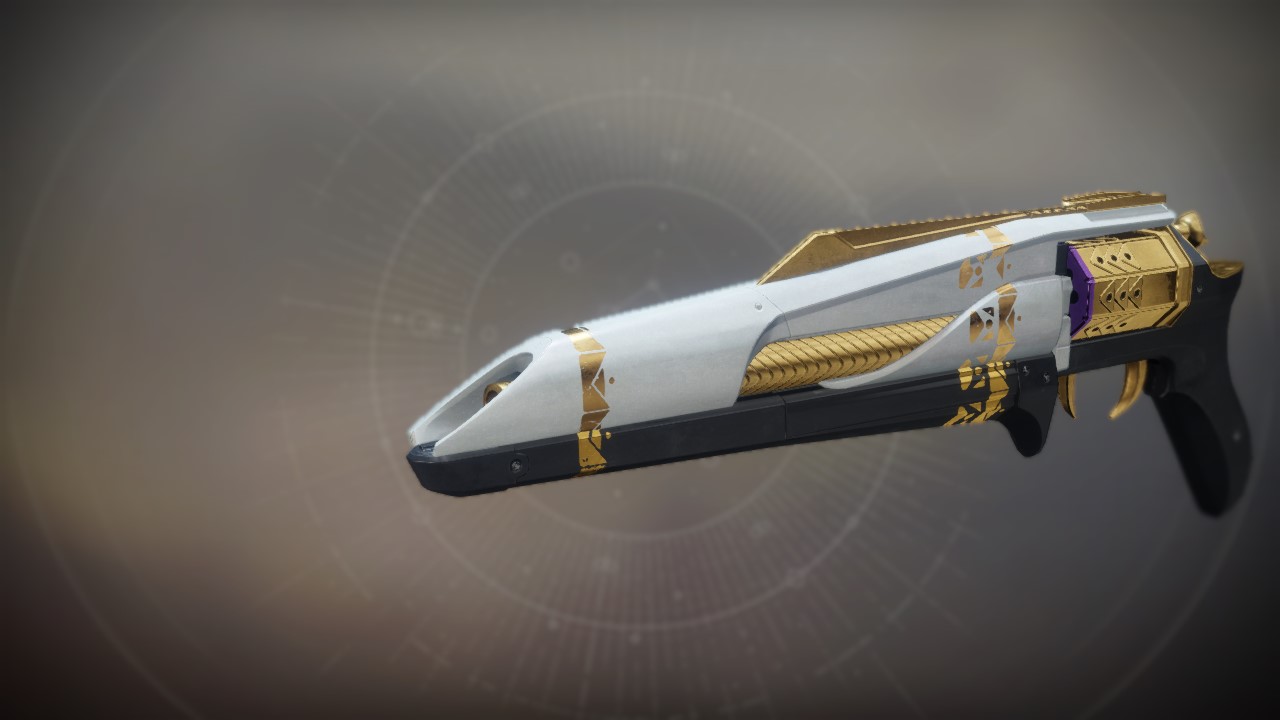 Midnight Coup
Legendary
Hand Cannon
Kinetic
The conspirators were too afraid to kill me—rightly so. I am the beloved father of the people, and the glorious mob would not suffer my death. My sentence was exile.
Read Lore
The conspirators came late in the night, skulking into my court while we caroused. Ghaul himself led the coup, and it was by his own Red Legion that we were arrested. Imagine my surprise to see the Consul stride into my court so puffed up with pride. He took cheap pleasure hurling spittle in my face. We were frog marched to the Leviathan under cover of darkness. There was to be no execution; Ghaul and the Consul feared the mob. They knew how tenuous their grip on power would be, and how the people adored their god-emperor. Ghaul dared not look me in the eye. What was the emotion on his face? Was it shame? How could he bear such hate for one who had been as a father to him? We were sealed inside the Leviathan and ejected into the furthest reaches of space, left to the same fate I had determined for the Consul so long ago. We were left to die.
Select Activity Type
Competitive PvP
Competitive PvP
Quickplay PvP
Competitive Co-Op
PvE
Survival
Countdown
Clash: Competitive
Control: Competitive
Crimson Doubles
Trials of the Nine
Elimination
Altar of Flame
The Burnout
Distant Shore
The Dead Cliffs
Endless Vale
Javelin-4
Pacifica
Meltdown
Bannerfall
Firebase Echo
Wormhaven
Convergence
Radiant Cliffs
Equinox
Legion's Gulch
Emperor's Respite
Midtown
The Citadel
Retribution
The Fortress
Solitude
Vostok
Gambler's Ruin
PvP Insights
Item Statistics
Selecting weapon perks and mods can alter the stats shown below.
| | | |
| --- | --- | --- |
| Impact | | 80 |
| Range | | 37 |
| Stability | | 46 |
| Handling | | 64 |
| Reload Speed | | 60 |
| Rounds/Min | | 150 |
| Magazine | | 12 |
| | | |
| --- | --- | --- |
| Aim Assistance | | 90 |
| Inventory Size | | 60 |
| Recoil Direction | | 80 |
| Zoom | | 14 |
Source: Leviathan raid.
Season 8
Destiny 2: Shadowkeep
Season 7
Season of the Opulence: Penumbra
Season 5
Season of the Forge: Black Armory
Season 4
Destiny 2: Forsaken
Modified

-

9/17/2018

Modified

-

9/10/2018

Modified

-

8/31/2018

Modified

-

8/27/2018
Season 3
Destiny 2 Expansion II: Warmind
Modified

-

6/26/2018

Modified

-

5/15/2018

Modified

-

5/7/2018
Season 2
Destiny 2 Expansion I: Curse of Osiris
Modified

-

4/3/2018

Modified

-

1/23/2018

Modified

-

12/12/2017

Modified

-

12/11/2017

Modified

-

12/4/2017
Season 1
Destiny 2 Release
Modified

-

11/14/2017

Modified

-

10/18/2017

Declassified

-

9/14/2017

Added

-

9/5/2017
Reviews
To write reviews and manage your Guardian while playing, install Destiny Item Manager.
2 hours ago
on PlayStation
Love it
3 hours ago
on PlayStation
the mighty coup will always be one of the best hand cannons in the game. all it's missing is mod support. love the look of it with the shadow gilt shader, dark, purple and gold.
Gun has felt good since day one, absolutely love it
An all around wonderful revoler, that serves as a great PvE and PvP weapon, it has fantastic perks, good archetype, wonderful looks and very balanced stats. The only, and kind-of-a-big, problem this weapon has is lack of mods support, since this weapon is 3 years old. It is pretty sad, but this weapon is still good nontheless. 4/5 PvE 4/5 PvP
Took a severe hit from the rampage nerf plus the HC range dropoff fix. It's not as strong but this gun is all about its feel. I have 20k kills on it and still hesitant about moving on from it.
3 days ago
on PlayStation
USE A NEW GUN GUYS, JEEZ
3 days ago
on PlayStation
3 days ago
on PlayStation
4 days ago
on PlayStation
ITS GOOD
5 days ago
on PlayStation
Still one of my favs
5 days ago
on PlayStation
Yep, OG since 2017. However... Bungie needs to give us an updated version that can take the new mods. It's crazy that Y1 armor gets a refresh, but the Y1 weapons do not. C'mon man it only makes sense to refresh the weapons to take mods.
1 week ago
on PlayStation
god tier. fav cannon
1 week ago
on PlayStation
pretty swag ngl