Community Content Creator: Danfinity

The Destiny community is full of talented Guardians. The Content Creators are a huge part of the community and put so much time and effort into bringing something special to the community. DTR (destiny tracker) wants to shine the spotlight on some of the content creators in the community to recognize them for all the hard work they do, day in and day out, on stream and in the community. This week our Spotlight goes out to a Guardian that is one of the most positive and supportive members of the community. Danfinity has been playing Destiny since a few weeks after its' launch in September 2014, and mains a Hunter class Guardian "because my Momma didn't raise no fools". Starting off by getting the game Destiny from the Library he works at, which gets a lot of new release games each week, to play at night at home and became enthralled by it. Danfinity is one of the most charismatic and supportive members of our community. When asking Dan how he found his way into the community he replied saying, "I first got into the community by listening to podcasts about the game (avid podcast addict here), namely Guardian Radio. Then through my former clan, High Command (formerly DoD). The dudes there would share videos about the game and slowly I'd start recognizing some names. That led to me finding myself in the channels on this platform I'd never heard of, called Twitch, and started lurking in Professor Broman & King Gothalion's chats". Since Danfinity first stepped into the community he immediately became supportive of other members in the community while being light-hearted and easy going. Danfinity has a laid back attitude that quickly rubs off on everyone he engages with. I asked Dan how he stays positive at the same time having fun each day, Dan responded with, "I try to live by the Neil Gaiman principle of 'keep your head down and do your own time'. There's a lot out there in the world that can bring you down, or situations that kind of silo. As long as you realize that none of these things are really because of you, and that the only thing you can do is keep improving yourself, you'll have a much easier time. It's all about your outlook. You can either choose to see some external action as neutral or malicious. I tend toward the neutral and push forward".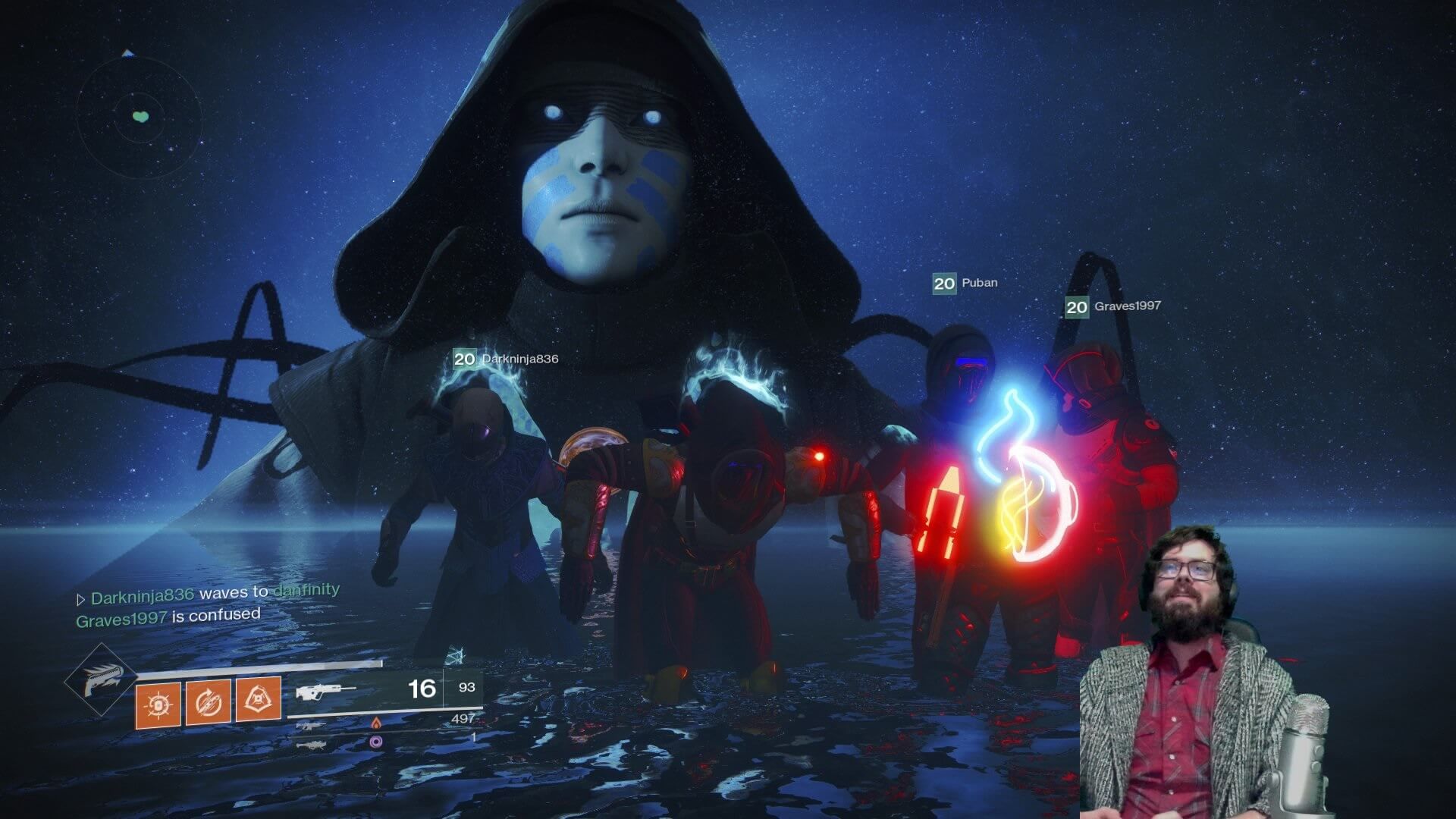 Danfinity streams almost daily on his Twitch channel, creating content almost daily for the community. I asked Dan what the best part of creating content is for him, "Creating anything is the best part to each day, for me. Honestly, the knowledge you affected someone's day for the better is the best thing that can come from this for me". Affecting someone for the better is only one of the great things about Danfinity. He brings a positiveness to the community that makes them feel like a family more than a gaming community. With his Twitch channel and interactions with the community on social media he makes everyone's' day better with fun-loving humor and interactions that has gained him a following that has developed into a sub-community of its' own. I asked Dan how his community came to be and also how it is interacting with them everyday, he replied with a big smile, "Man, they are some of the best folks around! I'm always in awe whenever someone comes into the channel. Whether it's from them following from my DestinyTracker days of streaming there, or from raids, or the directory, it's really humbling when I see someone followed. It means a lot to you when you stream, or work on any kind of creative endeavor, that people connect with you and interact with you. At a certain point, that becomes the art. It may not be a drawing or song, but building a community is just that". Danfinity is no doubt an artist in his own form, creating a positive community of Guardians that not only share in enjoying Destiny but also enjoy spreading that same positivity and support to the rest of the community. The community is a better place with kind people like Dan in it, spreading support and positivity to others and supporting any creative endeavors that a community member could be undertaking, Danfinity is always there to show support and cheer you on. Adding to that Dan went on to say, "I honestly would love to see the community that has circled their wagon around me to help others in their creative endeavors. We all are building something, and if the people that stop in my channel can be a strong support network for other creator's as well, that's the goal. That's the target". Everyone could agree that our community is unlike any other, with a member in it like Danfinity striving to make the community a greater place where members are encouraged to try new things and not be afraid to dream. Danfinity is a perfect example of what the heart of our community is, with his support and and upbeat personality. He is an inspiration to not only do what makes you happy but to support those around you. Danfinity has hosted the Destinytracker Podcast as well as guest on many other shows. When asking Dan what shows he has been on and a moment that stood out to him the most he replied, "Well, I've appeared on a bunch of different podcasts. Dad Tales, Barely A Destiny Show, RNGcast, Rasputin Radio & as a former co-host on Destiny Tracker Podcast. Honestly, I love the platform of podcasts. I have a list a mile long that I listen to each week (lemme know if you need a suggestion). One of my favorite moments on DTR was when we talked to Neil Kaplan, aka Destiny 2's Ghaul, and he did the impression of Ghaul in Donald Duck's voice. I'm completely enamored by voice acting and animation, and if you look at that interview you'll probably see a smile on my face the entire time".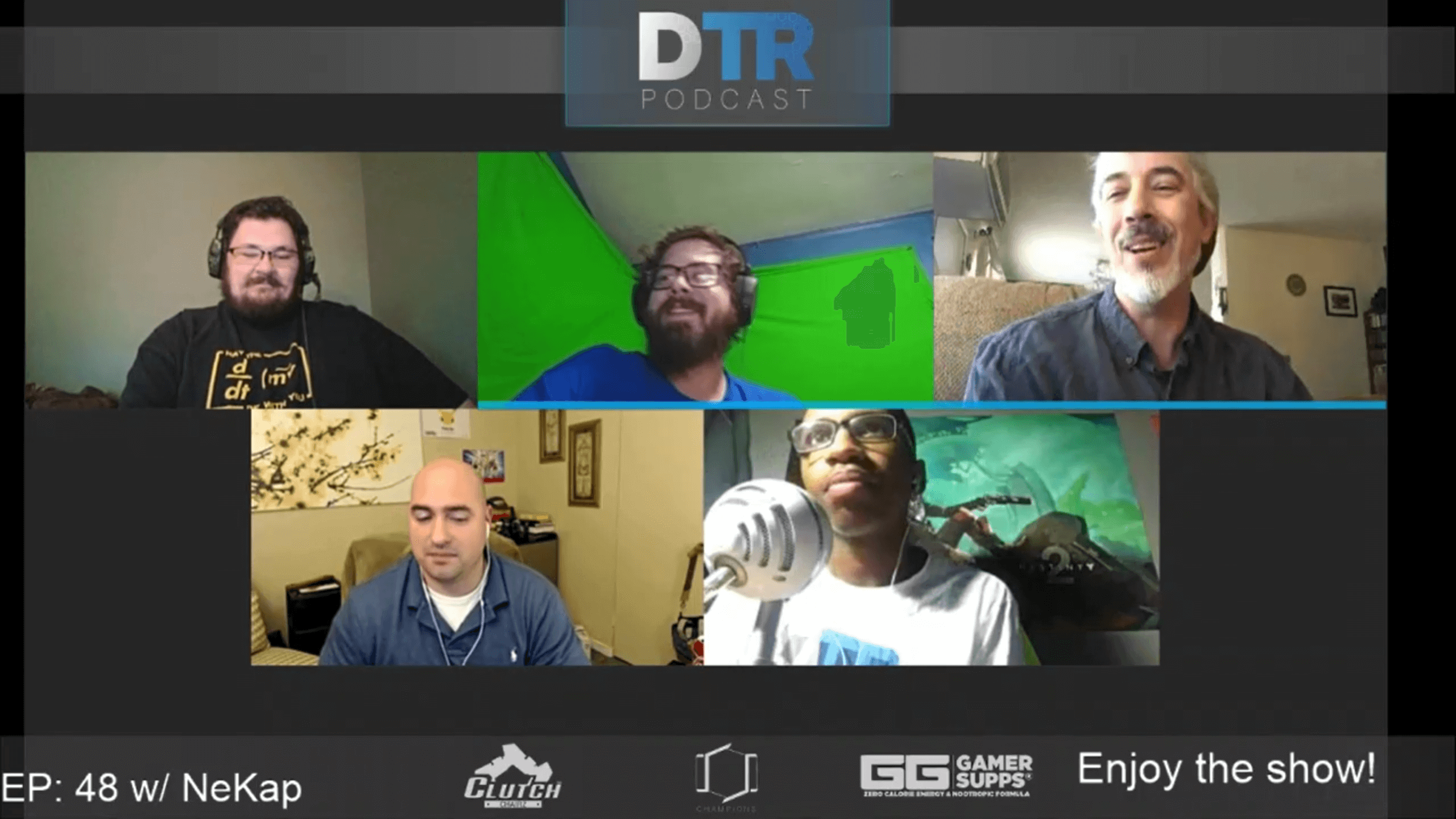 Danfinity is truly a man of the community, always inspiring others to show support to each other and to enjoy what you love. When I asked Dan who in the community inspires him he gave a reply that would make everyone in the community proud, "There are so many awesome streamers, artists, musicians and personalities that it's hard to list ALL of the one's who have inspired me, but I'll list a few that come to mind. No order, no hierarchy, just excellent people who deserve any spotlight given them. Duba, Puban, 3vil_Aura, Marksquare, the Dad Tales Podcast guys, MaxieMae, Reythos....the list could go on forever. In fact it does if you check my twitter on Fridays. I blow up my friends notifications quite a bit. Everyone you meet in the community has some sort of impact on you and the boost their signal is a huge part of being a member of that community. So many awesome folks". Being a positive personality in the community and a content creator, Danfinity is developing his own podcast and bringing it to the community. I asked Dan if he can give us a peak at what's going to be the main focus and how it came about (I personally can not wait), Dan replied, "OOoo! Man, so I kind of want to delve deep into the creative lives of the people in the community. Odds are great that in our lives, either prior or concurrent, that we all have created something else outside of Destiny. I want to look at that and the history of the people, so that our community can get to know them a little bit more. Also, silly games and dumb jokes. Both sides of the coin for me. Incredibly sincere & silly". Lastly, I asked Dan who some of his favorite community Artists are, replying excitedly, "Yes! AlisiaRoseArt is fantastic, Marksquare's sense of humor really clicks with me, Boompus and Gammatrap come to mind from images that I've seen and have been blown away by. Once again, a question that has so many answers". AlisiaRoseArt made Danfinitys' emotes for his Twitch channel, the Beirdo emote being his favorite. Also, he designed all of his own headers and banners on his channel, being Danfinity attended art school for sometime learning a thing or two while expanding on his own creativity. You can find Danfinity on twitch.tv/danfinity on Sundays 2 7 am et & 6 pm et (#SIDEQUESTSUNDAY!!), Monday mornings at 7 am et, and Tuesday and Thursday at 6 pm et. Mostly Destiny 2, but dabbling in some other games as well. Also On twitter you can find him at twitter.com/danfinitwitch. It truly is a wonderful experience engaging with Danfinity. Our community is fortunate to have such a positive and supportive member that inspires many others to be supportive of each other and to enjoy what you love each day. Danfinity, thank you for all you do in and around the community each day, as a content creator, a proud community member, and as a friend. Til we meet again at the Spicy Ramen in the Tower, Thank you for reading as always.

"Creating anything is the best part to each day, for me. Honestly, the knowledge you affected someone's day for the better is the best thing that can come from this for me." -Danfinity
Be sure to stay up to date with News, Stats, and everything Destiny with us all here at destinytracker.com