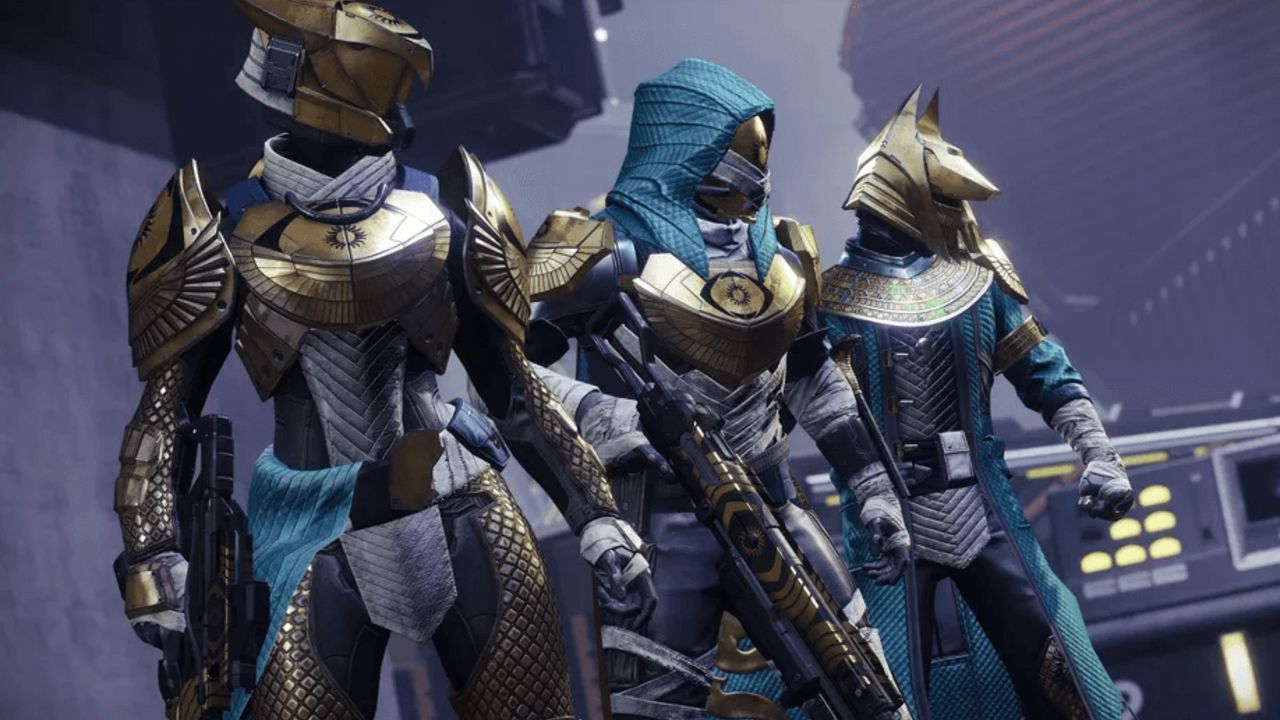 Trials of Osiris is a 3v3 competitive game mode that combines the intense gameplay of the Elimination game mode with the high stakes of possibly going "Flawless".
Achieving the Flawless status is done through winning 7 games in a row against other teams without a single loss. The Fireteam is then given access to a special Social Space known as The Lighthouse. Here the Fireteam is granted extra loot and an emblem that proves their worth. To start the event, all players in the Fireteam must be at least 960 Light.
All players must have also purchased one of the following Trials of Osiris Passages from Saint-14 to be granted access to the event:
Passage of Mercy - Forgives one loss per run
Passage of Ferocity - With zero losses, your third win grants a bonus win
Passage of Wealth - Increased tokens from completing and winning Trials matches
Passage of Wisdom - Grants bonus XP from Trials wins, scaling with the number of wins on a ticket
Passage of Confidence - Grants bonus rewards from Flawless Chest
Please note that the loot drops at certain win thresholds are currently bugged. The Weekly Challenge that grants these rewards doesn't actually reset until 5pm PDT on Saturday.
This should only affect people that played last week and obtained these loot drops as for them these Challenges have been completed until the above reset time.
Others should be fine with playing before the reset time and will even be able to 'double-dip' rewards if they obtain them quickly enough before 5pm PDT on Saturday.
Bungie has stated they plan to fix this in an upcoming patch although there is no word on the exact date.
Weekly Map - Widow's Court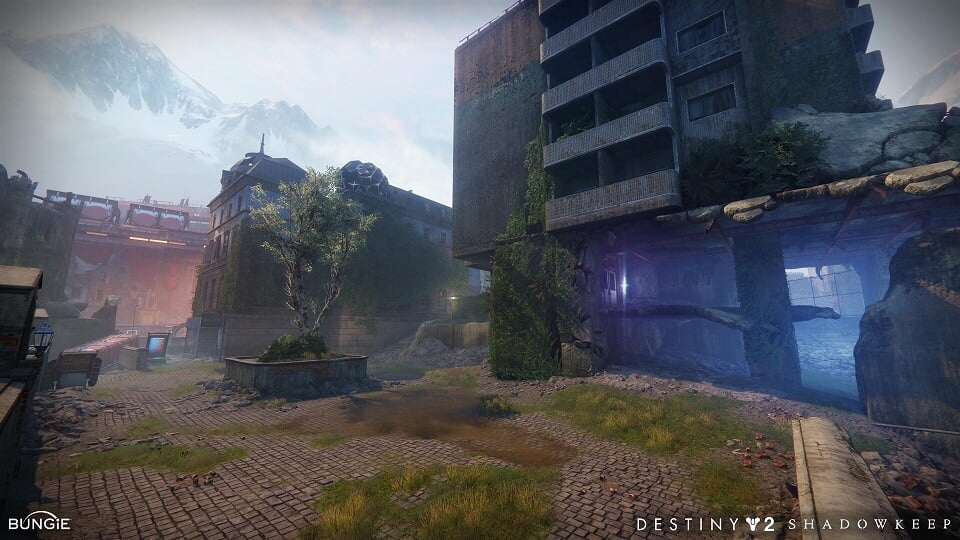 Widow's Court is a fan-favorite map from Destiny 1 that was recently added to Destiny 2 with the release of Shadowkeep in October of last year. The map is situated within the EDZ, giving it a rundown and overgrown aesthetic.
Widow's Court is among the largest maps with Destiny 2 and has some extremely long sightlines to match. A large portion of the fighting on this map is going to take place between mid and long-range so of course, it's best to pick a loadout to give you the best chance of success.
High Impact Scout Rifles like 'The Jade Rabbit' and 'Polaris Lance' will do fantastic on Widow's Court as their high Range stat will allow them to do their full damage at a great distance, resulting in consistent 3-taps.
The Ritual Scout Rifle 'Randy's Throwing Knife' is also a good choice although it won't do as well at the super long ranges as the High Impacts, but the trade-off is that it will do better in the mid ranges.
It goes without saying that Snipers will be king on this map. A recent nerf to body shot damage for the Rapid Fire archetype like Twilight Oath and Persuader means they cannot 2-tap to the body so they have dropped out of the meta a bit. Adaptive Frames like Beloved are still great though as your main Sniper though.
A Beloved with perks like Snapshot, Moving Target or Quickdraw will definitely put in some work. Aggressive Frames like Tatara Gaze and Trophy Hunter can also be used as a form of Super shut down as they can kill a Guardian in their Super with a single headshot.
Trials of Osiris March 27th-31st Rewards
Three (3) Wins: Powerful Reward - Tomorrow's Answer Rocket Launcher (details below)
Five (5) Wins: Powerful Reward - Gauntlets (random role)
Seven (7) Wins: Pinnacle Reward - Eye of Sol Sniper Rifle (details below)
Flawless: Pinnacle Reward - Class Item
Powerful Reward - Tomorrow's Answer Rocket Launcher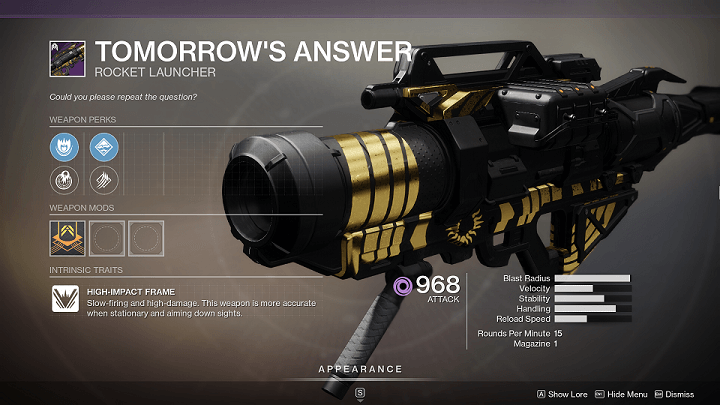 Tomorrow's Answer is this week's reward for achieving three wins on a single Trials of Osiris Passage.
Unfortunately, Rocket Launchers have not had a place in the meta for a long time, not since the heavy nerf to the Cluster Bomb perk and removal of a significant amount of auto-reload mechanics.
Rocket Launchers are massively outperformed DPS wise in PvE activities by every other weapon class in the Power slot due to their low magazine size and the constant need to reload. Rocket Launchers still have decent burst DPS and so are great for quickly, and efficiently taking out difficult enemies such as Champions in Nightfall: The Ordeal.
Rocket Launchers can work 'ok' in PvP if they have the Tracking Module perk but without Scavenger perks, only a single round is given with Power ammo which most of the time will only result in a single kill. Weapons like Machine Guns are given enough ammo to result in possibly 3 or 4 kills if the player's aim is true and is simply easier to use.
If you wanted to use a Rocket Launcher in PvP then its best to use the Truth Exotic anyway if you have it.
Recommended Perks for PvP
Barrel - Volatile Launch, Confined Launch
Magazine - Black Powder
Perk 1 - Tracking Module
Perk 2 - Snapshot Sights
Masterwork - Blast Radius
Recommended Perks for PvE
Barrel - Hard Launch
Magazine - Impact Casing, Implosion Rounds
Perk 1 - Tracking Module
Perk 2 - Cluster Bomb
Masterwork - Velocity
Pinnacle Reward - Eye of Sol Sniper Rifle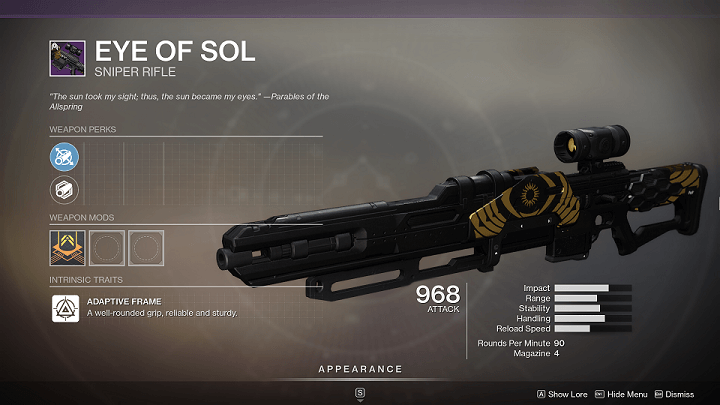 Eye of Sol is this week's reward for achieving seven wins on a single Trials of Osiris Passage.
Eye of Sol is an Adaptive Frame Sniper Rifle that sits in the Kinetic slot. It has fairly decent base stats with all of them being comparable to Eye of Sol's main competition, Beloved. A big issue is that Eye of Sol simply has a worse perk pool when compared to Beloved as it contains less general PvP perks.
Boxed Breathing and Vorpal Weapon are still good perks as they will allow Eye of Sol to 1-tap a Super in the head, despite the recent nerfs.
Celerity is also a great perk choice for game modes like Elimination as it gives the user a large boost to target acquisition, weapon handling and reload speed, as well as reducing flinch. This can sometimes be all it needs to help the player win a 1v3 comeback.
Recommended Perks for PvP
Barrel - Fluted Barrel, Corkscrew Rifling
Magazine - Accurized Rounds
Perk 1 - Snapshot Sights
Perk 2 - Vorpal Weapon, Boxed Breathing, Celerity
Masterwork - Range
Recommended Perks for PvE
Barrel - Polygonal Rifling, Fluted Barrel, Smallbore
Magazine - Any Magazine Size Enhancing Perk
Perk 1 - Field Prep, Outlaw
Perk 2 - Vorpal Weapon
Masterwork - Reload Speed, Stability
Trials of Osiris will run from the Daily Reset on Friday 03/27 at 1700 UTC until the following Weekly Reset on Tuesday 03/31 at 1700 UTC. Trials of Osiris will return the following Friday.
Comments