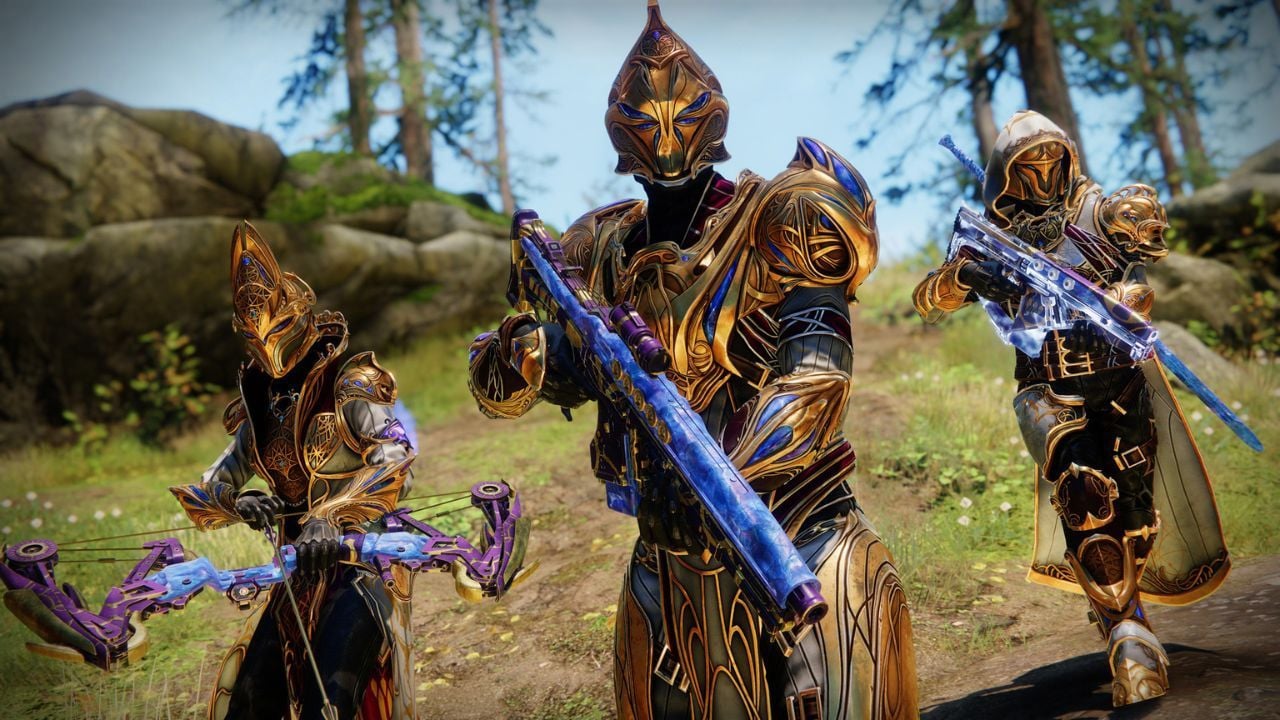 With every exciting gun in Destiny 2, you often get a cool new damage type. Whether its fiery Solar or shield-busting Arc attacks, every category has its own strengths. One of the most destructive damage types is Void, which redirects, pulls, and disrupts gravity. If you're interested in firing a lot of shots and distorting the laws of nature, check out these void machine guns from Destiny 2. And don't worry, let's also tell you how to find them for yourself.
Bane of Sorrow
The Bane of Sorrow is a long-rage, high impact legendary machine gun in Destiny 2. While its slow to fire, it packs quick a punch, and if you get a precision kill, your reload time will decrease.
In Destiny 2, the Bane of Sorrow came with the Crown of Sorrow raid from the Season of Opulence. This raid was discontinued as of 2020, so you'll have to rely on seasonal shops (such as Xur) to hopefully give you access to the machine gun.
If you want to know what guns you're best at before going through all this hard work, though, check Tracker Network's Destiny 2 stat tracker.
Related: Where to find a Destiny 2 stat tracker?
Commemoration
As a weapon, Commemoration is reliable, sturdy, and easily accessible for most players. There's a reason that, despite the many multitudes of weapons in Destiny 2, Commemoration has a fairly high usage percentage at 0.43% (some weapons on this list have less than .001% usage).
This legendary weapon came with the Destiny 2; Beyond Light expansion. You can get it by running the infamous Deep Stone Crypt raid.
Corrective Measure
If you want to spew bullets like its nobody's business, the legendary Corrective Measure is for you. With 450 rounds per minutes, it isn't the biggest bullet hound in the game, but it's still certainly up there. At least it's one of the most accurate and stable high-reload guns. If reload times stress you out but you want more control in a weapon, Corrective Measure could be perfect for you.
You can find this weapon in the Vault of Glass raid with its iconic teleportation-using boss.
Deterministic Chaos
Of all void machine guns in Destiny 2, this one is the cream of the crop. Deterministic Chaos is an exotic weapon with fantastic bonus abilities. Not only does every fourth bullet weaken a target (an impressive skill on a machine gun), but those fourth bullets also turn targets volatile. Makes for quite the effective weapon in lowering an enemy's defenses and burning their health bar.
When looking for Deterministic Chaos in Destiny 2, start off by finishing the campaign. From there, get an Exotic mission from Nimbus. Once you finish that mission, through the Black Garden and all, you'll get your own Deterministic Chaos.
Exitus MK.1
Exitus MK.1 is the least-used void machine gun, simply because its the most common. As a rare weapon, it doesn't do nearly as much damage, impact, or rounds, and is most often used as an in-between gun while looking for better options. Depending on where you're at as a Destiny 2 player, though, Exitus MK.1 definitely has its uses.
Like other rare weapons in Destiny 2, Exitus MK.1 is simply a random drop as you play. You can find it most anywhere.
Hammerhead
With the Hammerhead, stack your enemies for rapid kills, which increases your damage, which increases your kill count, and so on and so forth. It's a win-win scenario. As the first legendary machine gun in Destiny 2, the Hammerhead had quite an impact on the game, but nowadays is only used .029% of the time by players.
In Destiny 2, you find the Hammerhead by heading to the Volundr Forge in the EDZ. From there, you can earn it once you finish the Black Armory Machine Gun Frame Quest.
Retrofit Escapade
In the world of machine guns, this legendary weapon is a spray and prey type, shooting a lot of bullets at a high reload speed, but they lack as much impact or stability as other spreads. With a .098% usage, the Retrofit Escapade hardly the most popular machine gun in Destiny 2, but it can be a lot of fun during large mobs.
The Retrofit Escapade was originally from the Season of Seraph, but now you'll have to check certain shopkeeps, like Xur, for it.
Shattered Cipher
Lots of bullets, lots of chaos. As a legendary weapon Shattered Cipher isn't the most accurate, but it gets better the more you shoot (literally). Not exactly the best gun out there, but it can lead to some fun weapon gameplay.
In Destiny 2 season of old, the Shattered Cipher came as an activity drop for Season of the Splicer. Now, you have to look for it in Xur's shop or dropped at rare, unique opportunities.
Temporal Clause
Between mowing down and magazines. Temporal Clause is a legendary Destiny 2 machine gun that prefers its enemies stacked up on one another. It's perfect for the Destiny 2 player who can time dropped shields well so that the weapons' Genesis ability can always keep its barrels loaded. One dropped shield means a magically-full magazine, after all.
Related: Destiny 2– What is the Fourth Horseman boss glitch?
As Temporal Clause is from the Undying season pass, you'll have to keep an eye out for any shops or perks offering the gun in upcoming seasons.
Comments