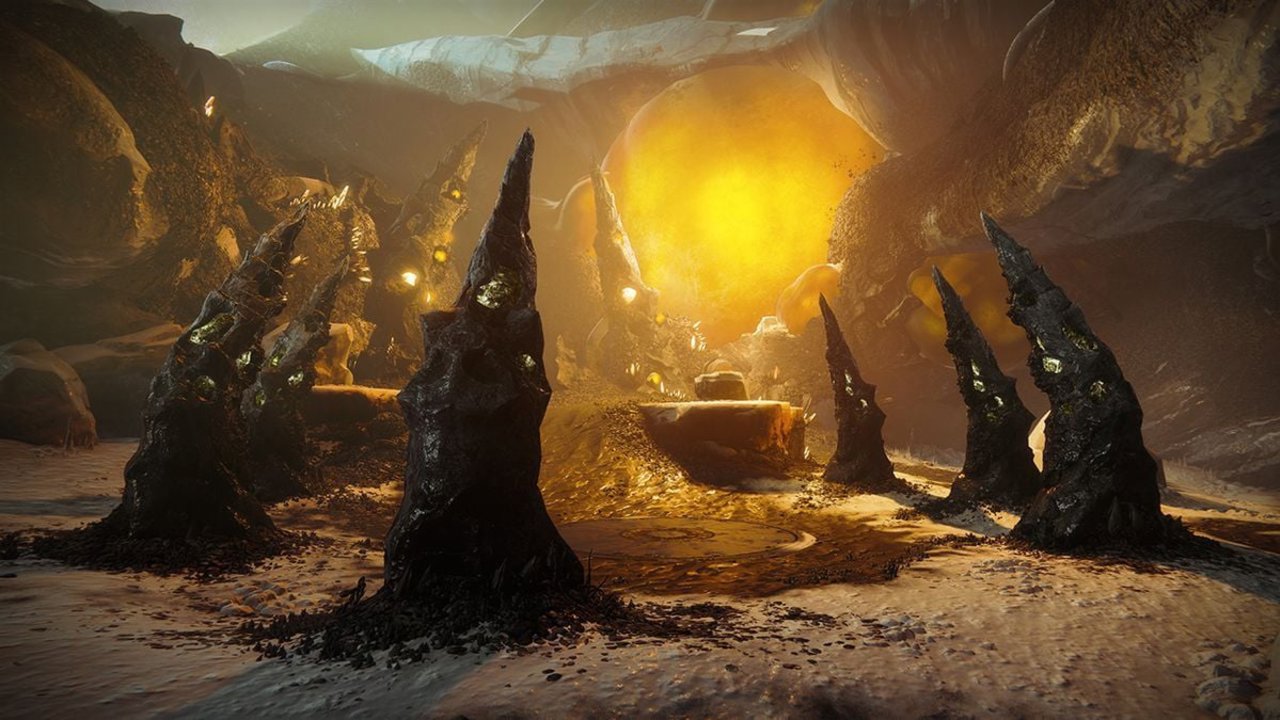 Vanguard Singe -  Solar Singe
Nightfall - The Ordeal: Strange Terrain
Nightfall Exclusive Item - 'BrayTech Osprey' Rocket Launcher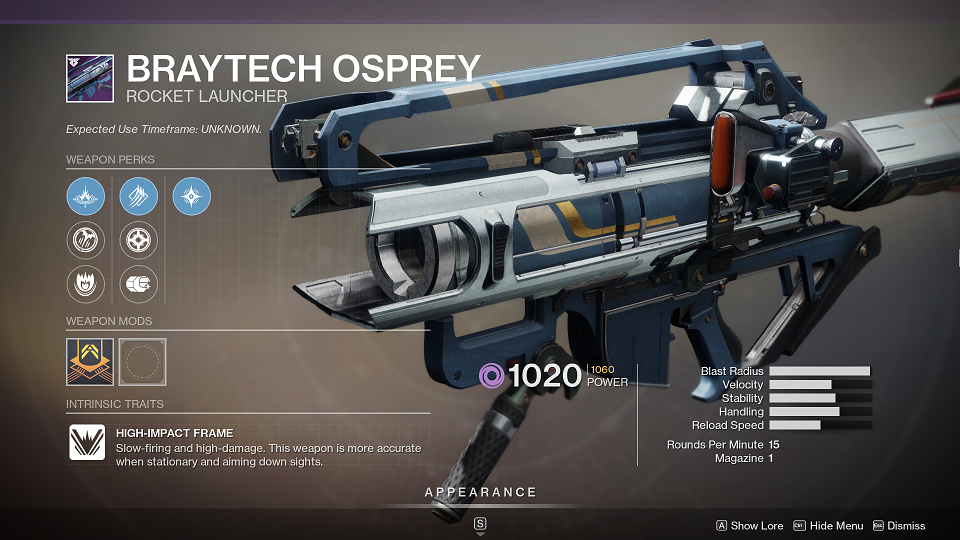 Active Modifiers
Adept
Martyr - Exploder units have more health.
Hero
Adept Modifiers
Champions: Barrier - This mode contains Barrier Champions, which cannot be stopped without an Anti-Barrier mod.
Champions: Unstoppable - This mode contains Unstoppable Champions, which cannot be stopped without an Unstoppable mod.
Champions: Hive - This mode contains both Barrier and Unstoppable Champions, which cannot be stopped without an Anti-Barrier or Unstoppable mod, respectively.
Hero Modifiers  - Extra Shields
Nokris's Refrain - Incoming Solar and environmental damage increased.
Legend
Hero and Adept Modifiers
Equipment Locked  -  You will be unable to change your equipment  once the activity starts
Match Game  -  Enemy shields are highly resistant to all unmatched elemental damage.
Legend  Modifiers - Locked Loadout, Match Game, and Extra Shields
Master
Adept, Hero and Legend Modifiers
Togetherness - Base health regen is reduced. If near another player, health regen is increased.
Master Modifiers - Extra Champions, Match Game, Extra Shields and No Saved Checkpoints.
Champions: Mob - This mode contains additional Champions
Grandmaster
Adept, Hero, Legend and Master modifiers
Fire Pit - When defeated, Acolytes spawn fire pools that cause damage over time.
Extinguish - If your Fireteam falls in a Restricted Zone, everyone is returned to Orbit.
Limited Revives - Limited Fireteam revives. Gain additional revives by defeating enemy Champions.
Grandmaster Modifiers.
Rewards: Powerful (Tier 1) reward - Get 5 points by completing runs. Higher difficulties grant more points; Pinnacle reward - Get a score of 100k.
Legacy Nightfalls
A Garden World
Exclusive item - 'Universal Wavefunction' Ship
Tree of Probabilities
Exclusive item - 'D.F.A.' Hand Cannon
The Corrupted
Exclusive item - 'Horror's Least' Pulse Rifle
Flashpoint - Mercury
Complete Public Events, Lost Sectors and Heroic Adventures around the Fields of Glass on Mercury to progress.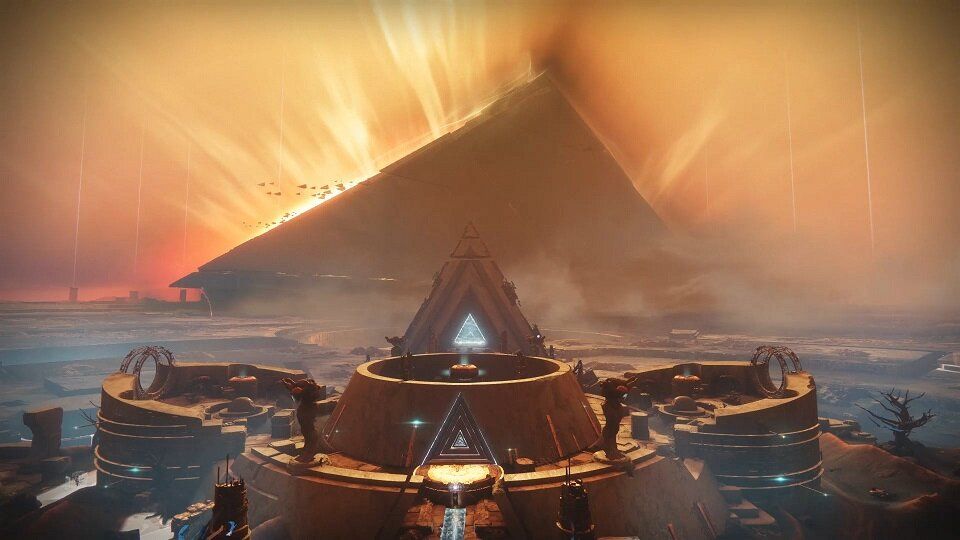 Weekly Crucible Playlists
Momentum Control
6v6
Defeat enemies to gain points based on the number of Zones captured similar to Control.
Zones are captured much faster and give more points per enemy defeated.
Weapons and abilities do massively increased damage.
Abilities refresh on kills.
Radar is disabled.
Countdown
4v4
Take turns defending and attacking two bomb sites against the enemy team.
Players have a single life but revives are enabled.
Teams can win a round by either eliminating the enemy team, planting then detonating a bomb site or by defusing a planted bomb
Dreaming City Curse
Middling - The Dreaming City is currently in stage 2 of its ongoing curse.
Petra is at Divalian Mists
Weekly Mission - The Oracle Engine
Ascendent Challenge - Cimmerian Garrison. Chamber of Starlight
Blind Well - Hive, Plague: Cragur
Raid Challenges
Garden of Salvation
Leftovers - Complete the Consecrated Mind encounter without killing any Cyclops that spawn in the Harpy boss's presence. Cyclops that spawn in other areas, and during the final sprint, can be killed.
Scourge of the Past
To Each Their Own (Insurrection Prime) - A Guardian may not shoot and break more than one shield generator per phase.
Last Wish
Summoning Ritual (Kalli) - Cleanse all nine plates, kill and nine Knights, and kill al Ogres before damaging Kalli.
Leviathan
The Pleasure Gardens - Each relic holder may only shoot one plant per phase
Rotation:
The Gauntlet
The Royal Pools
The Pleasure Gardens
The Throne
Escalation Protocol: Naksud, the Famine
This large Ogre can be damaged at any time but will continually spawn Cursed Thrall which will sprint towards Naksud. These Thrall will explode when close enough to Naksud, healing him in the process. To kill Naksud, continually damage him while destroying the Thrall before they can reach the Ogre.
Possible Drops
Solar Sniper Rifle 'IKELOS_SR_V1.0.1'
Arc Submachine Gun 'IKELOS_SMG_v1.0.1'
Solar Shotgun 'IKELOS_SG_v1.0.1'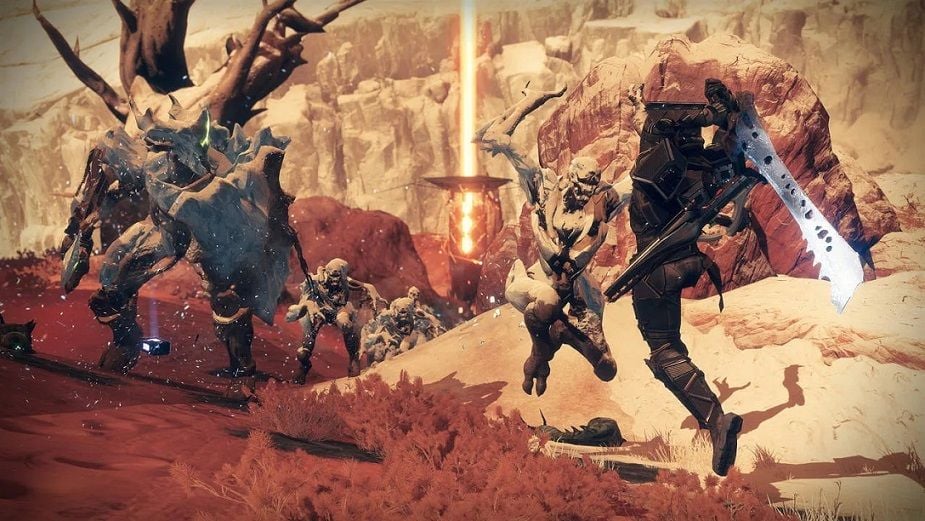 The Menagerie: Pagouri, Beloved by Calus
Heroic Mode Active Modifiers
Extinguish - If your fireteam falls in a Restricted Zone, everyone is returned to Orbit.
Match Game - Enemy shields are highly resistant to all unmatched elemental damage..
Attrition - Regeneration is greatly imparied. Defeating enemies may create wells of Light.
Arc Singe - Arc damage increases slightly from all sources
Possible Drops
Legendary Sword for each Class
'Death's Razor' for Warlocks
'Goldtusk' for Hunters
'Throne-Cleaver' for Titans
'The Emperor's Chosen' Ship
Masterworked Item, created by Chalice
Izanagi's Burden Catalyst, if Chalice fully upgraded
The Reckoning: Likeness of Oryx
Active Modifiers
Void Singe - Void damage increased slightly from all sources.
Possible Drops
Kinetic Sidearm - Lonesome
Kinetic Scout Rifle - Night Watch
Arc Sniper Rifle - Sole Survivor
Solar Shotgun - Last Man Standing
Solar Sword - Just in Case (Tier 3 exclusive)
Moon Activities
Nightmare Hunt: Insanity - Fanatic
Nightmare Hunt: Anguish - Omnigul
Nightmare Hunte: Pride - Skolas, Kell of Kells
Wandering Nightmare - Nightmare of Horkis, Fear of Mithrax (Anchor of Light)
Trove Guardian is in Anchor of Light
Comments