Weekend Breakdown November 10, 2017
Written by Avgjoe227
XUR
Xur, the weekly exotic merchant has returned this week with his usual assortment of goodies for Guardians to purchase. This week Xur can be found just north of the Watcher's Grave on the planet Nessus hanging out in a big tree. Use your world's map and fast travel close to his marked location, look for his icon on the map to set a way point to his exact location.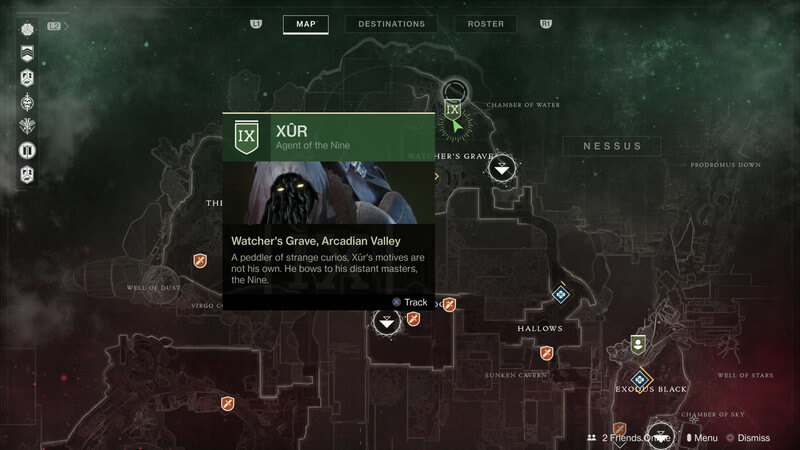 Each week if your unfamiliar with Xur, shows up in random locations Friday early morning through Monday same time. The exotic inventory he brings consist of a exotic weapon and a exotic armor piece for each class of Guardian. All items can be purchased from the reclusive merchant for Legendary Shards, which can be earned in game or by breaking down Legendary items or mods. Each item comes at a base power level of 270 with a Legendary mod attached to it already ( items are 265 with a mod increasing it by 5 bringing each to 270)
This week Xurs' inventory consists of the following:
The Prospector - grenade launcher: 29 Legendary Shards

Foetracer - Hunter helmet: 23 Legendary Shards

An Insurmountable Skullfort - Titan helmet: 23 Legendary Shards

Eye of Another World - Warlock helmet: 23 Legendary Shards
For a full breakdown of all of this weeks items check out KILLERbeast61 full breakdown for this week at destinytracker.com

Trials of the Nine
This week Trials of the Nine has returned with the highly competitive game mode in PvP for Guardians to test their skills. This week Trials is on the map Eternity, and the game mode is Countdown. Eternity is a competitive map that debut when Trials of the Nine first released and has since been put in the competitive map rotation. Countdown is a competitive game mode that is played by two team attack and defend. Attack has to either eliminate the enemy team or detonate a charge located in two locations. Defending has to stop a charge from being detonated or eliminate the opposing team, best of four rounds wins. Scoring a win in a Trials passage will grant you access to the Spire to redeem rewards and tokens earned during matches in Trials. Obtaining more wins will allow a player to ascend the Spire for more rewards and a trip to a celestial realm with a giant Emissary of the Nine.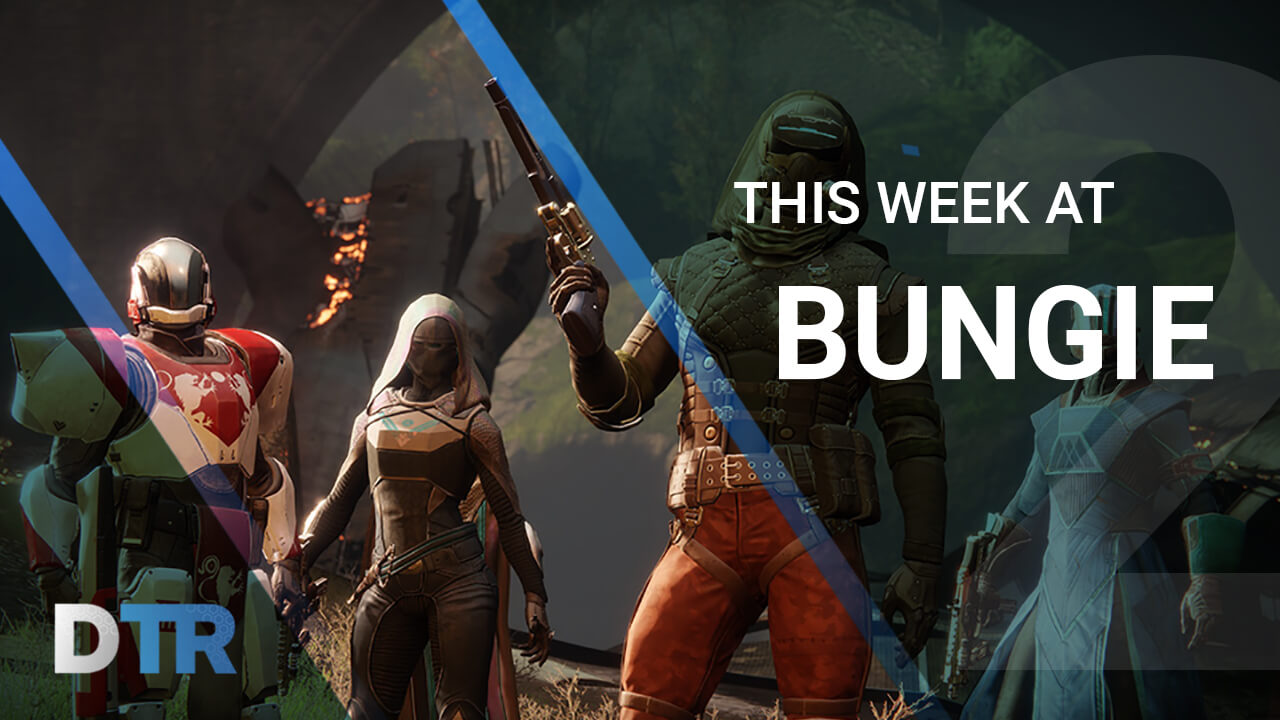 This Week At Bungie
Faction Rally is going strong! all the Faction leaders are waiting for the battle for resources to come to an end November 14, 2017. At that time a Faction will be crowned the victor and a special weapon will go up for sale at a deep discount for supporting faction members for 1,000 Glimmer and 50,000 Glimmer to all others. Last Faction Rally Dead Orbit was the victor, lets see if they can pull of a second win in a row!.
High Def!
On December 5th, along with the launch of Curse of Osiris and Season Two, Bungie will be deploying an update to Destiny 2 that will deliver stunning gameplay with high dynamic range (HDR) lighting to these new consoles. You'll also see adaptive 4K resolution on the PlayStation 4 Pro and 4K on the Xbox One X.
Clarion Call
Starting on November 17th, the first Clarion Call for Destiny 2 will be live all weekend long. This will be an opportunity for you to earn double XP for everything you do with a fellow clan member in your fireteam. If you aren't in a clan, this would be a perfect time to join one. Your increased gains will run from 10 AM Pacific on November 17th to 10 AM Pacific on November 20th. If you are dedicated to playing solo, there will be future Clarion Calls that won't require you to play with a clan. So squad up and get some extra XP, if you have been waiting to make another character this would be a perfect time to level up quick and hit max power level faster.
Guided Games improvements
Social Designers for Bungie M.E Chung and Steve Dolan shed some light on Guided Games and had this to say this week during the TWAB. M.E. Chung: "Well, one thing we're really happy to see is that Guided Games has enabled a bunch of new players to play the Nightfall and/or Raid for the first time (since Destiny 1). Our goal with Guided Games for end-game content is about helping players find tight-knit communities to join, but we see and are very aware of the current issues. For example, we know that the lack of reconnections causes all kinds of problems with unintentional oathbreakers, that the lack of audio feedback when a clan is found is causing players to miss the queue, that guides lack proper incentives, that we need a guided games option for Trials of the Nine, etc". Steve Dolan: "We have several of our superhero engineers working on really important things, like network stability across the game, but we hope to continue making progress on Guided Games as soon as possible. Here are some short-term fixes we'll deliver with the release of Curse of Osiris on December 5th":
added an audio cue so that you know when you've found a guide. Full clans can now guide.

Added reminders that if you reject a clan, you're still at the front of the line, so you can only pick guides with a mission statement that looks appealing.

Guided games will support the new Nightfall and Raid content you'll find in Curse of Osiris (and you'll learn more about that next week on our first livestream).
These are some of the highlights of what M.E. Chung and Steve Dolan had to say on the future improvements coming and things being looked into for improvements. Check out their conversation in the TWAB this week for a full breakdown at Bungie.net/news.
Reset changes!
Curse of Osiris: Reset Changes With the release of Curse of Osiris, Ritual Resets will no longer take place at 1 AM Pacific. Starting December 5th, resets will occur at 1700 UTC.
Throughout Destiny 1's lifespan, players would frequently encounter an issue where weekly resets would not always coincide with content releases like the Tuesday Reset or Trials releasing. This would prevent some players from earning new rewards. Seeking to align the Milestone resets with event availability, such as Trials of the Nine or Iron Banner, to provide a uniform experience for players to follow each week. The new Reset times are as followed to coincide with 1700 UTC moving forward:
9 AM PST
12 PM EST
5 PM GMT
9 PM MSK
2 AM JST
4 AM AEDT
6 AM NZDT
After which all Weekly Resets and Events will release at the same time for everyone! to me this is awesome news moving forward making for a better experience for everyone. For a full breakdown of PC patches and hotfixes this week check out the TWAB for a full list of changes made on PC at Bungie.net
Hope everyone enjoys their weekend and enjoyed this weekend breakdown check back next week for more information and news! thanks for reading!
Stay up to date with Stats, News, and everything Destiny 2 with us here at destinytracker.com