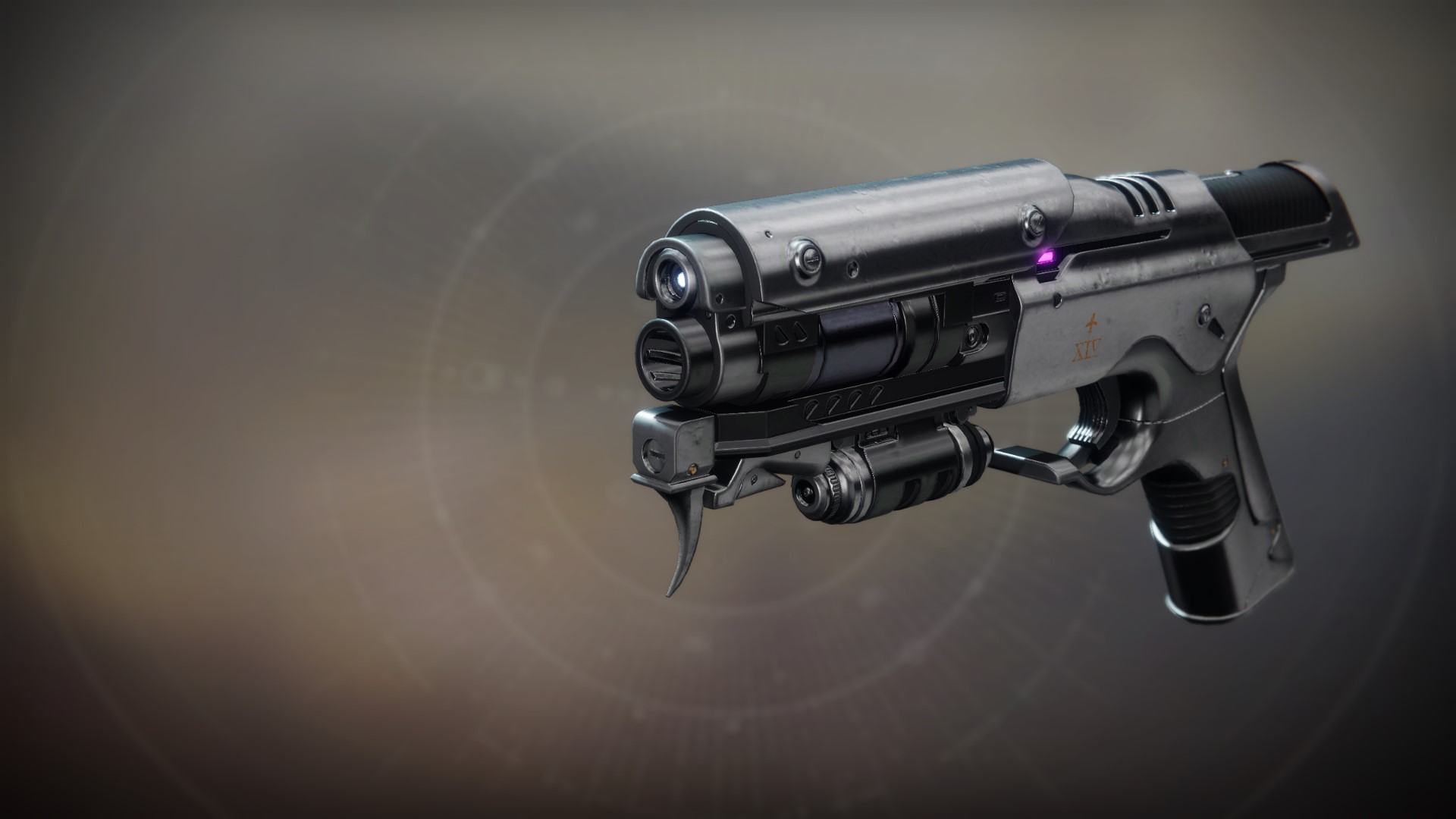 Breachlight
Legendary
Sidearm
Kinetic
It has been melted and reforged many times.
Read Lore
"I find it odd, the cycle we are in. I have died many times. Reborn anew, the fight pulsing through my veins. "The Vex, with their minds shared, must also know this sensation. Fighting to die. Dying to fight. Over and over. "I wonder what they know that I do not. Do their calculations ever have them victorious in their pursuit? "We share this perpetual sequence in our encounters, yet there is no common ground outside of our mutual bloodlust. "I die again. The anger rises. I fight back harder, wiping out the entire squadron of their patrolling units. More arrive. I die again, ready for my resurrection." —Saint-14
Select Activity Type
Competitive PvP
Competitive PvP
Quickplay PvP
Competitive Co-Op
PvE
Survival
Countdown
Clash: Competitive
Control: Competitive
Crimson Doubles
Trials of the Nine
Elimination
Altar of Flame
The Burnout
Distant Shore
The Dead Cliffs
Endless Vale
Javelin-4
Pacifica
Meltdown
Bannerfall
Firebase Echo
Wormhaven
Convergence
Radiant Cliffs
Equinox
Legion's Gulch
Emperor's Respite
Midtown
The Citadel
Retribution
The Fortress
Solitude
Vostok
Gambler's Ruin
PvP Insights
Item Statistics
Selecting weapon perks and mods can alter the stats shown below.
| | | |
| --- | --- | --- |
| Impact | | 56 |
| Range | | 53 |
| Stability | | 43 |
| Handling | | 42 |
| Reload Speed | | 31 |
| Rounds/Min | | 325 |
| Magazine | | 25 |
| | | |
| --- | --- | --- |
| Aim Assistance | | 82 |
| Inventory Size | | 27 |
| Recoil Direction | | 82 |
| Zoom | | 12 |
Source: Acquired from the Sundial activity on Mercury.
Reviews
To write reviews and manage your Guardian while playing, install Destiny Item Manager.
Great weapon, insane dps if you dont need Antibarrier/unstoppable or that kind of stuff. Also got one with demolitionist instead of outlaw and both are great
one of the best kinetic primaries in the game, can out damage recluse, and come with amazing perks, I recommend small bore, tactical mag, outlaw, multikill clip for pve, and vorpal weapon or quick draw for pvp, also pick up an osmosis demolitionist roll, its leagues better than Buzzard
Decent enough for pve. However, a range MW with outlaw multikill clip on this thing is insane
Great TTK, excellent aim assist, very reasonable range. Fantastic allround sidearm
This thing destroys adds and has amazing rolls, try it out trust me. I got one with demolitionist AND multi kill clip.
3 days ago
on PlayStation
DropMag - Outlaw - Rampage - Stability MW ... this sidearm just kills it, Devils is a rubber-gun compared to this. The two-burst shots are so strong! Really worth the godroll grind ...
5 days ago
on PlayStation
5 days ago
on PlayStation
Best legendary sidearm for Season of Dawn
6 days ago
on PlayStation
1 week ago
on PlayStation
Great PvE sidearm, goes with any build, although if you are using a devour build warlock, osmosis/demolitionist/extended mag is a better roll than outlaw/multikill/range
Great PvE sidearm, goes with any build, although if you are using a devour build warlock, osmosis/demolitionist/extended mag is a better roll than outlaw/multikill/range
Great PvE sidearm, goes with any build, although if you are using a devour build warlock, osmosis/demolitionist/extended mag is a better roll than outlaw/multikill/range