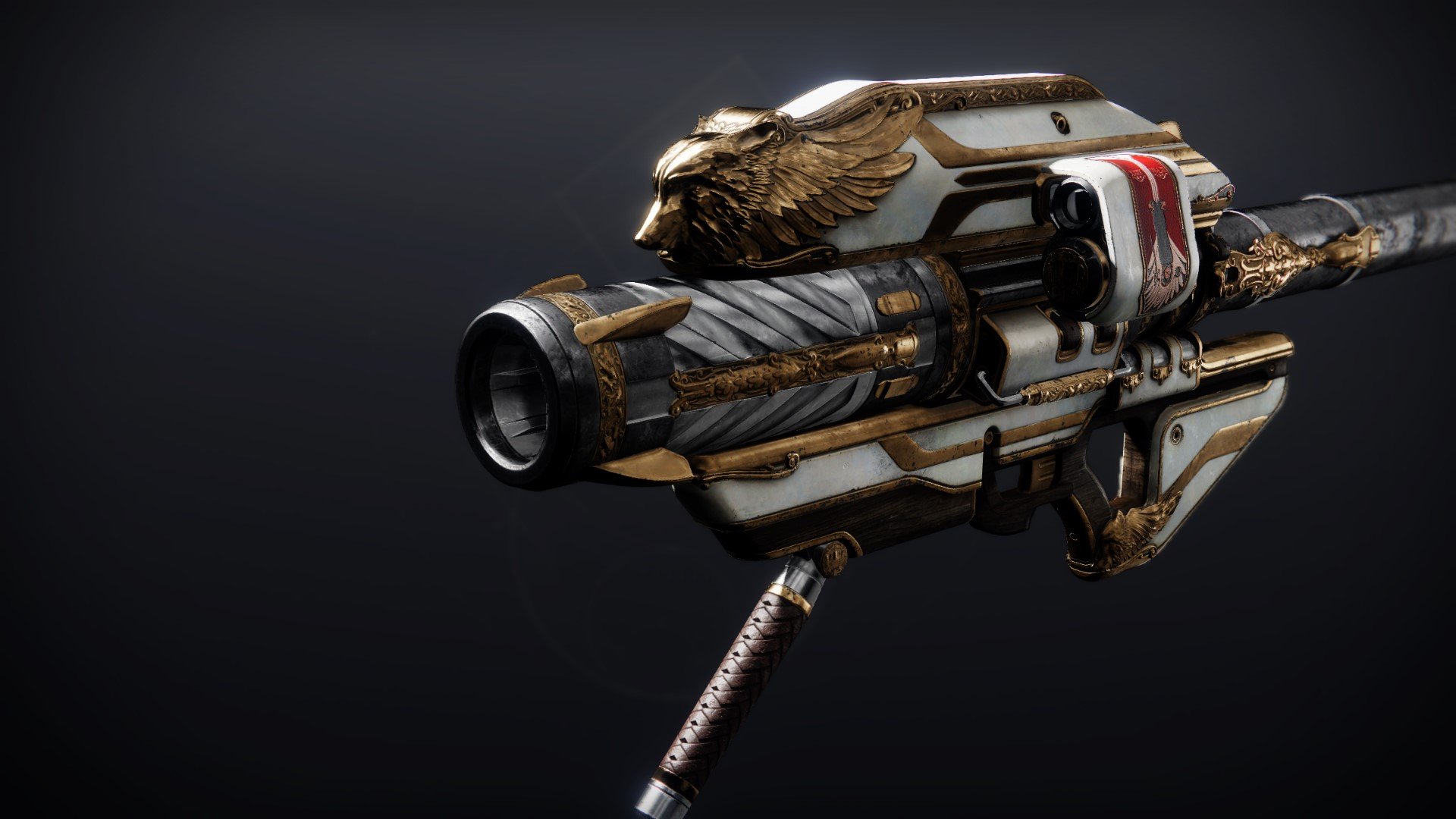 Gjallarhorn
Exotic
Rocket Launcher
Solar
Read Lore
Randy finally reaches the Tower. It was a long road from the Cosmodrome, but Shaw Han had given him some good directions. His ship had only exploded twice on the trip from Old Russia, and while he defended his Ghost's second (and much better) repair job, he even found some loot! As he materializes on the receiving pad of the Tower, a gathering horde of Humans and Guardians of all "ages" gather around a singular figure deep in the crowd. Randy can feel an almost mythic aura—exotic, even—radiating from the figure. He jabs his scuffed elbows through the crowd to get a clear look. When he finally breaks through, he understands the draw: the Guardian. They stand, one leg propped up on the Tower railing. Randy's Ghost talked about this person a few times before. Some kind of hero. Big deal. Randy was a hero too. "Amazing," a Titan says about the weapon in the Guardian's hands. Randy looks at the Titan wearing a strange chainmail visor. "It's just a rocket launcher. I got one of those in Old Russia the other day," Randy brags proudly, unholstering a launcher. His Ghost, Dandy, nudges him. "Now listen here, berry blue," Dandy says. "What you are looking at in the Guardian's hands is a top-of-the-line wolfpack deployment device. Each firing of which unleashes hell in the form of a swarm of homing micro rockets. I've told you a flock of crows is called a murder? Well, they really should've reserved the name for this swarm instead." Randy holds up his Bad Omens. "I can put a tracking module on this." Dandy chuckles. "I guess." Randy looks at the Bad Omens. His pride turns into frustration at the mediocrity of his equipment. In a fit of anger, he heaves the launcher over the Guardian's head and over the Tower railing. The Guardian pivots and drops to a solid stance. They shoulder and fire off the Gjallarhorn like a volcanic eruption, blowing the Bad Omens to smithereens. Micro tracking rockets hunt down and turn each piece of falling debris to fireworks before they hit the ground. The acrid-sweet smell of burning fuel hangs in the air. Randy's jaw drops. The Guardian steps forward and places the Gjallarhorn into Randy's hands with a smile. "Start your legend with this instead."
Competitive PvP

Quickplay PvP

Competitive Co-Op

PvE
Survival

Countdown

Clash: Competitive

Control: Competitive

Crimson Doubles

Trials of the Nine

Trials of Osiris

Elimination
Altar of Flame

The Burnout

Distant Shore

The Dead Cliffs

Endless Vale

Javelin-4

Pacifica

Meltdown

Bannerfall

Firebase Echo

Wormhaven

Convergence

Radiant Cliffs

Equinox

Legion's Gulch

Emperor's Respite

Midtown

The Citadel

Retribution

The Fortress

Solitude

Vostok

Gambler's Ruin
PvP Insights
Item Statistics
Selecting weapon perks and mods can alter the stats shown below.
| | | |
| --- | --- | --- |
| Blast Radius | | 90 |
| Velocity | | 45 |
| Stability | | 64 |
| Handling | | 66 |
| Reload Speed | | 37 |
| Rounds/Min | | 15 |
| Magazine | | 1 |
| | | |
| --- | --- | --- |
| Aim Assistance | | 76 |
| Airborne Effectiveness | | 6 |
| Inventory Size | | 50 |
| Recoil Direction | | 49 |
| Zoom | | 20 |
Season 17
Season of the Haunted
Season 16
Season of the Risen
Season 15
Season of the Lost
Modified

-

12/15/2021

Added

-

12/6/2021
Reviews
To write reviews and manage your Guardian while playing, install Destiny Item Manager.