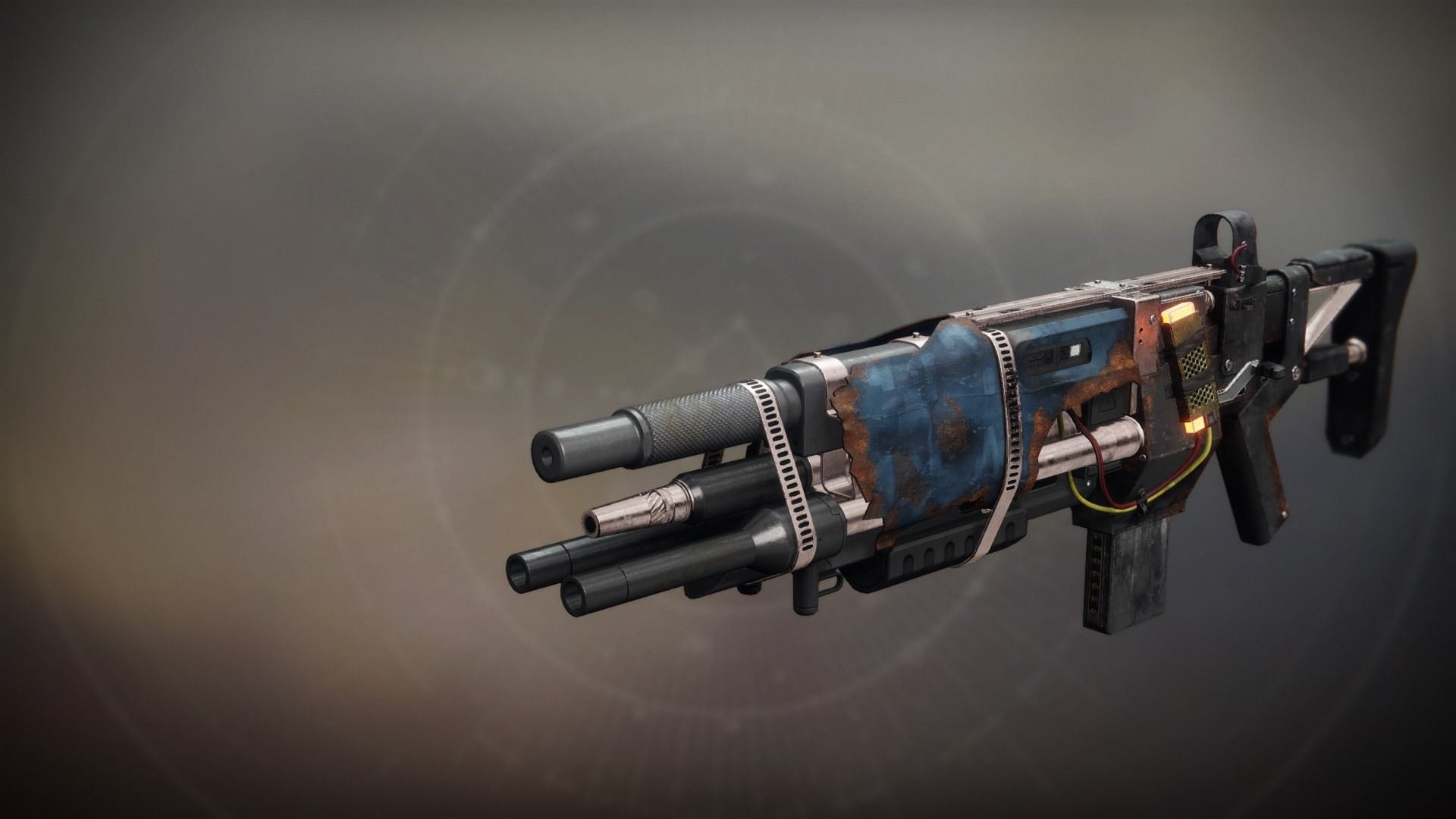 Cerberus+1
Exotic
Auto Rifle
Kinetic
"Because three heads are good, but four are better." —Jeza "Jeopardy" Verlayn
Read Lore
I had plans for the Photonic Heart. First I was gonna take it straight to Marcus, gloat for a bit. "Look what I found, told you the rumors were true, how fast d'you think my Sparrow'd go if I swapped my engine out for it…" Then see what I could get for it in the Bazaar. Not 'cause I wanted to sell it. Just 'cause it'd feel good to know. Then I was gonna take a little vacation with it to Venus, and THEN I'd figure out what to do with it. At my leisure. But no. Had to get sucker punched by an asteroid. Barely made the landing on this dusty spit of Shore. Lost all my weapons in the crash. Heart only survived 'cause I put it in my helmet and buckled it in my seat. So my Ghost revives me, and there I am in a crater surrounded by fragmentalized auto rifles and a Golden Age microstellar dynamo. Talk about hell. I started with three barrels. Figured I might as well lean into the hell vibe. Shoulda known that wouldn't have been enough to really min/max with a power source this feisty. Especially once I noticed the coronal containment shield was cracked. The first time I fired the Cerberus+1 and felt that puppy kick, I knew: plans are overrated.
Competitive PvP

Quickplay PvP

Competitive Co-Op

PvE
Survival

Countdown

Clash: Competitive

Control: Competitive

Crimson Doubles

Trials of the Nine

Trials of Osiris

Elimination
Altar of Flame

The Burnout

Distant Shore

The Dead Cliffs

Endless Vale

Javelin-4

Pacifica

Meltdown

Bannerfall

Firebase Echo

Wormhaven

Convergence

Radiant Cliffs

Equinox

Legion's Gulch

Emperor's Respite

Midtown

The Citadel

Retribution

The Fortress

Solitude

Vostok

Gambler's Ruin
PvP Insights
Item Statistics
Selecting weapon perks and mods can alter the stats shown below.
| | | |
| --- | --- | --- |
| Impact | | 33 |
| Range | | 0 |
| Stability | | 25 |
| Handling | | 32 |
| Reload Speed | | 35 |
| Rounds/Min | | 360 |
| Magazine | | 31 |
| | | |
| --- | --- | --- |
| Aim Assistance | | 60 |
| Airborne Effectiveness | | 16 |
| Inventory Size | | 59 |
| Recoil Direction | | 86 |
| Zoom | | 16 |
Season 17
Season of the Haunted
Season 16
Season of the Risen
Season 15
Season of the Lost
Season 14
Season of the Splicer
Season 13
Season of the Chosen
Modified

-

4/19/2021

Modified

-

2/8/2021
Season 12
Season of the Hunt
Season 11
Season of Arrivals
Season 10
Season of the Worthy
Season 9
Season of Dawn
Modified

-

1/27/2020

Modified

-

12/9/2019
Season 8
Destiny 2: Shadowkeep
Modified

-

11/11/2019

Modified

-

10/28/2019

Modified

-

9/30/2019
Season 7
Season of the Opulence: Penumbra
Season 6
Season of the Drifter: Joker's Wild
Modified

-

5/6/2019

Modified

-

3/4/2019
Season 5
Season of the Forge: Black Armory
Modified

-

1/28/2019

Modified

-

11/30/2018
Season 4
Destiny 2: Forsaken
Modified

-

9/17/2018

Modified

-

9/10/2018

Modified

-

8/31/2018

Added

-

8/27/2018
Reviews
To write reviews and manage your Guardian while playing, install Destiny Item Manager.
It's basically the closest thing to a sustainable automatic shotgun that we have in the game. You can use it for those days where you just don't feel like aiming. Just don't expect it to do well in anything beyond mid range. P.S. The objectively best gun at taking down Taken Bubbles.
love the gun new favorite but the range dose kill this gun in pvp, and the catalyst could be better
I Enjoy using this auto rifle. I think the damage out put is fine because the individual numbers are small but 4 shots from this thing is crazy. I personally think this gun is offer-looked. So out of 1-10 I give the Cerberus+1 a 7. I think if auto rifles get a buff this gun will dominate everything.
great for survival, it can take out an entire team in less than a magazine if you place your shots correctly, getting close enough can cause all four shots to do 25 damage each to the head doing 100 damage per tick.
A nice mix between a shotgun and an auto rifle, lacks range but when you're up close it can get the job done, and ammo is basically never a concern.
2 years ago
on PlayStation
It just melts people
2 years ago
on PlayStation
it is a great gun for crucible