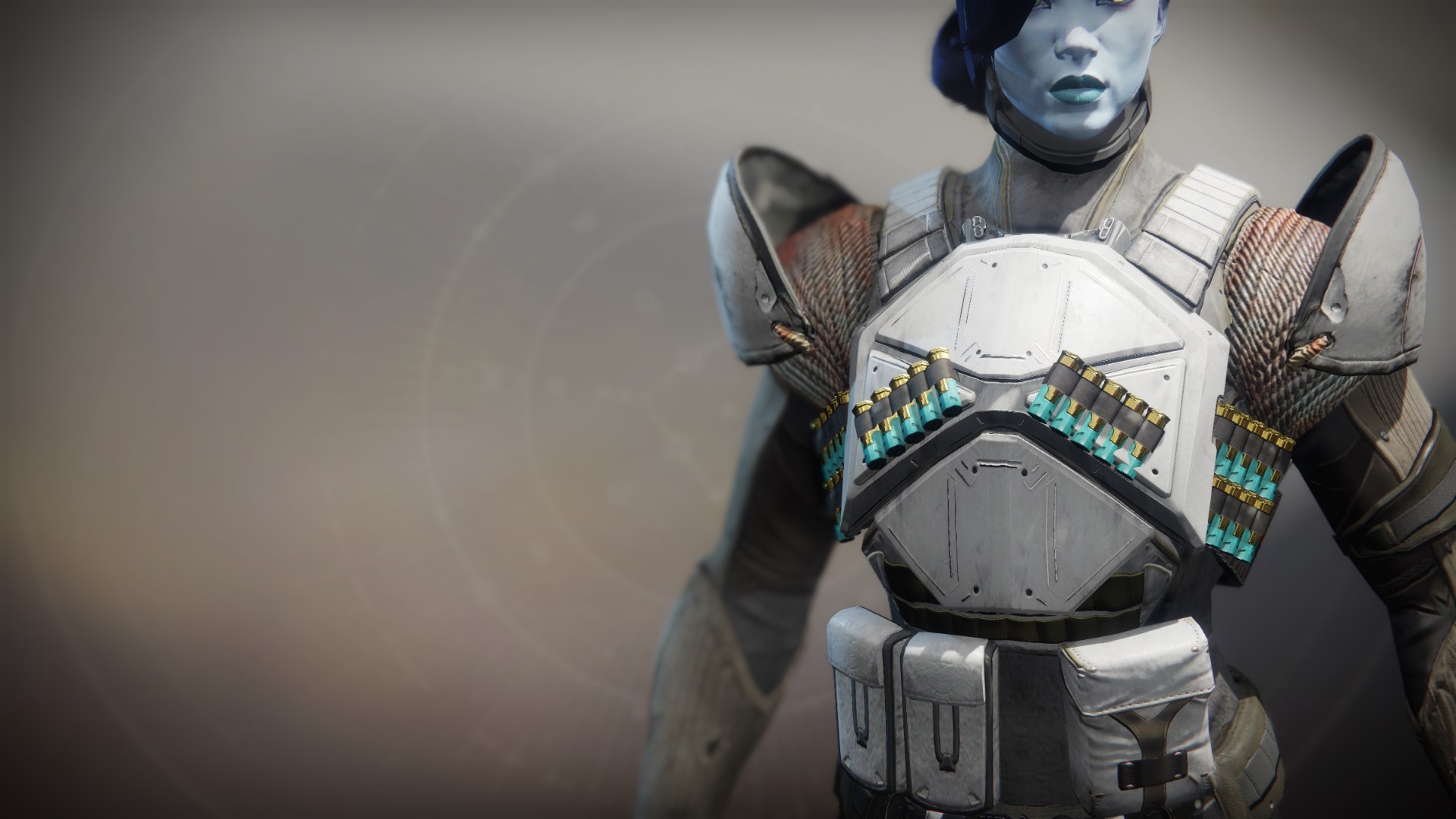 Conflict Resolution Solution #3479: Leave them to rest wherever they may fall.
Read Lore
"Keep it clean. Your body. Your mind. Your armor. Weapons. Gear. Ammo. CRS #1: Keep it clean. Clean equals function. Clean equals focus. That's where it all starts. Skill matters. Training, practice, experience. All key ingredients. All valued assets as you balance death and glory on the battlefield. But once you're trained and ready for war. And once your gear is up to the standards of a proper, respected, walking, talking war machine. What comes next?" "1177!" "That's right. CRS #1177: Ammunition is your best friend. So what do you do?" "Load up." "Load. Up. Get yourself a weapon that spits unending fire and stock up on ammo until your shoulders slump and your back aches. Because each round is a war all its own." —Lord Shaxx educating a gathering of Titans
Item Statistics
Selecting weapon perks and mods can alter the stats shown below.
| | | |
| --- | --- | --- |
| Mobility | | 1 |
| Resilience | | 1 |
| Recovery | | 1 |
| | | |
| --- | --- | --- |
| Discipline | | |
| Intellect | | |
| Strength | | |
Season 8
Destiny 2: Shadowkeep
Modified

-

10/28/2019

Added

-

9/30/2019
Reviews
To write reviews and manage your Guardian while playing, install Destiny Item Manager.
6 days ago
on PlayStation
Add Sweet Business for the most beautiful combo you have ever seen. Complete entire strikes without reloading!
1 week ago
on PlayStation
A really solid Exotic, I paired this Chest Armor with the Khovostov, and went into a Heroic Strike, I have to say I was impressed because I died only once. What this Chest Armor does is top off the mag of your Auto Rifle or Machine Gun, essentially this gun can make your mag bigger because when your still shooting it will still load the mag which can save your life multiple times. I recommend this Exotic. One more thing, I felt like a god, the Khovostov, which is one of the top best guns in the game is really good and since it was also an icon in Destiny 1 you also feel like your holding a relic.
2 weeks ago
on PlayStation
Add Sweet Business for the most beautiful combo you have ever seen. Complete entire strikes without reloading!
3 weeks ago
on PlayStation
I use this about 99.9% of the time. Few things compare to it from the Titan exotics. It's not as good as it used to be in PvP as pulse rifles and handcannons are über strong at the moment. But if you like auto rifles enough to PvP with them, having 35-45% extra bullets in the mag is a great way to never have to reload in 1on1/2s. In looter shooters, reload is a massive DPS reduction, this is AWR's real power in PvE. Even if a gun does less damage than another, the time you save on reloads will up the overall DPS vastly. Same with when you travel between targets. Instead of reloading, you just sprint and the gun tops itself off. Combined with Sweet Business or Cerberus+1, this exotic is a must have.
This thing gives Sweet Business and your machine gun infinite ammo
1 month ago
on PlayStation
Actium War Rig + Sweet Business = LET THEM COME IN THEIR HUNDREDS. LET THEM CRAWL AND CLIMB OVER THE CORPSES OF THEIR KIN. LET THEM COME IN THEIR ARMIES, AND EVERY ONE OF THEM WILL DIE AT MY FEET, FOR UNLIKE THEE, I BELIEVE IN SOMETHING - EVEN IF IT MEANS I WILL KILL EVERYTHING.
Great synergy with Sweet Business!
iron banner is probably the best place to use this running around corners in control points with the Sweet Business and just demolinshing 2-3 people, you'll never have to reload with this combo
1 month ago
on PlayStation
this is actually a really good exotic reloads your equipped auto rife BUT also reloads MACHINE GUNS ALSO even though it does not say it does. if you have not given this a go i give it a recommendation in PvE at least as i have not tried it in PvP yet.