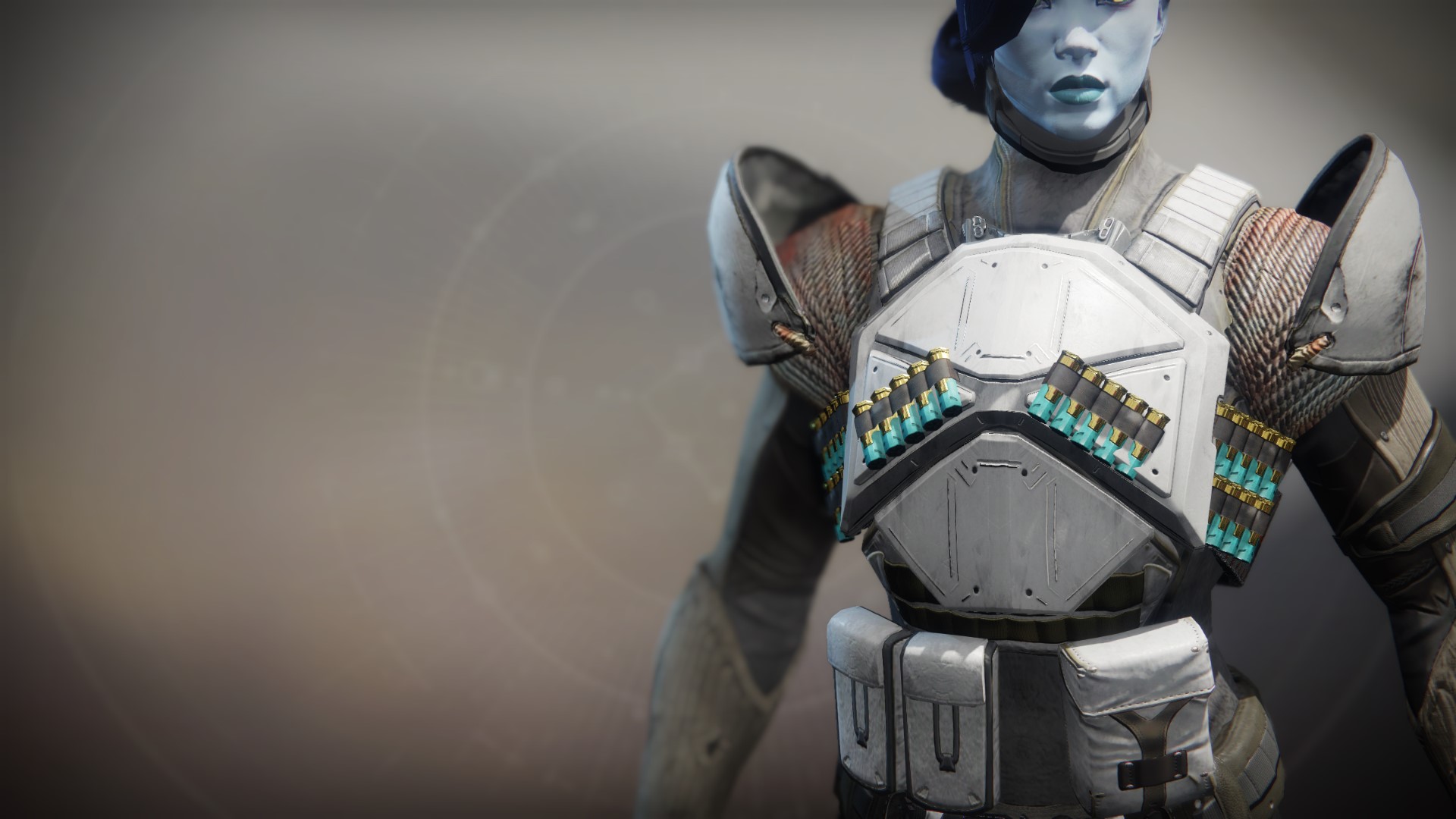 Conflict Resolution Solution #3479: Leave them to rest wherever they may fall.
Read Lore
"Keep it clean. Your body. Your mind. Your armor. Weapons. Gear. Ammo. CRS #1: Keep it clean. Clean equals function. Clean equals focus. That's where it all starts. Skill matters. Training, practice, experience. All key ingredients. All valued assets as you balance death and glory on the battlefield. But once you're trained and ready for war. And once your gear is up to the standards of a proper, respected, walking, talking war machine. What comes next?" "1177!" "That's right. CRS #1177: Ammunition is your best friend. So what do you do?" "Load up." "Load. Up. Get yourself a weapon that spits unending fire and stock up on ammo until your shoulders slump and your back aches. Because each round is a war all its own." —Lord Shaxx educating a gathering of Titans
Item Statistics
Selecting weapon perks and mods can alter the stats shown below.
| | | |
| --- | --- | --- |
| Mobility | | 1 |
| Resilience | | 1 |
| Recovery | | 1 |
| | | |
| --- | --- | --- |
| Discipline | | |
| Intellect | | |
| Strength | | |
Season 14
Season of the Splicer
Season 13
Season of the Chosen
Modified

-

4/19/2021

Modified

-

2/8/2021
Season 12
Season of the Hunt
Season 11
Season of Arrivals
Season 10
Season of the Worthy
Season 9
Season of Dawn
Modified

-

1/27/2020

Modified

-

12/9/2019
Season 8
Destiny 2: Shadowkeep
Modified

-

11/11/2019

Modified

-

10/28/2019

Added

-

9/30/2019
Reviews
To write reviews and manage your Guardian while playing, install Destiny Item Manager.
sweet business never ending fire
Would be a thumbs down if it weren't for the awesome Sweet Business synergy, even if SB isn't super meta. And most ARs aren't meta either. Looks awesome though.
The exotic perk is nice when you're rolling with auto rifles in general, but it becomes god-tier with Sweet Business. I've had friends complain that I wouldn't stop firing for minutes at a time.
basically gives autos extended mags basically that fill up when not shooting oh and also SWEET BUSINESS WONT STOP SHOOTING
Constantly reloads your autorifle magazine a few rounds at a a time. That by itself is a bit meh, but the synergy with Sweet Business is obscene.