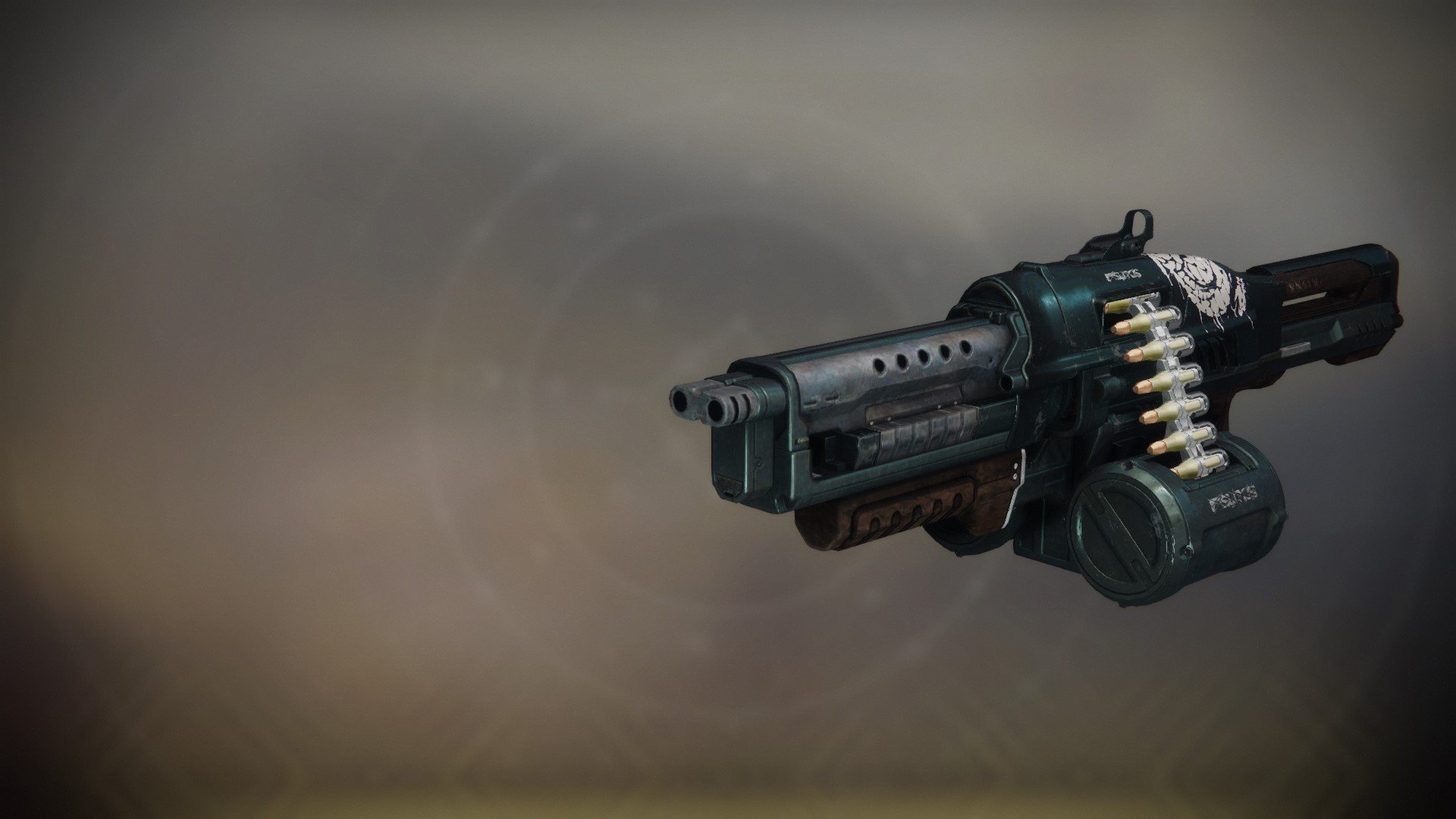 21% Delirium
Legendary
Machine Gun
Arc
"All right." —A Dark Age drifter
Read Lore
A Dark Age drifter stood against an oncoming horde. The stuff of nightmares. Quad-armed, mouths full of shining carnivore teeth, carrying weathered but fully functional armor and weapons. They moved as a mob, their boots kicking up clouds of dust as they advanced, blades glinting in the sun. "All right," he said, a quiet salute to his dance partners as he wove around sizzling Arc bolts, coat trailing him like a shadow. He might not walk away from this. But they definitely wouldn't. His Machine Gun spoke much louder than he did, over and over. He had never brought himself to shoot a human. Or anything even resembling a human. Risen included. But these were no Risen. No humans. He broke their advance like oil parting water, the repeating bloom of his heavy leading the way. A blue, viscous film covered the dirt, dust, and rocks when he was finished. "All right," he said, looking appreciably down at his smoking weapon. A trail of spent shells traced his path through his opponents' ranks. Hard to find a bite out here, most days. Every day. He wondered what they'd taste like.
Competitive PvP

Quickplay PvP

Competitive Co-Op

PvE
Survival

Countdown

Clash: Competitive

Control: Competitive

Crimson Doubles

Trials of the Nine

Trials of Osiris

Elimination
Altar of Flame

The Burnout

Distant Shore

The Dead Cliffs

Endless Vale

Javelin-4

Pacifica

Meltdown

Bannerfall

Firebase Echo

Wormhaven

Convergence

Radiant Cliffs

Equinox

Legion's Gulch

Emperor's Respite

Midtown

The Citadel

Retribution

The Fortress

Solitude

Vostok

Gambler's Ruin
PvP Insights
No data for the last 30 days, please change the filter.
Item Statistics
Selecting weapon perks and mods can alter the stats shown below.
| | | |
| --- | --- | --- |
| Impact | | 25 |
| Range | | 50 |
| Stability | | 52 |
| Handling | | 39 |
| Reload Speed | | 61 |
| Rounds/Min | | 900 |
| Magazine | | 200 |
| | | |
| --- | --- | --- |
| Aim Assistance | | 70 |
| Inventory Size | | 45 |
| Recoil Direction | | 60 |
| Zoom | | 16 |
Season 13
Season of the Chosen
Season 12
Season of the Hunt
Season 11
Season of Arrivals
Season 10
Season of the Worthy
Season 9
Season of Dawn
Modified

-

1/27/2020

Modified

-

12/9/2019
Season 8
Destiny 2: Shadowkeep
Modified

-

11/11/2019

Modified

-

10/28/2019

Modified

-

9/30/2019
Season 7
Season of the Opulence: Penumbra
Season 6
Season of the Drifter: Joker's Wild
Reviews
To write reviews and manage your Guardian while playing, install Destiny Item Manager.
1 year ago
on PlayStation
Best PvE gun in the game. Mows adds.
Perma rampage, overflow, probably the best gun name in the game. Yeah this thing is the unmatched PvE Machine Gun, and works well enough in PvP
1 year ago
on PlayStation
définetly worth the grind
Death to all trash mobs. Yes worth the grind. This or hammerhead. It's big brother to edgewise
Death to all trash mobs. Yes worth the grind. This or hammerhead. It's big brother to edgewise
all right all right all right!