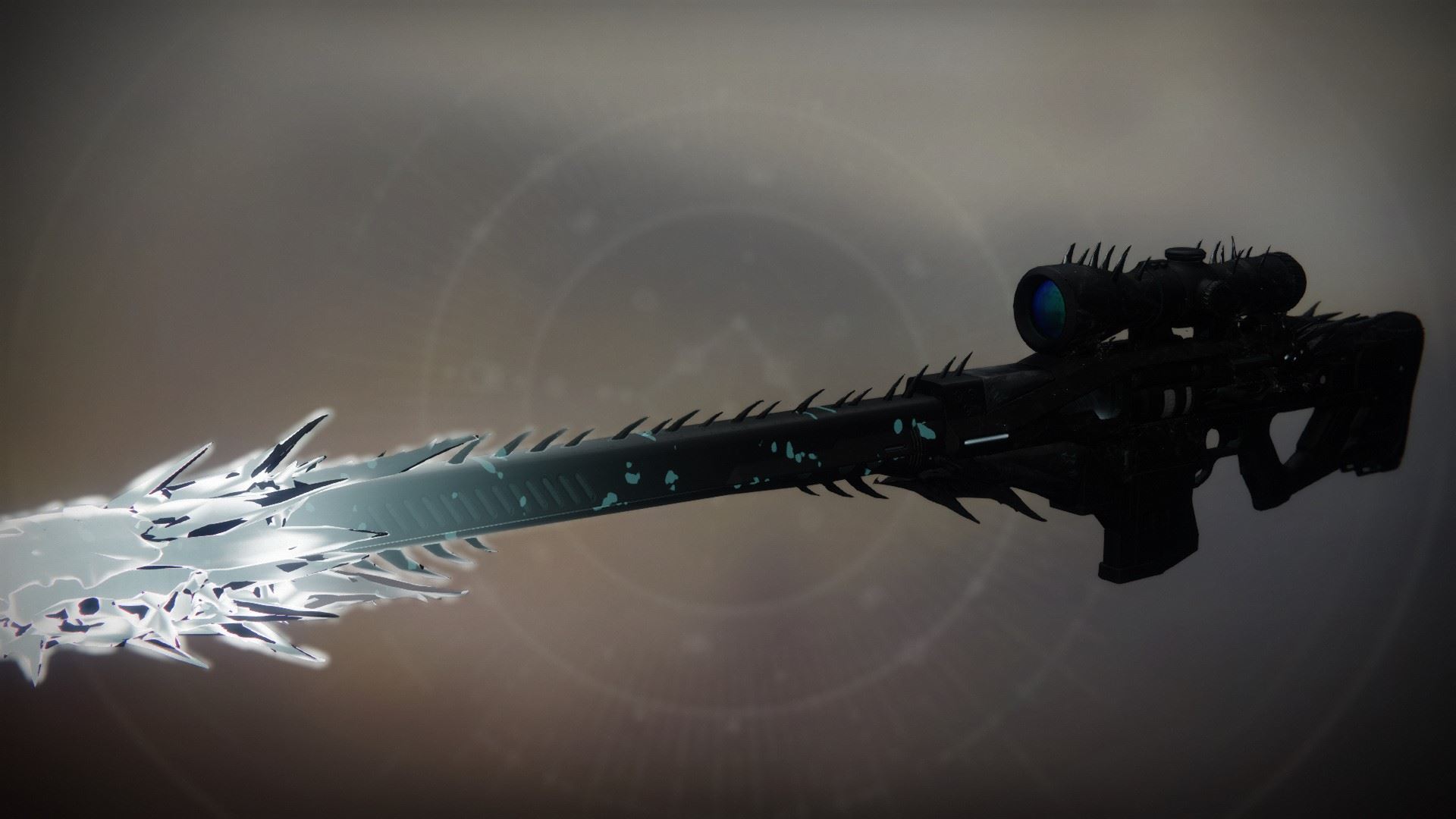 Whisper of the Worm
Exotic
Sniper Rifle
Solar
A Guardian's power makes a rich feeding ground. Do not be revolted. There are parasites that may benefit the host… teeth sharper than your own.
Read Lore
Xol, the Will of Thousands, perished but was not destroyed. Death is a road, death is metamorphosis, the unsacred union between destroyer and destroyed. The might which defeats a god is also the ambrosia that god craves, the meat-sweet logic of Existence-Asserted-By-Violence, the binomial decision between two ways of being which deny each other. In dying, Xol fed richly. Now came Xol unto the Taken upon Io, who fed Xol with plunder and tried to make of it an idol and a commanding will. Yet Xol was bound joyously to the very logic that sustained it in its death. It wanted the sword proof, the single proof. It wanted to become a rule which divided the mighty living from the mighty dead. So it whispered the Anthem Anatheme, the temptation to dominate the objective universe with the subjective will. It said, I shall be an engine to make your desire hegemon over your conditions. It said, WIELD ME, AND USE ME TO TEST YOUR FOE. This was its worship. Aiat.
Select Activity Type
Competitive PvP
Competitive PvP
Quickplay PvP
Competitive Co-Op
PvE
Survival
Countdown
Clash: Competitive
Control: Competitive
Crimson Doubles
Trials of the Nine
Elimination
Altar of Flame
The Burnout
Distant Shore
The Dead Cliffs
Endless Vale
Javelin-4
Pacifica
Meltdown
Bannerfall
Firebase Echo
Wormhaven
Convergence
Radiant Cliffs
Equinox
Legion's Gulch
Emperor's Respite
Midtown
The Citadel
Retribution
The Fortress
Solitude
Vostok
Gambler's Ruin
PvP Insights
Item Statistics
Selecting weapon perks and mods can alter the stats shown below.
| | | |
| --- | --- | --- |
| Impact | | 100 |
| Range | | 78 |
| Stability | | 24 |
| Handling | | 35 |
| Reload Speed | | 42 |
| Rounds/Min | | 72 |
| Magazine | | 3 |
| | | |
| --- | --- | --- |
| Aim Assistance | | 39 |
| Inventory Size | | 50 |
| Recoil Direction | | 74 |
| Zoom | | 40 |
Season 8
Destiny 2: Shadowkeep
Season 7
Season of the Opulence: Penumbra
Season 6
Season of the Drifter: Joker's Wild
Season 5
Season of the Forge: Black Armory
Season 4
Destiny 2: Forsaken
Modified

-

9/17/2018

Modified

-

8/31/2018

Modified

-

8/27/2018
Season 3
Destiny 2 Expansion II: Warmind
Declassified

-

7/24/2018

Added

-

7/16/2018
Reviews
To write reviews and manage your Guardian while playing, install Destiny Item Manager.
it's good, but i don't like it myself
Autoreaload definitely hit hard on this powerful weapon, but increasing max capactiy to 18 pretty much made the nerf obsolete. The damage is still intact, DPS is superb and probably the best in the whole game you can get out of and exotic, catalyst makes it even better if you happen to miss a headshot or two. Whisper really doesn't need autoloader to destroy bosses. In PvP though...well, its a 2-shot sniper that uses heavy armor instead of special. Just why? 5/5 PvE 1/5 PvP
A+ after the autoloader nerf, and even before it was an exceptional choice
With autoreload gone, whisper is one of the stronger choices for boss DPS. It doesn't need infinite ammo
It's making it's way back to being a must pick for boss dps, specially with the recent nerf for the Auto-reload.
3 days ago
on PlayStation
5 days ago
on PlayStation
dope