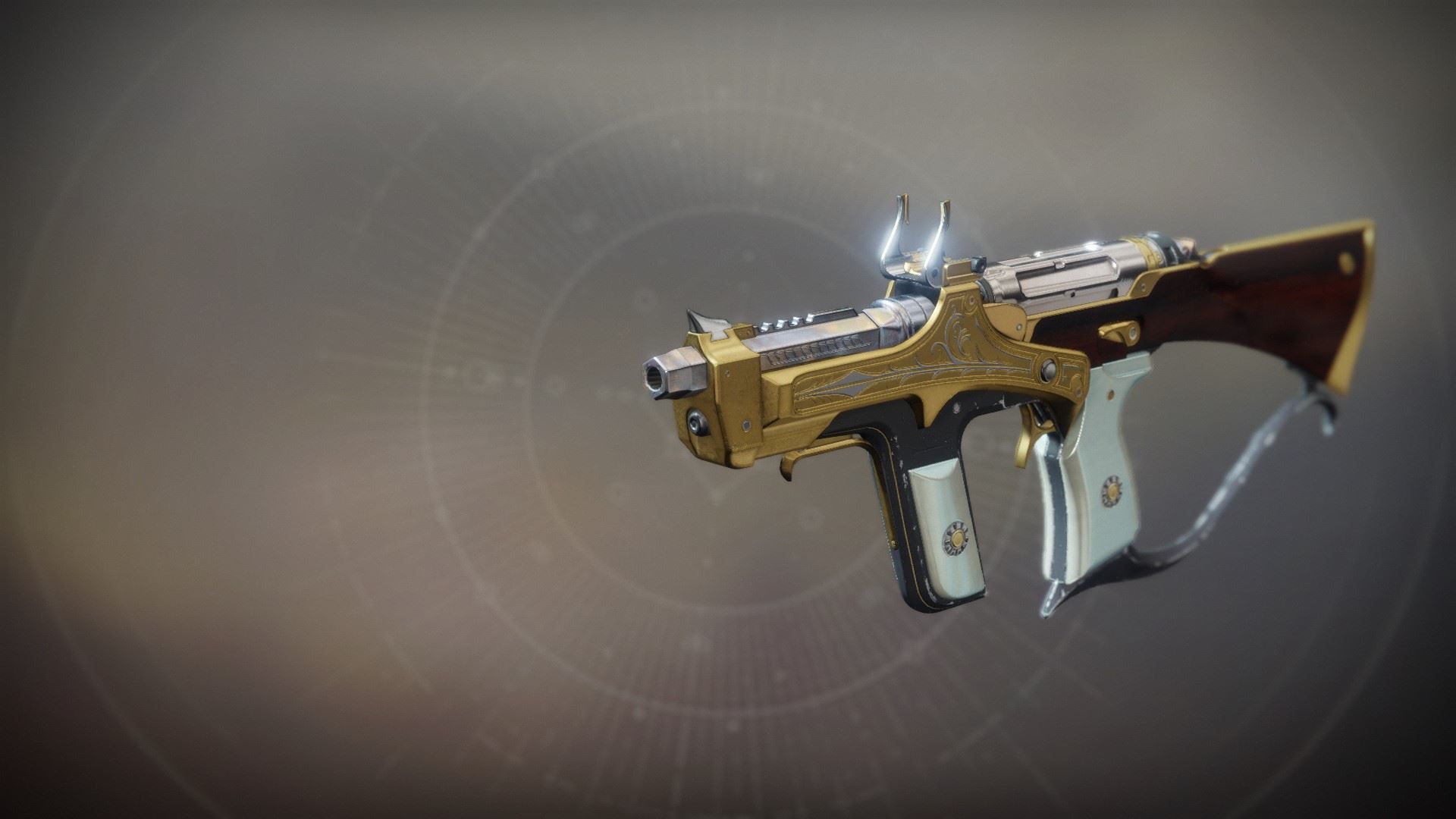 The Huckleberry
Exotic
Submachine Gun
Kinetic
Nothin' in the world that 30 rounds can't solve.
Read Lore
We used to play for keeps. Used to be that was the only way. Back in those days trust came slow, or not at all. The only thing you could truly rely on was the iron at your side. Fate of the world? Immortal gods? Don't know much 'bout that. But when everything's on the line, it's quality that counts. Tex Mechanica: we play by the old rules, the best rules. We play for keeps.
Select Activity Type
Competitive PvP
Competitive PvP
Quickplay PvP
Competitive Co-Op
PvE
Survival
Countdown
Clash: Competitive
Control: Competitive
Crimson Doubles
Trials of the Nine
Elimination
Altar of Flame
The Burnout
Distant Shore
The Dead Cliffs
Endless Vale
Javelin-4
Pacifica
Meltdown
Bannerfall
Firebase Echo
Wormhaven
Convergence
Radiant Cliffs
Equinox
Legion's Gulch
Emperor's Respite
Midtown
The Citadel
Retribution
The Fortress
Solitude
Vostok
Gambler's Ruin
PvP Insights
Item Statistics
Selecting weapon perks and mods can alter the stats shown below.
| | | |
| --- | --- | --- |
| Impact | | 23 |
| Range | | 53 |
| Stability | | 42 |
| Handling | | 60 |
| Reload Speed | | 10 |
| Rounds/Min | | 750 |
| Magazine | | 37 |
| | | |
| --- | --- | --- |
| Aim Assistance | | 49 |
| Inventory Size | | 100 |
| Recoil Direction | | 100 |
| Zoom | | 13 |
Source: Exotic engrams; extremely rare world drops.
Season 8
Destiny 2: Shadowkeep
Season 7
Season of the Opulence: Penumbra
Season 6
Season of the Drifter: Joker's Wild
Season 5
Season of the Forge: Black Armory
Modified

-

1/28/2019

Modified

-

11/30/2018
Season 4
Destiny 2: Forsaken
Modified

-

9/17/2018

Modified

-

9/10/2018

Modified

-

8/31/2018

Modified

-

8/27/2018
Season 3
Destiny 2 Expansion II: Warmind
Modified

-

6/26/2018

Modified

-

5/23/2018

Modified

-

5/15/2018

Added

-

5/7/2018
Reviews
To write reviews and manage your Guardian while playing, install Destiny Item Manager.
Pretty good, but for SMGs it's entirely outclassed by Recluse, and for kinetic exotics it's just a short range Bad Juju with less damage and without the super fast super charge. Plus the 30-round magazine prevents it from being able to do anything to any shielded and/or yellow bar enemies, even with Rampage x3. Fun, but there are MUCH better options.
Love this everywhere. Endless ammo as long as you release the trigger every few seconds while mowing down enemies... No reload delays. Can't beat that.
3 days ago
on PlayStation
3 days ago
on PlayStation
4 days ago
on PlayStation
Great for PVE, Loaded Question and Wendigo pair nicely with this
Perfect for erasing trash mobs
5 days ago
on PlayStation
absolutely shreds through anything that's not a boss.
Perfect for mowing down red bars.
With the new weapon changes Smg's feel like the best weapon type to use and new activities spawn a lot of red bars so huckleberry feels like the best weapon to use because you will shred every vex in a moment resulting in insane clear speed that no weapon can achieve (except recluse) paired with void shotgun and enchanted smg loader you will feel like doomguy. Rip and tear until its done.
1 week ago
on PlayStation
1 week ago
on PlayStation
Doc Holliday would dual wield this gun. Especially good for solo play as team shooting will reduce the effectiveness if you aren't landing the kill shots.