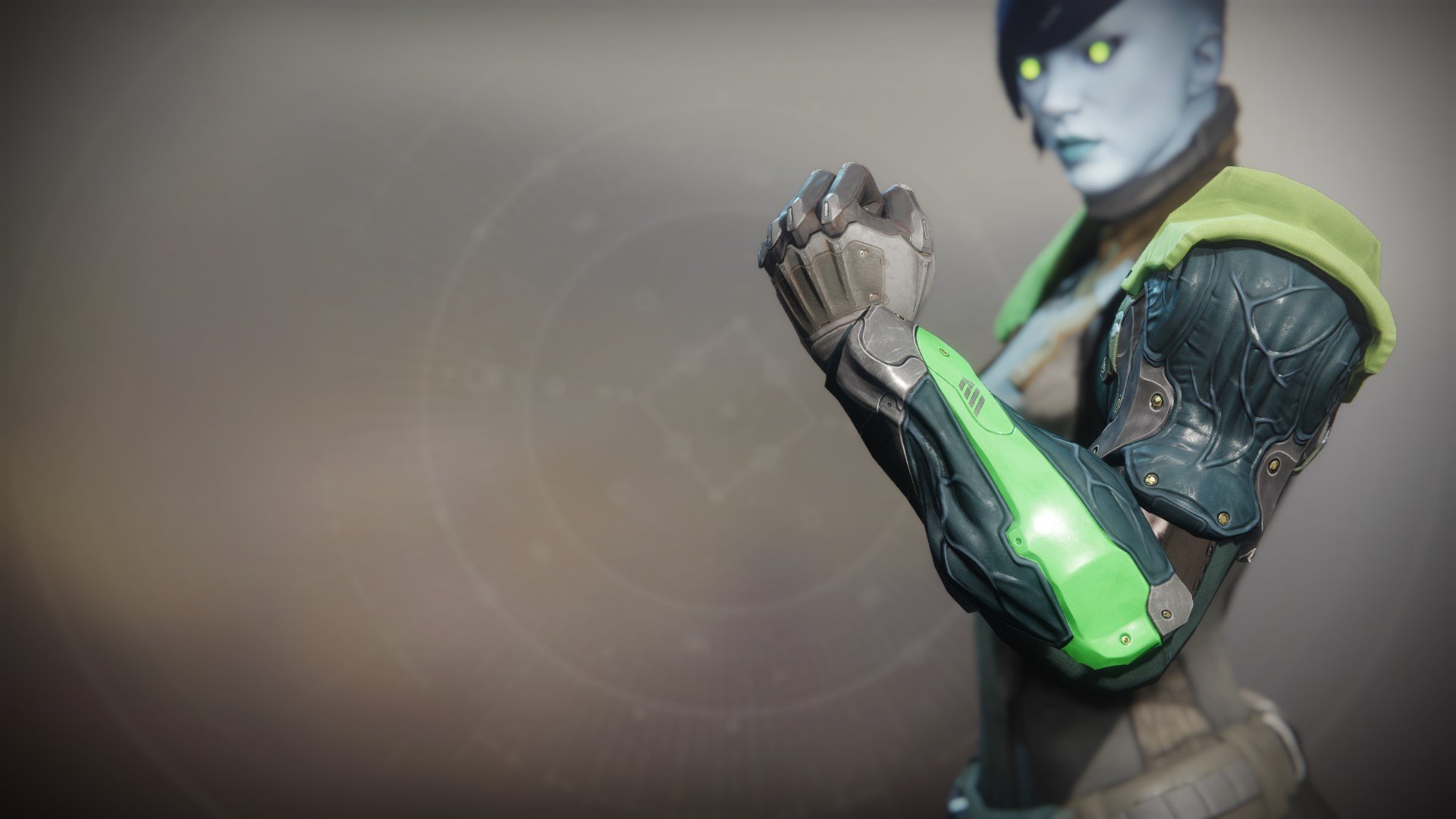 Caution: the organism has been known to develop consciousness. In these cases, immediate termination is recommended.
Read Lore
"Discovered amid the outer-reef scrap fields, the bio-matter is a novel sentience dependent upon neural-symbiosis with a host organism. It seeks to link to the synaptic patterns of the closest organism, living or synthetic, to form an unbreakable bond. We theorize that this bond is a form of primordial 'love'—an emotional connection meant to compel the bio-matter to view its host as 'family.' The host comes to regard the bio-matter as an indispensable tool. The science is inexact, but what is known is that the bio-matter becomes aggressively protective once linked to a worthy host, forming an organic shell that can amplify the host's own strength when immediate threats are detected. —Self-authored report broadcast on covert frequencies
Item Statistics
Selecting weapon perks and mods can alter the stats shown below.
| | | |
| --- | --- | --- |
| Mobility | | |
| Resilience | | 1 |
| Recovery | | 1 |
| | | |
| --- | --- | --- |
| Discipline | | |
| Intellect | | |
| Strength | | |
Season 0
Modified

-

Modified

-

Modified

-
Season 21
Season of the Deep
Season 20
Season of Defiance
Season 19
Season of the Seraph
Season 18
Season of the Plunder
Season 17
Season of the Haunted
Season 16
Season of the Risen
Season 15
Season of the Lost
Modified

-

Modified

-

Modified

-
Season 14
Season of the Splicer
Season 13
Season of the Chosen
Season 12
Season of the Hunt
Season 11
Season of Arrivals
Season 10
Season of the Worthy
Season 8
Destiny 2: Shadowkeep
Modified

-

Modified

-

Added

-
Reviews
To write reviews and manage your Guardian while playing, install Destiny Item Manager.
3 years ago
on PlayStation
Solid choice for PvE and PvP. Can't hit big numbers like Wormgod but it turns on automatically and before the first hit, no building of stacks. The range bonus in PvP is incredible and when the damage procs I've soloed 3v1 and 2v1 melees.
Use with a shotgun for best results
3 years ago
on PlayStation
Beast mode
3 years ago
on PlayStation
Turn into the Hulk with these.
Equip this with the Python in Gambit Prime and you won't be sorry.