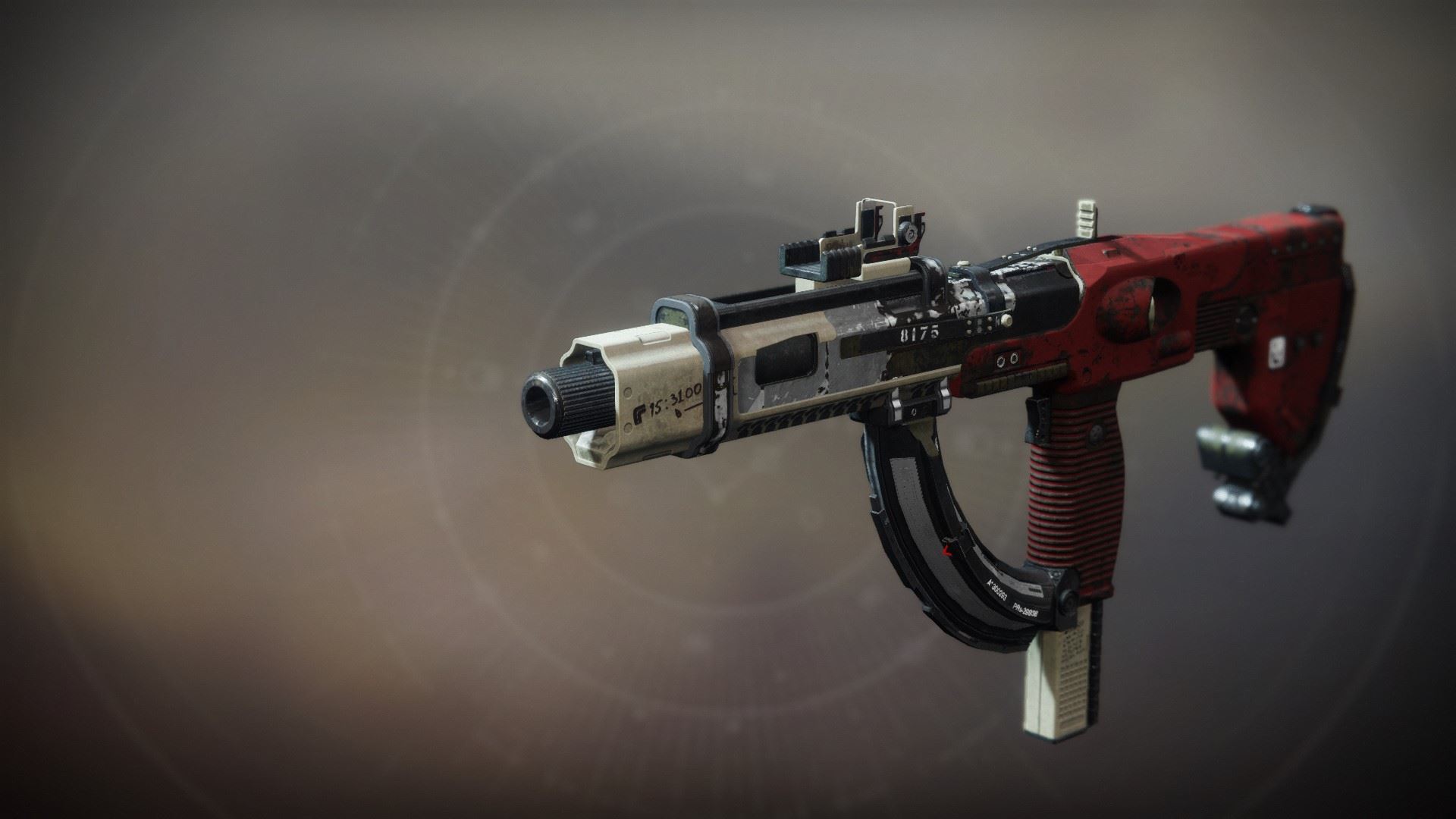 Trackless Waste
Legendary
Submachine Gun
Kinetic
"No footprints out here." —Olu Alderdice
Read Lore
"Fascinating, fascinating. But I would expect nothing less from you, my friend." Olu Alderdice's silver lips curve in a smile. "You're too kind, Spider. Too kind." "You're sure the transmat range will cover my entire territory?" "And then some, if the rumors are true." "Now now, there's no need for that." Olu gives a jaunty curtsy. "Are you sure I can't interest you in some arsenic lipstick?" "It looks better on you than it ever would on me, my friend." "Your loss, of course. Your loss." Olu offers her hand. "Shake on it?" Spider extends his arm—pauses before their appendages touch. His four eyes scrutinize Olu's two, one organic, the other red and metallic. He retracts his arm. "I think not." Olu's silver grin widens. "A wise decision, darling. Very wise."
Select Activity Type
Competitive PvP
Competitive PvP
Quickplay PvP
Competitive Co-Op
PvE
Survival
Countdown
Clash: Competitive
Control: Competitive
Crimson Doubles
Trials of the Nine
Elimination
Altar of Flame
The Burnout
Distant Shore
The Dead Cliffs
Endless Vale
Javelin-4
Pacifica
Meltdown
Bannerfall
Firebase Echo
Wormhaven
Convergence
Radiant Cliffs
Equinox
Legion's Gulch
Emperor's Respite
Midtown
The Citadel
Retribution
The Fortress
Solitude
Vostok
Gambler's Ruin
PvP Insights
Item Statistics
Selecting weapon perks and mods can alter the stats shown below.
| | | |
| --- | --- | --- |
| Impact | | 20 |
| Range | | 46 |
| Stability | | 54 |
| Handling | | 51 |
| Reload Speed | | 55 |
| Rounds/Min | | 900 |
| Magazine | | 35 |
| | | |
| --- | --- | --- |
| Aim Assistance | | 52 |
| Inventory Size | | 40 |
| Recoil Direction | | 85 |
| Zoom | | 13 |
Source: Complete activities and earn rank-up packages on the Tangled Shore.
Season 8
Destiny 2: Shadowkeep
Season 7
Season of the Opulence: Penumbra
Season 5
Season of the Forge: Black Armory
Season 4
Destiny 2: Forsaken
Modified

-

9/17/2018

Modified

-

9/10/2018

Modified

-

8/31/2018

Added

-

8/27/2018
Reviews
To write reviews and manage your Guardian while playing, install Destiny Item Manager.
It is really hard to beat this thing in close quarters. Definitely requires some decent tracking but you can usually kill shotgunners before they get in range. I don't even have a good roll and am loving this gun.
Best in slot. Basically a faster firing Antiope-D bred with the Recluse.
1 week ago
on PlayStation
Favourite SMG, have had it as often as possible since I got it.
as a new player helped me with lot of pve in early phase of game. i like it
The ROF on this as a legendary kinetic is insane.
I find myself using this as my primary weapon since Shadowkeep dropped.