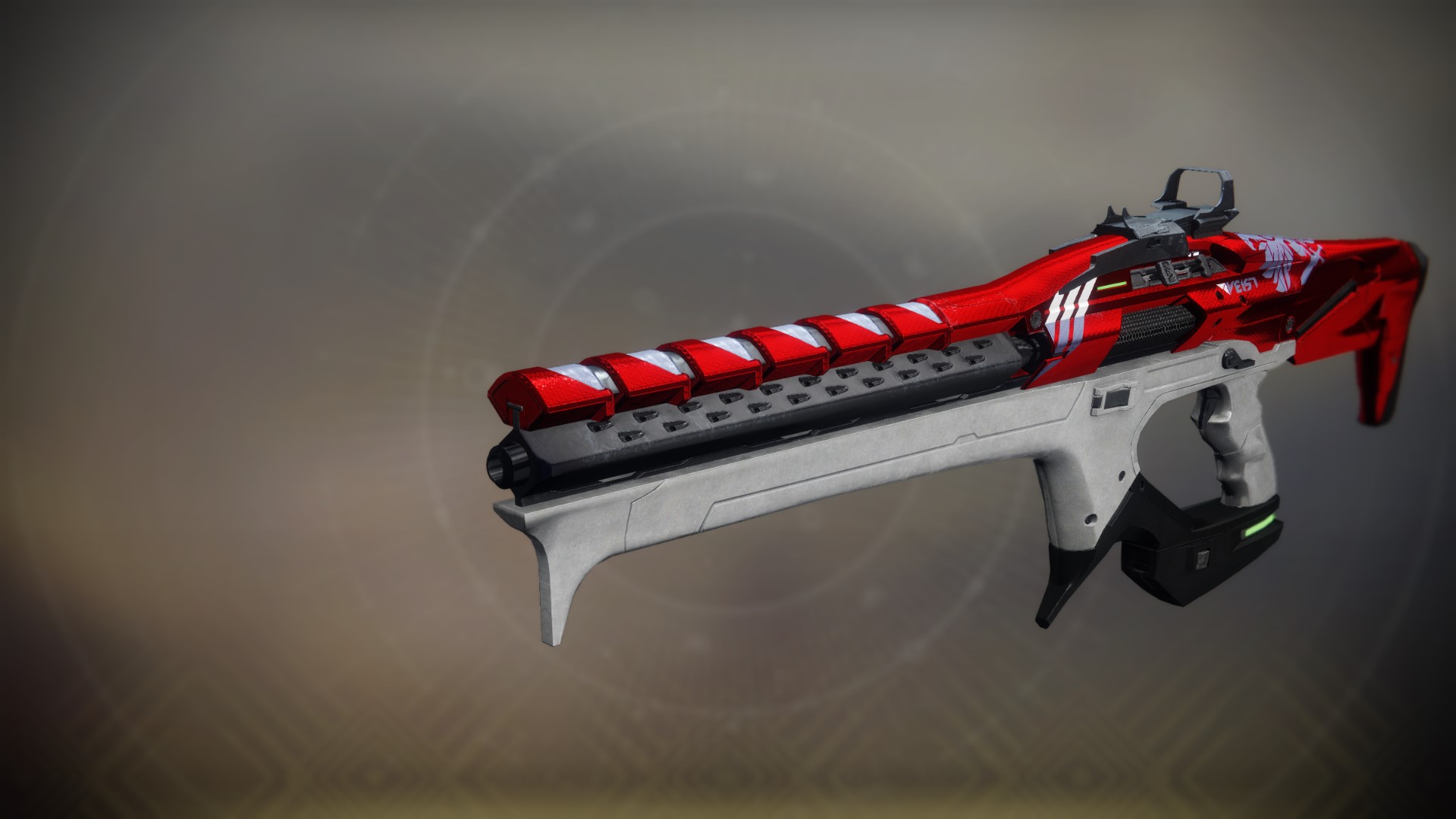 Komodo-4FR
Legendary
Linear Fusion Rifle
Solar
I await the perfect moment and watch my enemies decay.
Read Lore
The Crucible. Where legends are born. It's intimidating, to say the least, but it's also an honor to be here—to participate in building better Guardians. I could hardly believe it when my Ghost woke me. Now, stepping foot on the hallowed grounds of the Rusted Lands for the first time, I'm overwhelmed with pride. I'm here and ready to make a mark. The round opens with a total assault from the competition and I… just panic. I run, seeking cover. I watch from a distance as my fellow Guardians are mowed down. I'm not as prepared for this as I thought, but my cowardice pays off. I see them regrouping down the line. I ready my Rifle. This is my chance. Footsteps approach from behind. I turn to meet them and run face first into the bloom of a triple Solar round burst. "Your fight has just begun, Guardian. Get back in there!" Lord Shaxx bellows. I'll do better next time.
Competitive PvP

Quickplay PvP

Competitive Co-Op

PvE
Survival

Countdown

Clash: Competitive

Control: Competitive

Crimson Doubles

Trials of the Nine

Trials of Osiris

Elimination
Altar of Flame

The Burnout

Distant Shore

The Dead Cliffs

Endless Vale

Javelin-4

Pacifica

Meltdown

Bannerfall

Firebase Echo

Wormhaven

Convergence

Radiant Cliffs

Equinox

Legion's Gulch

Emperor's Respite

Midtown

The Citadel

Retribution

The Fortress

Solitude

Vostok

Gambler's Ruin
PvP Insights
Item Statistics
Selecting weapon perks and mods can alter the stats shown below.
| | | |
| --- | --- | --- |
| Impact | | 41 |
| Range | | 43 |
| Stability | | 49 |
| Handling | | 32 |
| Reload Speed | | 33 |
| Charge Time | | 533 |
| Magazine | | 5 |
| | | |
| --- | --- | --- |
| Aim Assistance | | 62 |
| Inventory Size | | 29 |
| Recoil Direction | | 80 |
| Zoom | | 25 |
Season 0
Modified

-

10/11/2021

Modified

-

9/13/2021
Season 15
Season of the Lost
Season 14
Season of the Splicer
Modified

-

5/24/2021

Modified

-

5/10/2021
Season 13
Season of the Chosen
Modified

-

4/19/2021

Modified

-

2/8/2021
Season 12
Season of the Hunt
Season 11
Season of Arrivals
Season 10
Season of the Worthy
Modified

-

4/20/2020

Modified

-

3/9/2020
Season 9
Season of Dawn
Modified

-

1/27/2020

Added

-

12/9/2019
Reviews
To write reviews and manage your Guardian while playing, install Destiny Item Manager.
1 year ago
on PlayStation
This thing isn't worth the ritual slot and its honestly outclassed by most random rolls of crooked fang. Aside from working towards the seasonal title, it's hardly worth the trouble. The Arbalest you likely used to earn it is better
the rep this thing has is well deserved tbh
Out-ranged and out damaged by (I'm pretty sure) every other heavy LFR. Even worse, it made crucible an Arbalest nightmare this season for a very mediocre reward. I think the only upside is the low charge time.
1 year ago
on PlayStation
Garbage, useless and lfr are al garbage unless ur playing gambit but still hammerhead is better in gambit
1 year ago
on PlayStation
bad
Really wish this was in Special slot rather than Heavy as it smacks and has decent firing rate...but it's never going to out DPS the current grenade launchers.
1 year ago
on PlayStation