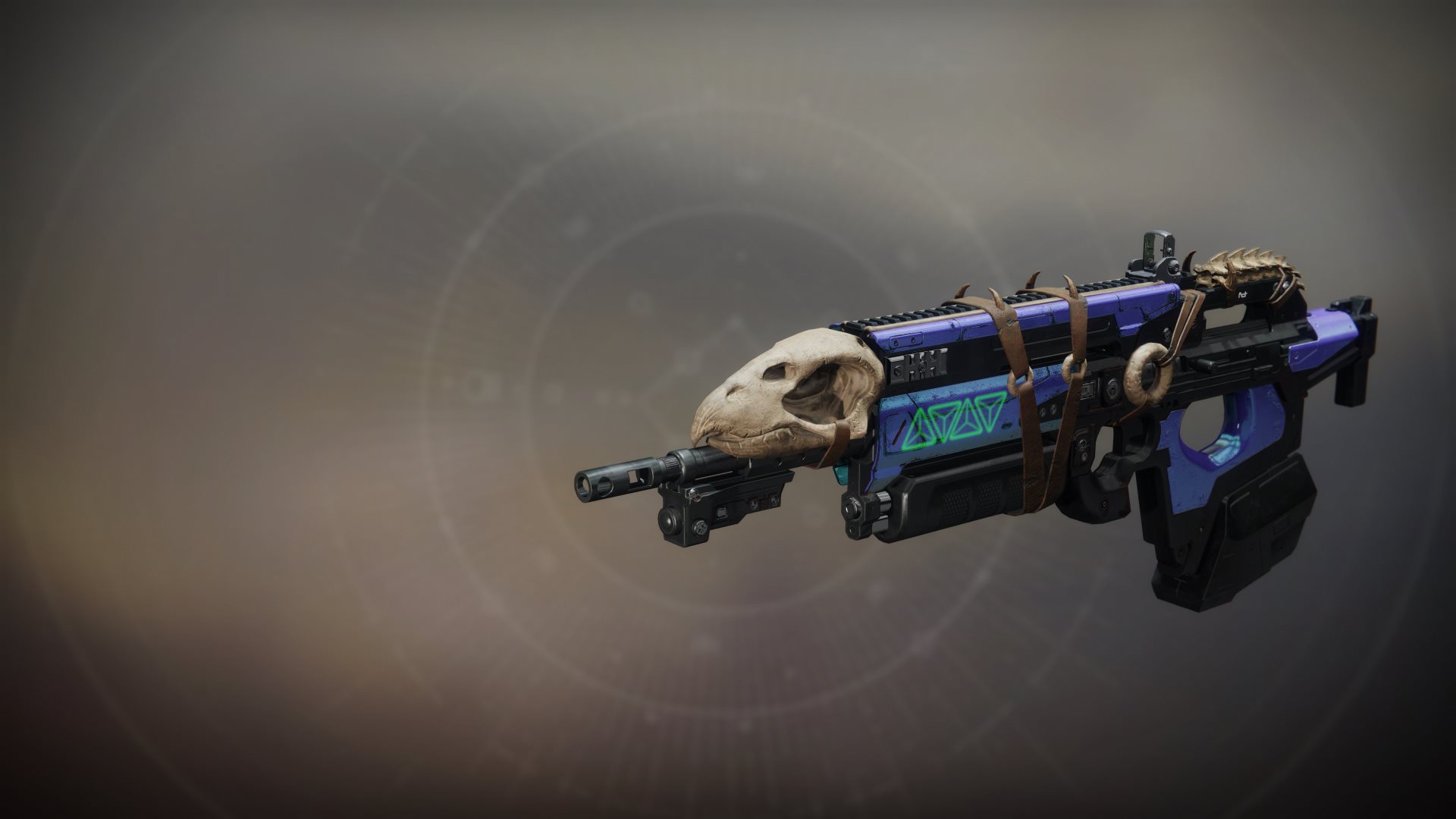 Bad Juju
Exotic
Pulse Rifle
Kinetic
"If you believe your weapon wants to end all existence, then so it will." —Toland the Shattered
Read Lore
Hello again, my trenchant Dante. You have stepped in and out of sharp-edged worlds, hewn gods into blunt fractions, twinned yourself with powers whose names cannot even be held in the language of little gray cells. You think yourself very high up on the pyramid of contumely. If you only knew how high that pyramid goes. Higher than I knew when my radiant killer unsung me from biological squalor, or when I witnessed a royal secret turn death into a chrysalis. Higher than I described in my journals, or told to our mutual three-eyed friend. Higher than even I, sailor upon the Sea of Screams that I am, can yet see. Perhaps I will tell you about them. You are right to ask why I would do so. Very good, dear squanderer, your intentions have grown sharp as thrallteeth. You see, they know. What you are, what you were, what you will become. They know. What lean tithes you are to them. Soft whetstones make for dull blades. This I define as the truth and tension of the rope: to bind, one must apply force at both ends. I think perhaps I will tell you after all.
Competitive PvP

Quickplay PvP

Competitive Co-Op

PvE
Survival

Countdown

Clash: Competitive

Control: Competitive

Crimson Doubles

Trials of the Nine

Trials of Osiris

Elimination

Rift

Showdown
Altar of Flame

The Burnout

Distant Shore

The Dead Cliffs

Endless Vale

Javelin-4

Pacifica

Meltdown

Bannerfall

Firebase Echo

Wormhaven

Convergence

Radiant Cliffs

Equinox

Legion's Gulch

Emperor's Respite

Midtown

The Citadel

Retribution

The Fortress

Solitude

Vostok

Gambler's Ruin
PvP Insights
Item Statistics
Selecting weapon perks and mods can alter the stats shown below.
| | | |
| --- | --- | --- |
| Impact | | 27 |
| Range | | 35 |
| Stability | | 62 |
| Handling | | 41 |
| Reload Speed | | 47 |
| Rounds/Min | | 450 |
| Magazine | | 27 |
| | | |
| --- | --- | --- |
| Aim Assistance | | 60 |
| Airborne Effectiveness | | 28 |
| Inventory Size | | 15 |
| Recoil Direction | | 85 |
| Zoom | | 17 |
Season 20
Season of Defiance
Season 18
Season of the Plunder
Modified

-

10/14/2022

Modified

-

8/19/2022
Season 17
Season of the Haunted
Modified

-

7/18/2022

Modified

-

5/23/2022
Season 16
Season of the Risen
Season 15
Season of the Lost
Modified

-

12/15/2021

Modified

-

10/11/2021
Season 14
Season of the Splicer
Season 13
Season of the Chosen
Modified

-

4/19/2021

Modified

-

2/8/2021
Season 12
Season of the Hunt
Season 11
Season of Arrivals
Season 10
Season of the Worthy
Season 9
Season of Dawn
Modified

-

1/27/2020

Modified

-

12/9/2019
Season 8
Destiny 2: Shadowkeep
Modified

-

11/11/2019

Modified

-

10/28/2019

Modified

-

9/30/2019
Season 7
Season of the Opulence: Penumbra
Declassified

-

7/9/2019

Added

-

5/31/2019
Reviews
To write reviews and manage your Guardian while playing, install Destiny Item Manager.
3 years ago
on PlayStation
3 years ago
on PlayStation
3 years ago
on PlayStation
3 years ago
on PlayStation
3 years ago
on PlayStation
Too much grind for the catalyst
3 years ago
on PlayStation
The ultimate destroyer of trash mobs. Reload? What's that? Worth the asinine grind for the catalyst (hate the grind, not the gun)
Both PVP and PVE this weapon is more than capable of wrecking. I guess people just cannot be bothered with it.
Very good, string of curses goes up to +100% damage making it the best damage buff perk in the game. Get the catalyst to make orbs and make the perk last longer and this thing shreds adds forever and gives you so much super energy. Combine with bottom tree gunslinger and celestial nighthawk to have constant boss killing golden guns.
3 years ago
on PlayStation
As great as this weapon sounds as great on paper. Without the catalsyt, its still pretty mediocre simply because of masterwork orbs and wendigo.
Not terrible just not very strong in current meta, being considered one of the weakest archetypes, lightweight frame pulse rifles need a damage buff. It feels String of Curses can do the heavy lifting necessary to carry this pulse at times but there'll always be more consistent feeling primaries as long as this pulse holds the position it's currently situated. Loved this pulse in D1 and love it now, that distant inevitable lightweight frame buff will be greeted with glorious communion.
3 years ago
on PlayStation
Bad Juju
Bad damage until you kill something. Given that your teammates will always outdamage you, you won't get kills to get the damage that allows you to kill. Just slap a super generating mod on your class armor and roll with that.