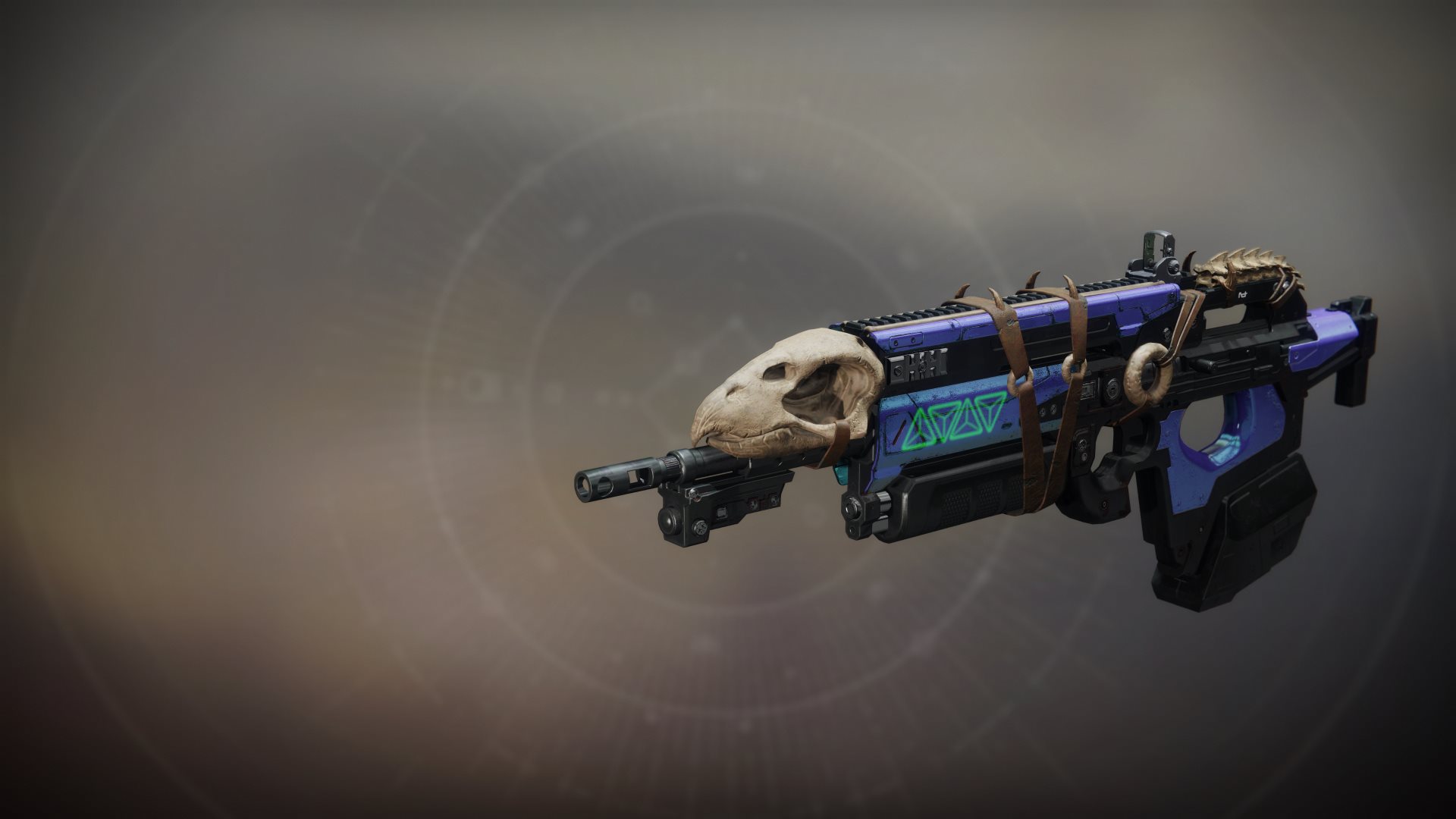 Bad Juju
Exotic
Pulse Rifle
Kinetic
"If you believe your weapon wants to end all existence, then so it will." —Toland the Shattered
Read Lore
Hello again, my trenchant Dante. You have stepped in and out of sharp-edged worlds, hewn gods into blunt fractions, twinned yourself with powers whose names cannot even be held in the language of little gray cells. You think yourself very high up on the pyramid of contumely. If you only knew how high that pyramid goes. Higher than I knew when my radiant killer unsung me from biological squalor, or when I witnessed a royal secret turn death into a chrysalis. Higher than I described in my journals, or told to our mutual three-eyed friend. Higher than even I, sailor upon the Sea of Screams that I am, can yet see. Perhaps I will tell you about them. You are right to ask why I would do so. Very good, dear squanderer, your intentions have grown sharp as thrallteeth. You see, they know. What you are, what you were, what you will become. They know. What lean tithes you are to them. Soft whetstones make for dull blades. This I define as the truth and tension of the rope: to bind, one must apply force at both ends. I think perhaps I will tell you after all.
Select Activity Type
Competitive PvP
Competitive PvP
Quickplay PvP
Competitive Co-Op
PvE
Survival
Countdown
Clash: Competitive
Control: Competitive
Crimson Doubles
Trials of the Nine
Elimination
Altar of Flame
The Burnout
Distant Shore
The Dead Cliffs
Endless Vale
Javelin-4
Pacifica
Meltdown
Bannerfall
Firebase Echo
Wormhaven
Convergence
Radiant Cliffs
Equinox
Legion's Gulch
Emperor's Respite
Midtown
The Citadel
Retribution
The Fortress
Solitude
Vostok
Gambler's Ruin
PvP Insights
Item Statistics
Selecting weapon perks and mods can alter the stats shown below.
| | | |
| --- | --- | --- |
| Impact | | 27 |
| Range | | 42 |
| Stability | | 66 |
| Handling | | 47 |
| Reload Speed | | 52 |
| Rounds/Min | | 450 |
| Magazine | | 27 |
| | | |
| --- | --- | --- |
| Aim Assistance | | 60 |
| Inventory Size | | 15 |
| Recoil Direction | | 85 |
| Zoom | | 17 |
Season 8
Destiny 2: Shadowkeep
Season 7
Season of the Opulence: Penumbra
Declassified

-

7/9/2019

Added

-

5/31/2019
Reviews
To write reviews and manage your Guardian while playing, install Destiny Item Manager.
4 hours ago
on PlayStation
2 days ago
on PlayStation
3 days ago
on PlayStation
Low-key bad. High-key bad when compared to other kinetics. Still better than it was in Vanilla D1.
4 days ago
on PlayStation
4 days ago
on PlayStation
In destiny 1 this gun was by far my favorite, I still have it equipped on my hunter to this day. I was so stoked when they said that it was making a comeback. This gun still lives up to its legacy, and once you get the catalyst it's a super generating machine. Even the super nerf couldn't stop this thing.
What an amazing gun for PvE. Gotta try this out in PvP!
Fast gun at middle and short distance, with catalyst a 5.0
Still Bad Juju, still the baddest thing on the block, puts out more super than anything else.