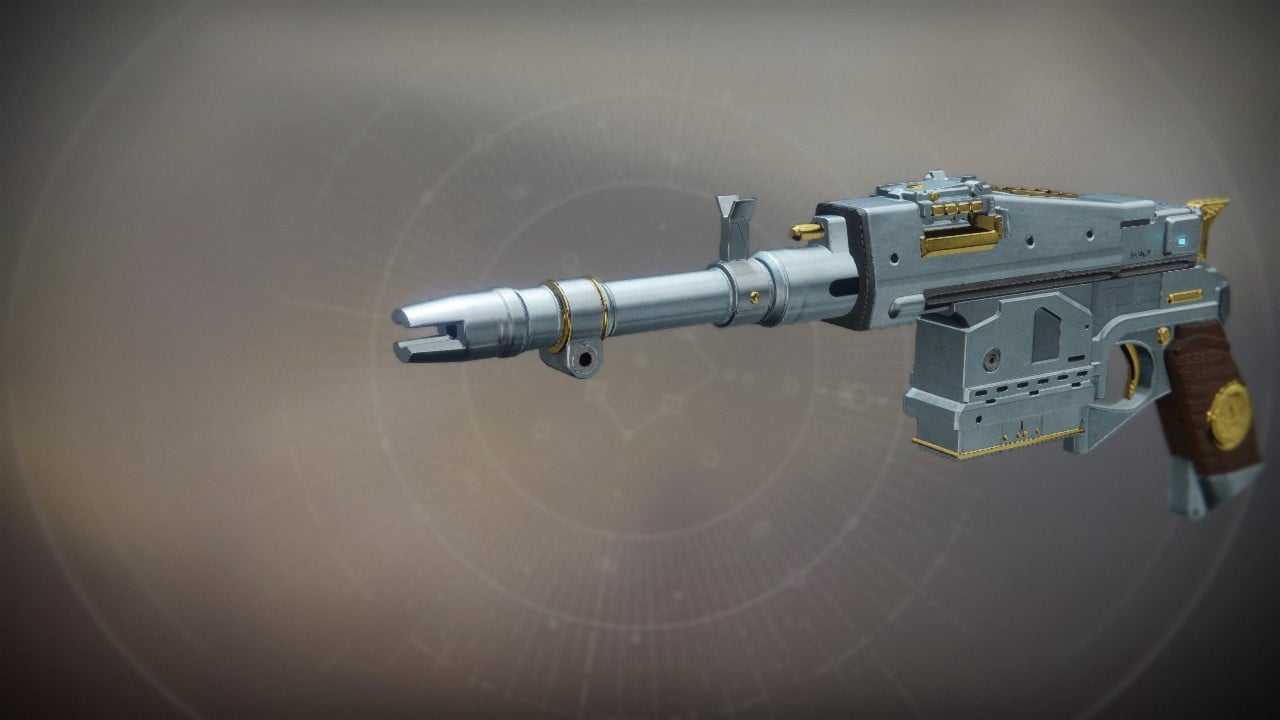 Sturm
Exotic
Hand Cannon
Kinetic
These ancient ceremonial pistols can be dated back to the early Golden Age. A faded inscription reads, "To Sigrun, from Victor."
Read Lore
"Please! You don't understand. I'm supposed to be on that ship." The guard smiled at Sigrun with gentle condescension. "That's not possible, ma'am." She understood why he would believe that; all of the colonists had entered cryo two weeks ago, but she could see the crew waving for pictures. They were awake! She could be awake, too. "I'm supposed to be on that ship," she insisted, leaning around the guard. There was still time. She could find whatever horrible cryo-coffin they'd loaded Victor into; she could kneel before it and beg him to forgive her. He wouldn't hear her but he wasn't gone yet— "I need you to take a step back, ma'am." "Captain Jacobson!" Sigrun darted past the guard. "I'm a colonist! You can't leave without me!"
Competitive PvP

Quickplay PvP

Competitive Co-Op

PvE
Survival

Countdown

Clash: Competitive

Control: Competitive

Crimson Doubles

Trials of the Nine

Trials of Osiris

Elimination
Altar of Flame

The Burnout

Distant Shore

The Dead Cliffs

Endless Vale

Javelin-4

Pacifica

Meltdown

Bannerfall

Firebase Echo

Wormhaven

Convergence

Radiant Cliffs

Equinox

Legion's Gulch

Emperor's Respite

Midtown

The Citadel

Retribution

The Fortress

Solitude

Vostok

Gambler's Ruin
PvP Insights
Item Statistics
Selecting weapon perks and mods can alter the stats shown below.
| | | |
| --- | --- | --- |
| Impact | | 92 |
| Range | | 64 |
| Stability | | 56 |
| Handling | | 46 |
| Reload Speed | | 55 |
| Rounds/Min | | 120 |
| Magazine | | 9 |
| | | |
| --- | --- | --- |
| Aim Assistance | | 50 |
| Inventory Size | | 30 |
| Recoil Direction | | 80 |
| Zoom | | 14 |
Season 14
Season of the Splicer
Season 13
Season of the Chosen
Modified

-

4/19/2021

Modified

-

2/8/2021
Season 12
Season of the Hunt
Season 11
Season of Arrivals
Season 10
Season of the Worthy
Season 9
Season of Dawn
Modified

-

1/27/2020

Modified

-

12/9/2019
Season 8
Destiny 2: Shadowkeep
Modified

-

11/11/2019

Modified

-

10/28/2019

Modified

-

9/30/2019
Season 7
Season of the Opulence: Penumbra
Season 5
Season of the Forge: Black Armory
Season 4
Destiny 2: Forsaken
Modified

-

10/11/2018

Modified

-

9/17/2018

Modified

-

9/10/2018

Modified

-

8/31/2018

Modified

-

8/27/2018
Season 3
Destiny 2 Expansion II: Warmind
Modified

-

7/16/2018

Modified

-

6/26/2018

Modified

-

5/23/2018

Modified

-

5/15/2018

Modified

-

5/7/2018
Season 2
Destiny 2 Expansion I: Curse of Osiris
Modified

-

4/3/2018

Modified

-

12/11/2017

Modified

-

12/4/2017
Season 1
Destiny 2 Release
Modified

-

11/14/2017

Modified

-

10/18/2017

Added

-

9/5/2017
Reviews
To write reviews and manage your Guardian while playing, install Destiny Item Manager.
Sturm and Drang is a surprisingly fun, effective, and underrated/overlooked combo. Drang kills net you "infinite powered ammo" for Sturm. In the crucible you can two tap or finish with Drang if you open with the overcharged shot. This gun deserves at least a 4.5 for its originality and lethality (when used skillfully).
1 year ago
on PlayStation
Very fun to use with Drang - That's the whole point. Bungie had some fun with this one. One of the best 110 handcannons. Never have to reload if you are getting those Drang kills.
1 year ago
on PlayStation
Before forsaken, this was my go-to weapon, as is was, and still is, a guaranteed two-tap to the head with overcharge on. That isn't the case any longer, and Sturm is unfortunately outclassed by competitors. In PvE by midnight coup, ace of spades and OG better devils, and in PvP by Luna/NF, ace of spades, trust, and so on. Today, the weapon is situational. If you plan on using inertia override or empowering rift, this weapon can perform a one-shot kill to the head in PvP - which is very good! This is when you would consider using this weapon.
Not a big fan of Hand Cannons but paired with Drang, it's an amazing gun to have.
My favorite hand cannon (tied with The Last Word). Packs the punch and range you'd expect out of a Hand Cannon. Just gotta peek and hit your shots.
1 year ago
on PlayStation
The Solo Public event gun.
one of my favorite exotics
1 year ago
on PlayStation
I'm not sure why this HC is getting a bad rep, pair it with the Drang and you'll never have to reload, plus range and impact are good. However, I agree there are better HC's out there when not looking for the storm/stress combo.
1 year ago
on PlayStation
Its a great 110 to use in Crucible and does NOT to be used with Drang. As long as it is masterworked it has 93 range and 77 handling.
The most beautiful thing to use.
1 year ago
on PlayStation
Sturm
1 year ago
on PlayStation
Why are people downrating this? Get a Drang with quickdraw, masterwork your Sturm, get kills with Drang, then swap to Sturm. Profit.
sturm + drang = destruction
Paired with a good Drang, this duo is really fun.
Without Drang, it's mediocre. With Drang, when overcharged, It becomes better than Eriana's Vow.
1 year ago
on PlayStation
does similar body damage while overcharged as a linear fusion rifle heavy