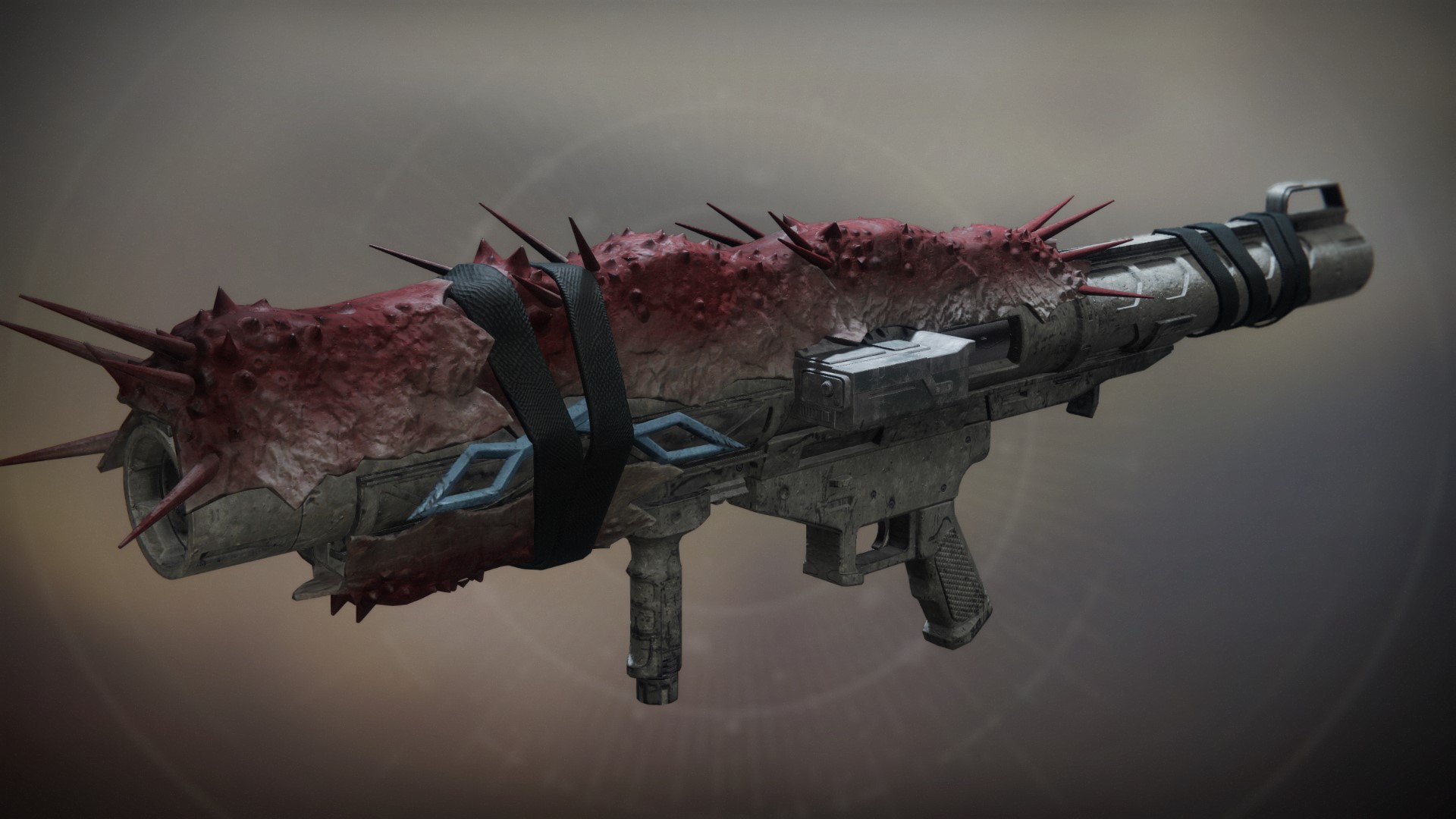 Heretic
Legendary
Rocket Launcher
Arc
"Death is only and forever an ending. All else is sacrilege." —Kuldax
Read Lore
Hashladûn peered into the dark recesses of nightmare creatures and saw no hope. The Daughters' lineage was death and destruction writ in terrible scars across the surface of existence, yet no hint of their father or their father's father called from the void. But the energies of the Pyramid were those of creation—not of life, per se, but something other. Chaos and negation and the raw things that existed in the spaces between thought and fear. These terrible workings were wholly unknowable and endlessly seductive. The Daughters found themselves craven and lusting after the promise held within the boundless unknown. If the grand essences of the King of Subjugation and his willful Prince of Annihilation had truly dissipated, then the Daughters would seek new pathways through darkness by which to rule in their progenitors' name. And if the sword logic required the blood of all challengers, they would craft a champion worthy of the Annihilator's throne, yet bound to their own sinister whims. Their grandfather would not approve—cunning and deception were the path of another—but the Daughters were alone, and the Swarm was flailing. It was Kinox who urged her sisters to act. It was Hashladûn who offered the primordial essence of terror as their guide. And it was Besurith and Voshyr who gathered the husk of a shattered champion—a ravager to stand against all who would oppose their rule. A new breed of destroyer.
Select Activity Type
Competitive PvP
Competitive PvP
Quickplay PvP
Competitive Co-Op
PvE
Survival
Countdown
Clash: Competitive
Control: Competitive
Crimson Doubles
Trials of the Nine
Elimination
Altar of Flame
The Burnout
Distant Shore
The Dead Cliffs
Endless Vale
Javelin-4
Pacifica
Meltdown
Bannerfall
Firebase Echo
Wormhaven
Convergence
Radiant Cliffs
Equinox
Legion's Gulch
Emperor's Respite
Midtown
The Citadel
Retribution
The Fortress
Solitude
Vostok
Gambler's Ruin
PvP Insights
Item Statistics
Selecting weapon perks and mods can alter the stats shown below.
| | | |
| --- | --- | --- |
| Blast Radius | | 60 |
| Velocity | | 81 |
| Stability | | 33 |
| Handling | | 31 |
| Reload Speed | | 62 |
| Rounds/Min | | 25 |
| Magazine | | 1 |
| | | |
| --- | --- | --- |
| Aim Assistance | | 29 |
| Inventory Size | | 32 |
| Recoil Direction | | 68 |
| Zoom | | 20 |
Source: Altars of Sorrow
Season 0
Modified

-

12/9/2019

Modified

-

11/11/2019
Season 8
Destiny 2: Shadowkeep
Declassified

-

10/28/2019

Added

-

9/30/2019
Reviews
To write reviews and manage your Guardian while playing, install Destiny Item Manager.
demolitionist allows you to get 2 shots off and a grenade quickly, then reload and hope your mag overflows with ambitious assassin. add impact casing and it's a good rocket launcher for mini bosses