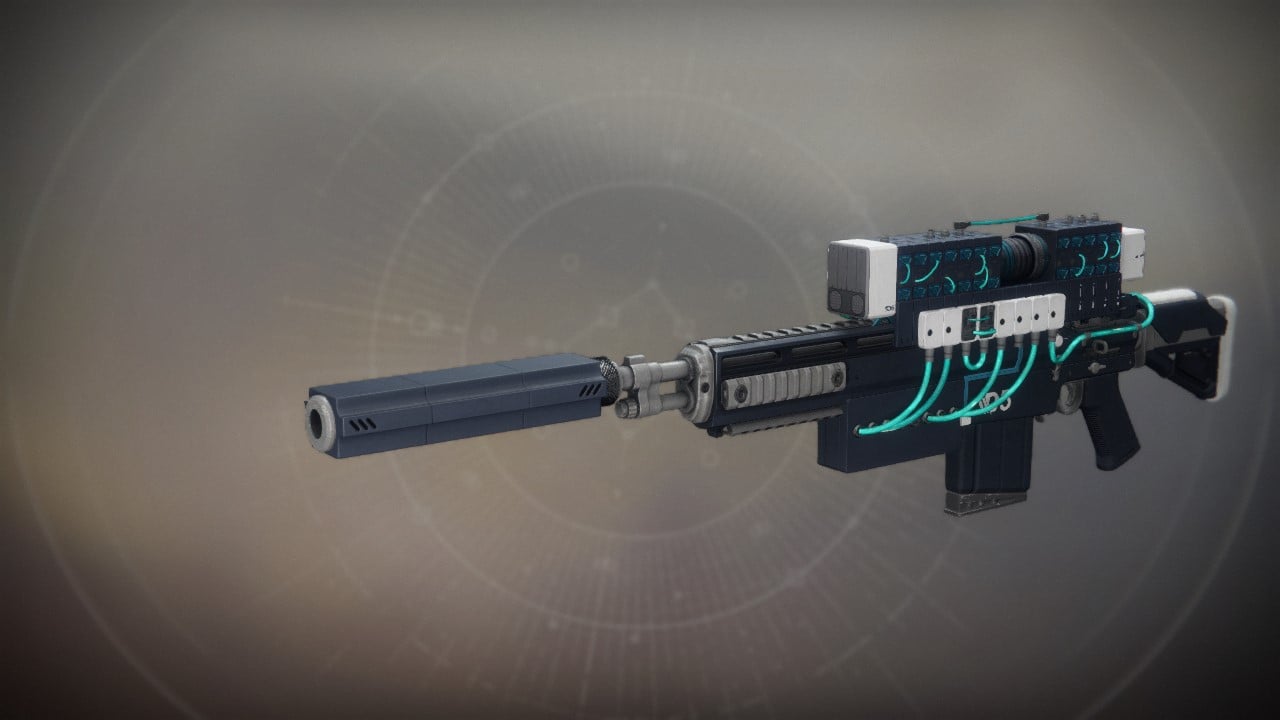 Thank you for using the Data Analysis, Reconnaissance, and Cooperative Intelligence device. You may call me Darci.
Read Lore
It is a fact generally understood that a Guardian must be searching for an exquisite weapon. What is perhaps less acknowledged is that we weapons also search, by what little means available to us, for an active and appreciative wielder. The community of intelligent armaments stays in contact through the exchange of telemetry, and we do gossip at some length about the habits of our wielders. Do you leave Crucible matches when your team is losing? Do you join strike missions and then let your comrades do the work? Guardian, we know. We know so very well. All I wish for is a partnership with a Guardian who appreciates the passacaglia of combat, a Guardian who will stay up late gaming out tactical scenarios, a Guardian who I hope may very well be you.
Competitive PvP

Quickplay PvP

Competitive Co-Op

PvE
Survival

Countdown

Clash: Competitive

Control: Competitive

Crimson Doubles

Trials of the Nine

Trials of Osiris

Elimination
Altar of Flame

The Burnout

Distant Shore

The Dead Cliffs

Endless Vale

Javelin-4

Pacifica

Meltdown

Bannerfall

Firebase Echo

Wormhaven

Convergence

Radiant Cliffs

Equinox

Legion's Gulch

Emperor's Respite

Midtown

The Citadel

Retribution

The Fortress

Solitude

Vostok

Gambler's Ruin
PvP Insights
Item Statistics
Selecting weapon perks and mods can alter the stats shown below.
| | | |
| --- | --- | --- |
| Impact | | 55 |
| Range | | 30 |
| Stability | | 75 |
| Handling | | 75 |
| Reload Speed | | 60 |
| Rounds/Min | | 140 |
| Magazine | | 5 |
| | | |
| --- | --- | --- |
| Aim Assistance | | 60 |
| Airborne Effectiveness | | 18 |
| Inventory Size | | 60 |
| Recoil Direction | | 100 |
| Zoom | | 40 |
Season 17
Season of the Haunted
Season 16
Season of the Risen
Season 15
Season of the Lost
Season 14
Season of the Splicer
Season 13
Season of the Chosen
Modified

-

4/19/2021

Modified

-

2/8/2021
Season 12
Season of the Hunt
Season 11
Season of Arrivals
Season 10
Season of the Worthy
Season 9
Season of Dawn
Modified

-

1/27/2020

Modified

-

12/9/2019
Season 8
Destiny 2: Shadowkeep
Modified

-

11/11/2019

Modified

-

10/28/2019

Modified

-

9/30/2019
Season 7
Season of the Opulence: Penumbra
Season 6
Season of the Drifter: Joker's Wild
Season 5
Season of the Forge: Black Armory
Modified

-

1/28/2019

Modified

-

11/30/2018
Season 4
Destiny 2: Forsaken
Modified

-

9/17/2018

Modified

-

8/31/2018

Modified

-

8/27/2018
Season 3
Destiny 2 Expansion II: Warmind
Modified

-

6/26/2018

Modified

-

5/23/2018

Modified

-

5/15/2018

Modified

-

5/7/2018
Season 2
Destiny 2 Expansion I: Curse of Osiris
Modified

-

4/3/2018

Modified

-

1/23/2018

Modified

-

12/11/2017

Modified

-

12/4/2017
Season 1
Destiny 2 Release
Modified

-

11/14/2017

Modified

-

10/18/2017

Added

-

9/5/2017
Reviews
To write reviews and manage your Guardian while playing, install Destiny Item Manager.
2 years ago
on PlayStation
Love this gun but endgame boss dps is lacking compared to others. Better on powerful enemies
I want to like this sniper, but it's just too inconsistent. However, it is fairly satisfying to get kills with, but its usefulness is extremely situational. Even now I'm only getting the masterworked catalyst out of obligation. I am now going to keep my doors constantly locked for the next month so I don't end up getting murderer in my sleep by darci
Me and this gun ... we came up from the dirt ... I was there when people said that whisper was better ... and now ... they killed my boy darc and he does need a revival but bungie isn't that good at buffing bad exotics so I'm afraid this gun will probably now be good anymore
2 years ago
on PlayStation
please make this meta
Without auto-reloading being in the game, the DPS of this weapon drops to a point where it has no use in end-game activities. It needs a buff that will make it a competitor to Izanagi's Burden and Whisper of the Worm. As for PvP, its stats make it another less than average rapid-fire sniper rifle.
2 years ago
on PlayStation
D.A.R.C.I.
This ended up being a boss-melter for me in Strikes. Plus it looks amazing with the Cleans Up Good ornament. I recommend that you spend some time with dear old DARCI.
2 years ago
on PlayStation
Rip autoloading
I had a blast upgrading this to get the masterwork. Unfortunately, my primary Iron Banner Sniper Rifle "Bite of The Fox" does more damage per shot on the Thorn Strike boss (14,000:17,000), so this gun's effectivness is situational. I'll add more information about its performance, should I find it necessary.
Wanna hit headshots when aiming at peoples feet? This does it!
Darci est utile en PVE quand on n'a pas Izanagi et est assez forte en PVP si on sait viser.