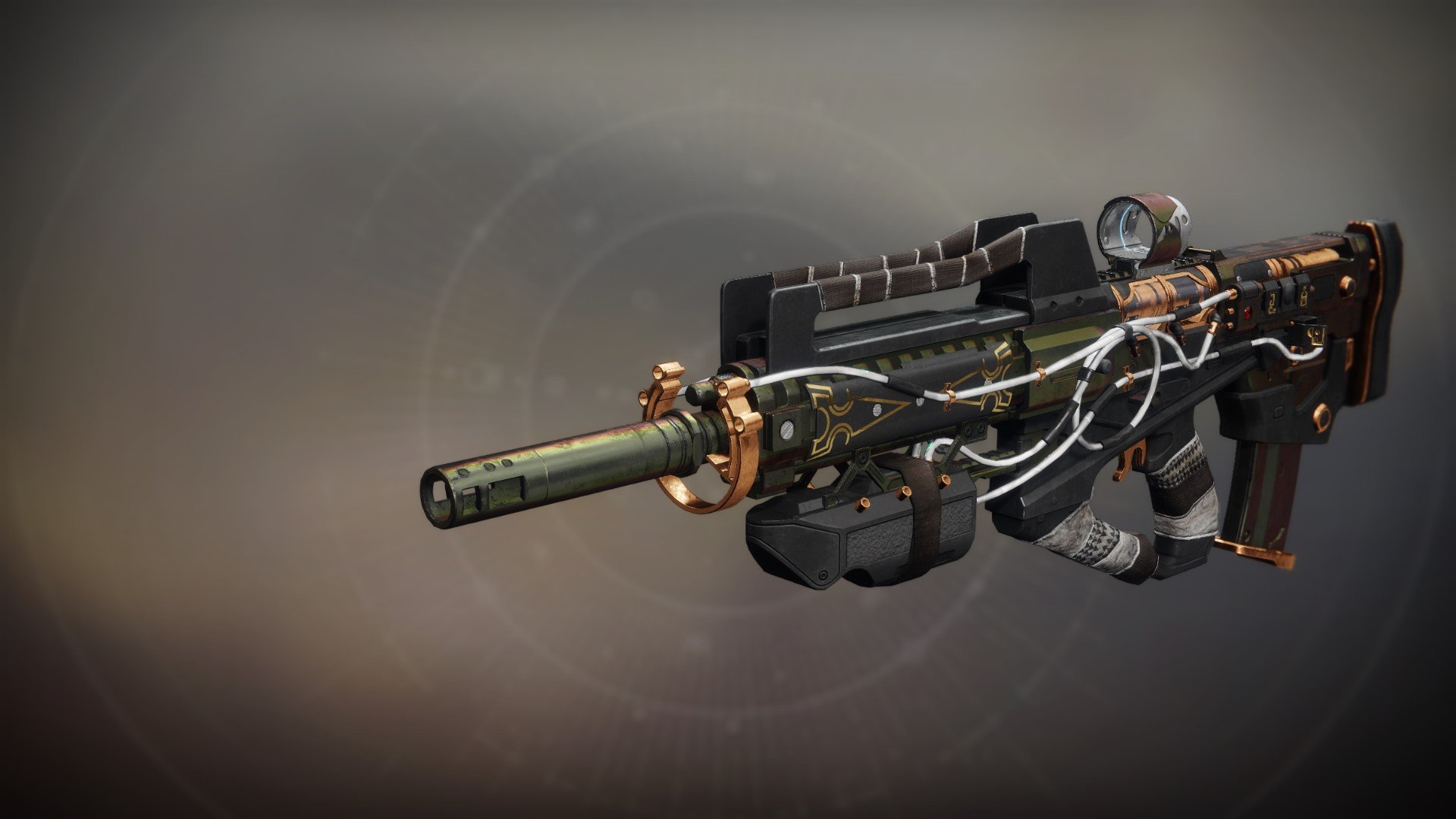 Infinite Paths 8
Legendary
Pulse Rifle
Arc
They sowed the First, now reap the Last; forever narrows to a line Where Light will fade into the past—when all's converted, nothing shines.
Read Lore
From the writings of Brother Vance: Anyone can see the signs if they just truly look! Osiris preserve us, I am blind and I recognized the signs of his lost prophecies coming to bear! But none of us—not even his most faithful—have seen the things Osiris has seen. We in the Lighthouse follow a man haunted by visions of apocalypse, yet doesn't turn away. Osiris doesn't close his eyes. He doesn't even blink. He put aside his Vanguard duties, his students, his very life, to bear this curse. And why? Because it is the only way to become strong enough to save you from the enemy. You in the City who condemned Osiris, who cast him out and cursed his name, do you not understand that the prophecies are curse enough?
Competitive PvP

Quickplay PvP

Competitive Co-Op

PvE
Survival

Countdown

Clash: Competitive

Control: Competitive

Crimson Doubles

Trials of the Nine

Trials of Osiris

Elimination
Altar of Flame

The Burnout

Distant Shore

The Dead Cliffs

Endless Vale

Javelin-4

Pacifica

Meltdown

Bannerfall

Firebase Echo

Wormhaven

Convergence

Radiant Cliffs

Equinox

Legion's Gulch

Emperor's Respite

Midtown

The Citadel

Retribution

The Fortress

Solitude

Vostok

Gambler's Ruin
PvP Insights
Item Statistics
Selecting weapon perks and mods can alter the stats shown below.
| | | |
| --- | --- | --- |
| Impact | | 27 |
| Range | | 37 |
| Stability | | 55 |
| Handling | | 70 |
| Reload Speed | | 64 |
| Rounds/Min | | 450 |
| Magazine | | 33 |
| | | |
| --- | --- | --- |
| Aim Assistance | | 76 |
| Inventory Size | | 55 |
| Recoil Direction | | 59 |
| Zoom | | 17 |
Season 12
Destiny 2: Beyond Light
Season 11
Season of Arrivals
Season 10
Season of the Worthy
Season 9
Season of Dawn
Modified

-

1/27/2020

Added

-

12/9/2019
Reviews
To write reviews and manage your Guardian while playing, install Destiny Item Manager.
Damage perk, reload perk AND grenade recharge perk. beast of a gun.
Actually a pretty good/decent pulse, depending on your roll. Swashbuckler + Grenade thingy
10 months ago
on PlayStation
10 months ago
on PlayStation
If you're not averse to having drop mag and can actively be conscious of your reserves this thing is incredible in activities like NF: Ordeals, Nightmare Hunts, Nightfalls, etc. If you pair this roll with a Subclass that has a ranged melee ability (top tree Dawnblade, middle tree Hammers, top/bottom tree Gunslinger) you can make excellent use of Swashbuckler x5 and then keep that proc'd effectively indefinitely so long as you have adds in front of you. Genesis to reload for you just adds to the synergy when adds have Arc shields. If you come across this roll you may be tempted to toss it, but I highly recommend giving it a whirl.
10 months ago
on PlayStation
Very good in PVP. Zen moment + moving target, never used something as stable and acurate as this
11 months ago
on PlayStation
Great for pve with demolitionist and dragonfly