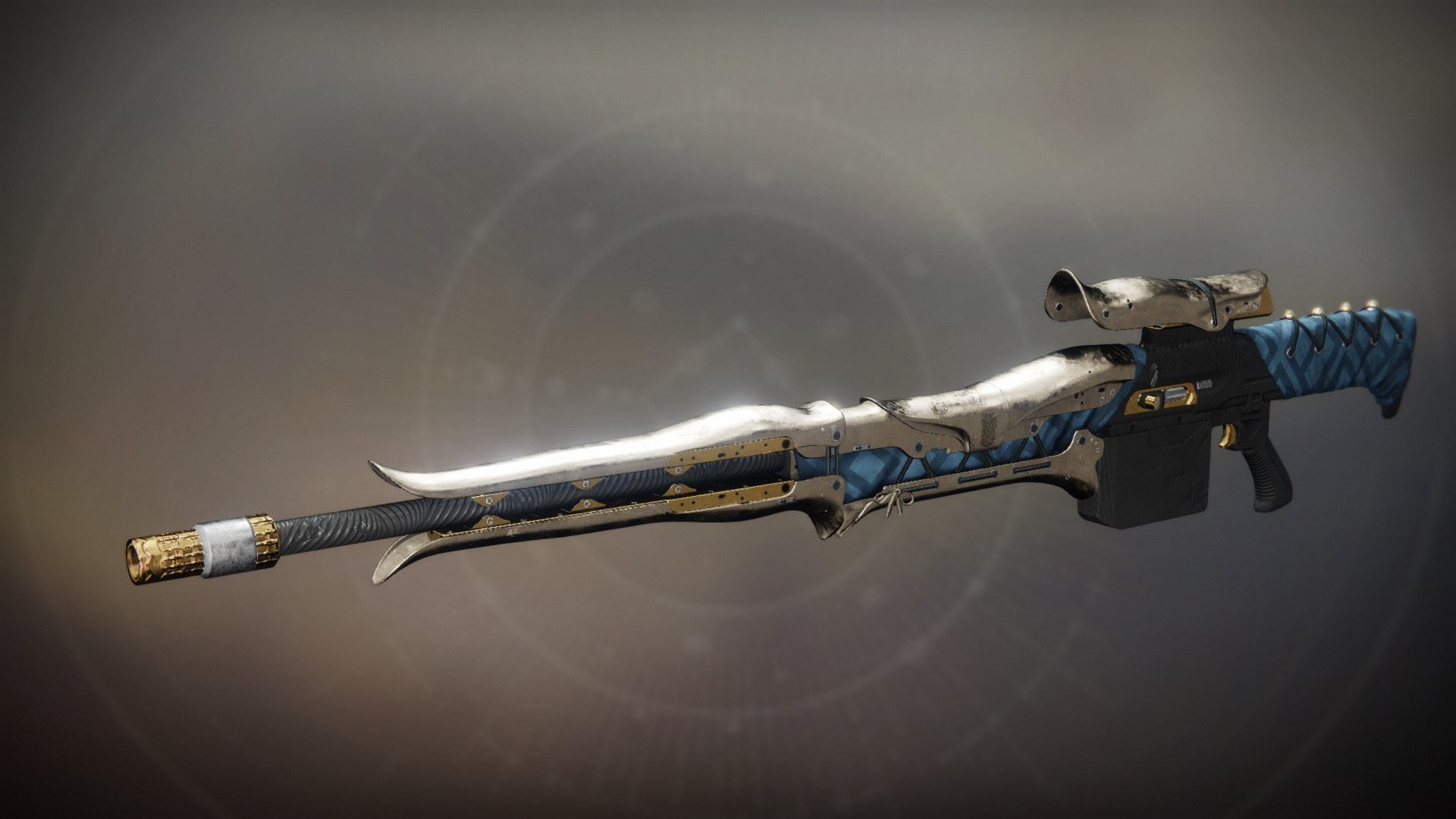 Twilight Oath
Legendary
Sniper Rifle
Solar
Engraved in illuminated letters on the weapon's chassis: THE AWOKEN MADE ME.
Read Lore
Guardian comms are ablaze with gossip. Yevik crouches over a battered radio that they've juryrigged to bypass Vanguard security overrides. He listens closely while the rest of his scouting party watches and waits. None of them speak the Human tongues, so it falls on him to translate the news. He's rusty, but he can make out the main beats. Queen Mara Sov is alive. Prince Uldren Sov is dead. The Awoken are calling for aid. His blood quickens. He was once a Wolf who bowed to Mara Sov in good faith. He kept that faith when so many of his cousins defected to Meridian Bay, and abandoned it only when it seemed she was truly dead. But now, somehow, the tiny Kell is alive? "Well?" his Captain asks. "It's nothing," he demures. "The two-soul prince is dead. The Lightmongers, they are surprised. They wonder what this does to their Houses." The group rumbles with vicious satisfaction. As they talk, Yevik begins planning his return. He cannot serve the House of Dusk while his Kell still lives.
Competitive PvP

Quickplay PvP

Competitive Co-Op

PvE
Survival

Countdown

Clash: Competitive

Control: Competitive

Crimson Doubles

Trials of the Nine

Trials of Osiris

Elimination
Altar of Flame

The Burnout

Distant Shore

The Dead Cliffs

Endless Vale

Javelin-4

Pacifica

Meltdown

Bannerfall

Firebase Echo

Wormhaven

Convergence

Radiant Cliffs

Equinox

Legion's Gulch

Emperor's Respite

Midtown

The Citadel

Retribution

The Fortress

Solitude

Vostok

Gambler's Ruin
PvP Insights
Item Statistics
Selecting weapon perks and mods can alter the stats shown below.
| | | |
| --- | --- | --- |
| Impact | | 55 |
| Range | | 34 |
| Stability | | 42 |
| Handling | | 69 |
| Reload Speed | | 62 |
| Rounds/Min | | 140 |
| Magazine | | 5 |
| | | |
| --- | --- | --- |
| Aim Assistance | | 70 |
| Inventory Size | | 45 |
| Recoil Direction | | 59 |
| Zoom | | 35 |
Season 13
Season of the Chosen
Season 12
Season of the Hunt
Season 11
Season of Arrivals
Season 10
Season of the Worthy
Season 9
Season of Dawn
Modified

-

1/27/2020

Modified

-

12/9/2019
Season 8
Destiny 2: Shadowkeep
Modified

-

11/11/2019

Modified

-

10/28/2019

Modified

-

9/30/2019
Season 5
Season of the Forge: Black Armory
Season 4
Destiny 2: Forsaken
Modified

-

9/17/2018

Modified

-

8/31/2018

Added

-

8/27/2018
Reviews
To write reviews and manage your Guardian while playing, install Destiny Item Manager.
1 year ago
on PlayStation
Fallout will never see this. This guns amazing in crucible, well worth the grind.
1 year ago
on PlayStation
If you have the curated roll then use it dummy
Fallout will never get this gun lol
1 year ago
on PlayStation
1 year ago
on PlayStation
Good PvP Sniper, able to double body quickly, nice aim assist on console.
1 year ago
on PlayStation
The curated roll is definitely an excellent choice for a 140RPM energy sniper - it's got a really good low-zoom scope and good PvP perks. Unfortunately, the low range is noticeable when it comes to aim assist in comparison to other snipers (i.e. Apostate). Despite this, it still feels super good and snappy.
Still a top choice for PvP
da best sniper in da game