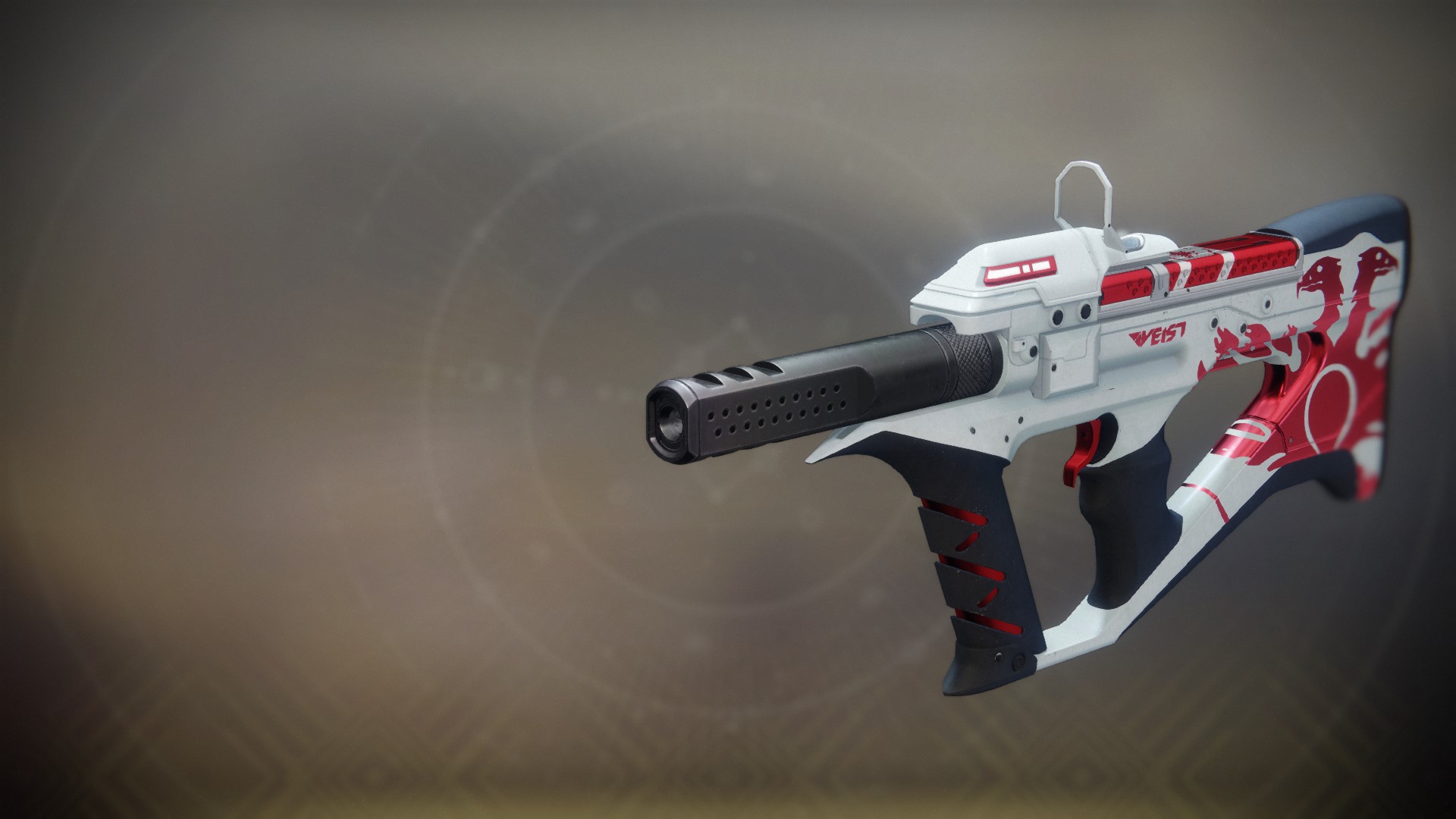 The Recluse
Legendary
Submachine Gun
Void
My bite will turn your sweet flesh to vile rot.
Read Lore
An arrow whined out of nowhere. It drove through his shoulder, penetrating his armor as though it were paper, not plasteel. No enemies on his tracker. So then where— The second arrow hit harder than the first: straight through his other shoulder, skewering the joint. He twisted his head, saw the arrowhead protruding through his pauldron, chuckled humorlessly, looked through the trees. The asteroids of the Reef did not afford many hiding places, even those which had been terraformed to support plants and animals, so the shooter had to be— The third arrow penetrated his thigh. He laughed aloud. "Transmat?" his Ghost suggested, a quiet voice in his mind. "No. They started this. I'll finish it." Unable to lift any of his own weapons in defense, concerned that he might compromise his Ghost if he made any attempt to heal himself with the Light, Lord Shaxx began to limp toward the shooter's likeliest vantage. This was the work of a ballista, he supposed. Dark Age weaponry. Nothing else could hit so hard. As he tottered along, an Awoken woman in the near distance seemed to rise from the forest floor. She cast aside her camouflage and stood straight. He stopped to gawk. She was as tall as he was, if not taller. Her bow (just a bow! an ordinary bow!) was certainly taller. "You're trespassing on Awoken territory, Guardian," she called to him. "Declare yourself." "Who are you?" he asked, astounded. "I am the Queen's Wrath. Declare yourself. I will not ask again." She raised her bow, drawing it to its full capacity. He watched in amazement. It was just a bow. And she was just an ordinary Awoken woman! And yet! "You are a tempest," he replied humbly. In the next instant, she killed him. It was the start of a beautiful friendship.
Competitive PvP

Quickplay PvP

Competitive Co-Op

PvE
Survival

Countdown

Clash: Competitive

Control: Competitive

Crimson Doubles

Trials of the Nine

Trials of Osiris

Elimination
Altar of Flame

The Burnout

Distant Shore

The Dead Cliffs

Endless Vale

Javelin-4

Pacifica

Meltdown

Bannerfall

Firebase Echo

Wormhaven

Convergence

Radiant Cliffs

Equinox

Legion's Gulch

Emperor's Respite

Midtown

The Citadel

Retribution

The Fortress

Solitude

Vostok

Gambler's Ruin
PvP Insights
Item Statistics
Selecting weapon perks and mods can alter the stats shown below.
| | | |
| --- | --- | --- |
| Impact | | 15 |
| Range | | 41 |
| Stability | | 52 |
| Handling | | 67 |
| Reload Speed | | 35 |
| Rounds/Min | | 900 |
| Magazine | | 36 |
| | | |
| --- | --- | --- |
| Aim Assistance | | 55 |
| Inventory Size | | 67 |
| Recoil Direction | | 100 |
| Zoom | | 13 |
Season 0
Modified

-

12/15/2021

Modified

-

12/6/2021

Modified

-

10/11/2021

Modified

-

9/13/2021
Season 14
Season of the Splicer
Modified

-

5/24/2021

Modified

-

5/10/2021
Season 13
Season of the Chosen
Season 12
Season of the Hunt
Season 11
Season of Arrivals
Season 10
Season of the Worthy
Season 9
Season of Dawn
Modified

-

1/27/2020

Modified

-

12/9/2019
Season 8
Destiny 2: Shadowkeep
Modified

-

11/11/2019

Modified

-

10/28/2019

Modified

-

9/30/2019
Season 6
Season of the Drifter: Joker's Wild
Reviews
To write reviews and manage your Guardian while playing, install Destiny Item Manager.
GG 3333+ pvp Kills on it this is this solid after the nerf and rly good in momentum control with jade rabbit on hunter way of the wraith then just start murdering:}
This gun is so stupid I die to it too many times. It takes no skill to use and only the sweatiest use it smh. Im too bad to grind for it and have no one to carry me so all im left to do is complain cause i dont wanna play the game properly. Immma stick to my typical loadout of shield bash and slide shot mindbender.
1 year ago
on PlayStation
In PvE this thing is a must-have weapon. Most people already have this weapon but to those who don't you should consider getting it because it makes things very easy. But do me a favor and don't play it in PvP, thank you.
1 year ago
on PlayStation
1 year ago
on PlayStation
1 year ago
on PlayStation
This is the most consistent SMG I have used in D2. Top tier fun.
Fun gun. I got it after nerf. Really fun to use. I still switch weapons often in slot it's in. It's a smg what more can I say. Not really a dps machine. Great for ad clearing. I actually find other guns more useful in this slot. I think riskrunner with perc activated which is easy to do is a little better with ads but that's if u don't mind using up the precious exotic slot. But my usual loadout is izanagi,recluse,bad omens. If I switch it's blast furnace,jotunn,hammerhead or 21 delirium. I do really enjoy this gun though. Def worth the grind.
Master of arms perk gives you 20% damage buff compared to 30% which is every other perk.
Even after the nerf this thing is still a top tier choice for add clear. Paired with Nezarec's Sin you'll be chucking nades like it's going out of style.
1 year ago
on PlayStation
better than other smg