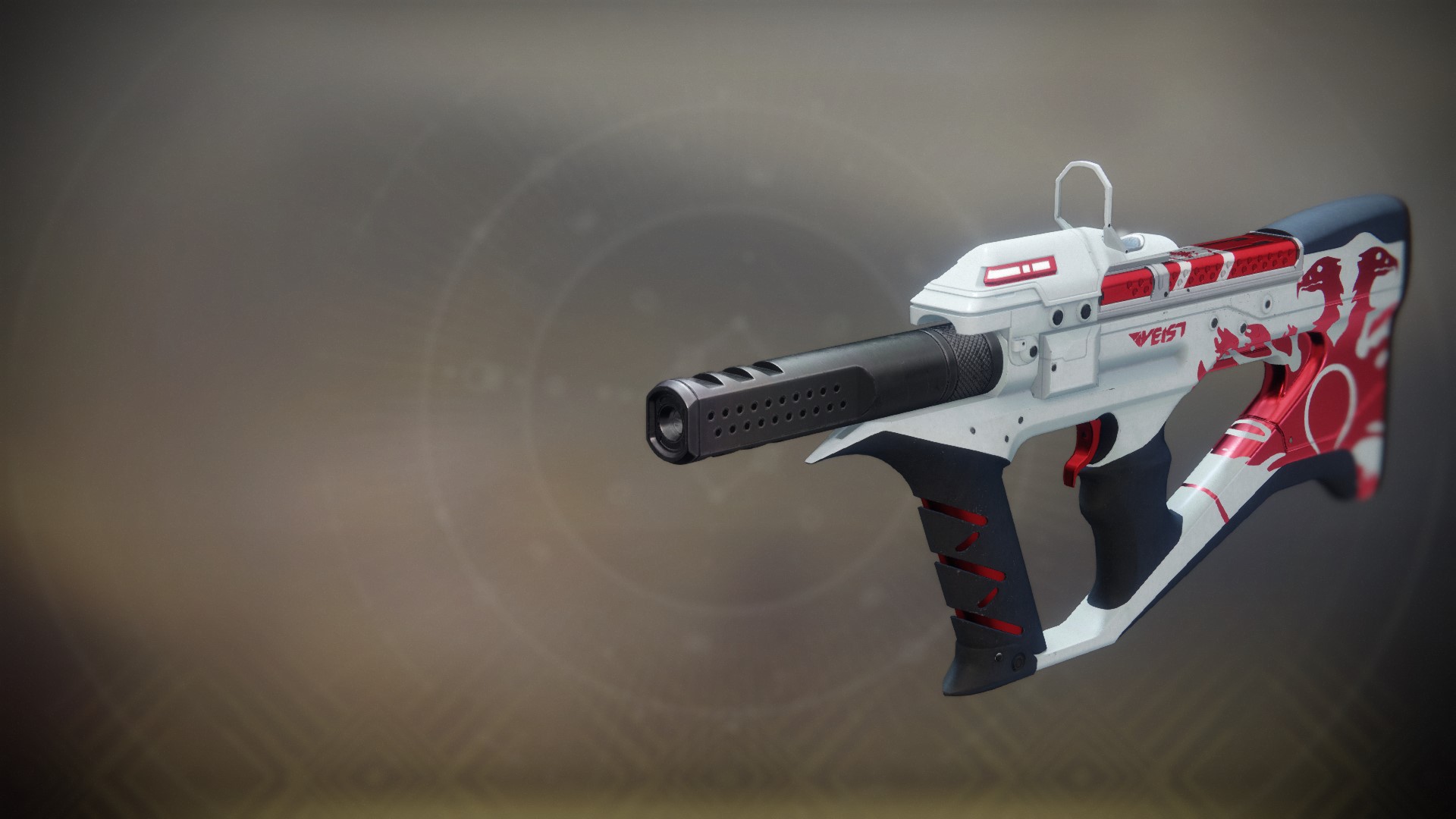 The Recluse
Legendary
Submachine Gun
Void
My bite will turn your sweet flesh to vile rot.
Read Lore
An arrow whined out of nowhere. It drove through his shoulder, penetrating his armor as though it were paper, not plasteel. No enemies on his tracker. So then where— The second arrow hit harder than the first: straight through his other shoulder, skewering the joint. He twisted his head, saw the arrowhead protruding through his pauldron, chuckled humorlessly, looked through the trees. The asteroids of the Reef did not afford many hiding places, even those which had been terraformed to support plants and animals, so the shooter had to be— The third arrow penetrated his thigh. He laughed aloud. "Transmat?" his Ghost suggested, a quiet voice in his mind. "No. They started this. I'll finish it." Unable to lift any of his own weapons in defense, concerned that he might compromise his Ghost if he made any attempt to heal himself with the Light, Lord Shaxx began to limp toward the shooter's likeliest vantage. This was the work of a ballista, he supposed. Dark Age weaponry. Nothing else could hit so hard. As he tottered along, an Awoken woman in the near distance seemed to rise from the forest floor. She cast aside her camouflage and stood straight. He stopped to gawk. She was as tall as he was, if not taller. Her bow (just a bow! an ordinary bow!) was certainly taller. "You're trespassing on Awoken territory, Guardian," she called to him. "Declare yourself." "Who are you?" he asked, astounded. "I am the Queen's Wrath. Declare yourself. I will not ask again." She raised her bow, drawing it to its full capacity. He watched in amazement. It was just a bow. And she was just an ordinary Awoken woman! And yet! "You are a tempest," he replied humbly. In the next instant, she killed him. It was the start of a beautiful friendship.
Select Activity Type
Competitive PvP
Competitive PvP
Quickplay PvP
Competitive Co-Op
PvE
Survival
Countdown
Clash: Competitive
Control: Competitive
Crimson Doubles
Trials of the Nine
Elimination
Altar of Flame
The Burnout
Distant Shore
The Dead Cliffs
Endless Vale
Javelin-4
Pacifica
Meltdown
Bannerfall
Firebase Echo
Wormhaven
Convergence
Radiant Cliffs
Equinox
Legion's Gulch
Emperor's Respite
Midtown
The Citadel
Retribution
The Fortress
Solitude
Vostok
Gambler's Ruin
PvP Insights
Item Statistics
Selecting weapon perks and mods can alter the stats shown below.
| | | |
| --- | --- | --- |
| Impact | | 15 |
| Range | | 41 |
| Stability | | 52 |
| Handling | | 67 |
| Reload Speed | | 35 |
| Rounds/Min | | 900 |
| Magazine | | 36 |
| | | |
| --- | --- | --- |
| Aim Assistance | | 55 |
| Inventory Size | | 67 |
| Recoil Direction | | 100 |
| Zoom | | 13 |
Source: Complete this weapon's associated Crucible quest.
Season 8
Destiny 2: Shadowkeep
Season 6
Season of the Drifter: Joker's Wild
Reviews
To write reviews and manage your Guardian while playing, install Destiny Item Manager.
2 hours ago
on PlayStation
The itsy bitsy spider climbed up the water spout. Then it killed everything in sight. The End.
4 hours ago
on PlayStation
18k+ kills and many more to come 11/10.
10 hours ago
on PlayStation
11 hours ago
on PlayStation
15 hours ago
on PlayStation
Worst gun in the game lmao
I genuinely cannot wait for this weapon to get obliterated via nerfs because the game would see nothing but benefits overall. First of all, I'm S I C K of feeling like every other primary that I devoted time and effort to farming over the course of several seasons to get rolls that suited my tastes and preferences is being completely invalidated by this piece of shit simply because I own it. This weapon is absolutely destructive to the game environment for PvE and PvP because it basically talks over every other potentially competitive option and forces itself in the faces of anyone who wants to be even a little bit optimal in their choices, which is the majority of the playerbase outside of the new lightlets and dads. Not only is this gun just outright better than every other primary in the game it completely trivializes all content and sucks any fun to be had out of anything after the initial "power fantasy" high wears off. It's time for this thing to go and it's time to stop being delusional and pretending Recluse isn't gamebreaking.
Recluse is simply the most powerful SMG in the game. 38k kills and still rolling.
23 hours ago
on PlayStation