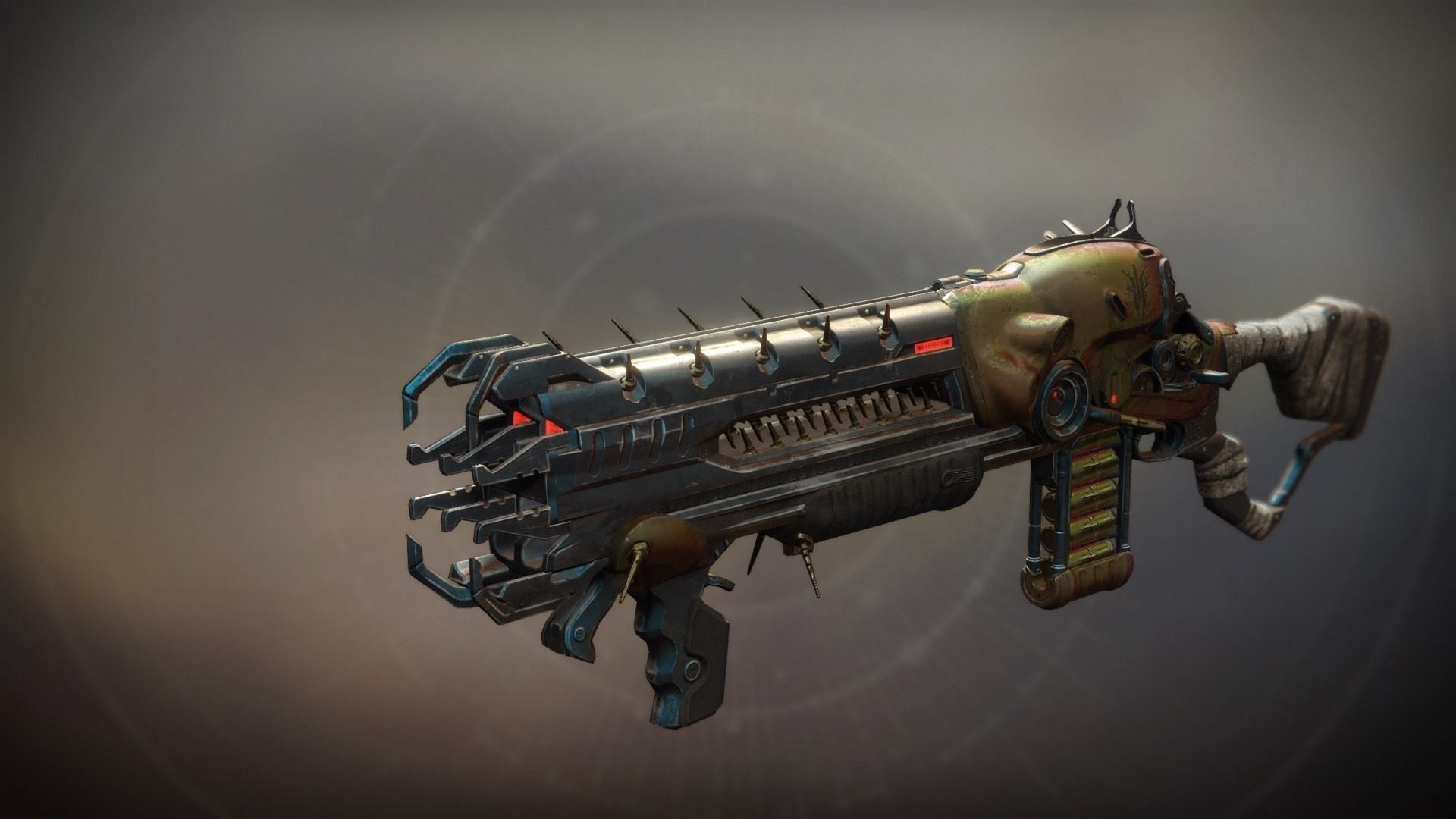 By this right alone do I rule.
Read Lore
"Why did they call themselves Wolves?" the Hunter asks. "You guys don't have any wolves on your home world, do you?" "Nama," the Captain replies. He has perched on a rusted-out Skiff. He scans the horizon, trying to remember the way to the crypt. "So… Why, then? Most people haven't even seen one." "Yeah," the Warlock chimes in. "I'd never even heard of wolves 'til I went to the Iron Temple." The Captain cocks his head in a way that makes him look very like a squat, hulking owl. "Why Eliksni accept name 'Fallen'? Why Wolves accept name 'Wolves'? Why Misraaks is now," he grimaces as he mimes their accents, showing his serrated teeth, "Miff-racks?" He rises in one fluid motion and stands at his full height. "Why speak Guardian way instead Eliksni? Docked things do not word themselves." He hops down, brushing past the Hunter and the Warlock with the rippling strength of a hunting tiger. "House of Wolves, they been Mraskilaasan. Gentle weavers. Come. I know the way now."
Competitive PvP

Quickplay PvP

Competitive Co-Op

PvE
Survival

Countdown

Clash: Competitive

Control: Competitive

Crimson Doubles

Trials of the Nine

Trials of Osiris

Elimination
Altar of Flame

The Burnout

Distant Shore

The Dead Cliffs

Endless Vale

Javelin-4

Pacifica

Meltdown

Bannerfall

Firebase Echo

Wormhaven

Convergence

Radiant Cliffs

Equinox

Legion's Gulch

Emperor's Respite

Midtown

The Citadel

Retribution

The Fortress

Solitude

Vostok

Gambler's Ruin
PvP Insights
Item Statistics
Selecting weapon perks and mods can alter the stats shown below.
| | | |
| --- | --- | --- |
| Impact | | 68 |
| Range | | 20 |
| Stability | | 39 |
| Handling | | 40 |
| Reload Speed | | 80 |
| Rounds/Min | | 640 |
| Magazine | | 5 |
| | | |
| --- | --- | --- |
| Aim Assistance | | 80 |
| Airborne Effectiveness | | 4 |
| Inventory Size | | 100 |
| Recoil Direction | | 80 |
| Zoom | | 12 |
Season 17
Season of the Haunted
Season 16
Season of the Risen
Season 15
Season of the Lost
Modified

-

12/15/2021

Modified

-

12/6/2021

Modified

-

10/11/2021
Season 14
Season of the Splicer
Season 13
Season of the Chosen
Modified

-

4/19/2021

Modified

-

2/8/2021
Season 12
Season of the Hunt
Season 11
Season of Arrivals
Season 10
Season of the Worthy
Season 9
Season of Dawn
Modified

-

1/27/2020

Modified

-

12/9/2019
Season 8
Destiny 2: Shadowkeep
Modified

-

11/11/2019

Modified

-

10/28/2019

Modified

-

9/30/2019
Season 7
Season of the Opulence: Penumbra
Season 6
Season of the Drifter: Joker's Wild
Modified

-

5/6/2019

Modified

-

4/5/2019

Modified

-

3/4/2019
Season 5
Season of the Forge: Black Armory
Season 4
Destiny 2: Forsaken
Modified

-

11/5/2018

Modified

-

9/17/2018

Modified

-

8/31/2018

Added

-

8/27/2018
Reviews
To write reviews and manage your Guardian while playing, install Destiny Item Manager.
melts super. got a retarded titan activating super? wait him at the corner.
it's very forgiving but it got nothing versus chaperone, even mindbenders can outrange this i think. And the burst fire kinda works against this gun vs pellet shotties. The main fraw of this weapon is the ease of use.
2 years ago
on PlayStation
Powerful shotgun in both PvE and PvP. People complain about it but it has ammo economy problems in both activities and exotic shotguns should kill you from long range. If this gets nerfed there will be a lot more erentils in its place.
This gun is an astonishingly powerful hybrid of shotgun, fusion, and pulse rifle. I've seen it obliterate in PvP, but there just isn't enough special ammo there to use properly. In PvE, however, it reaches its full potential, absolutely melting bosses and majors at shotgun range. It's usable at longer ranges, but definitely isn't at its best. Highly recommend for single targets in PvE.
lord of wolves rings in pain, father and mother raise in vain