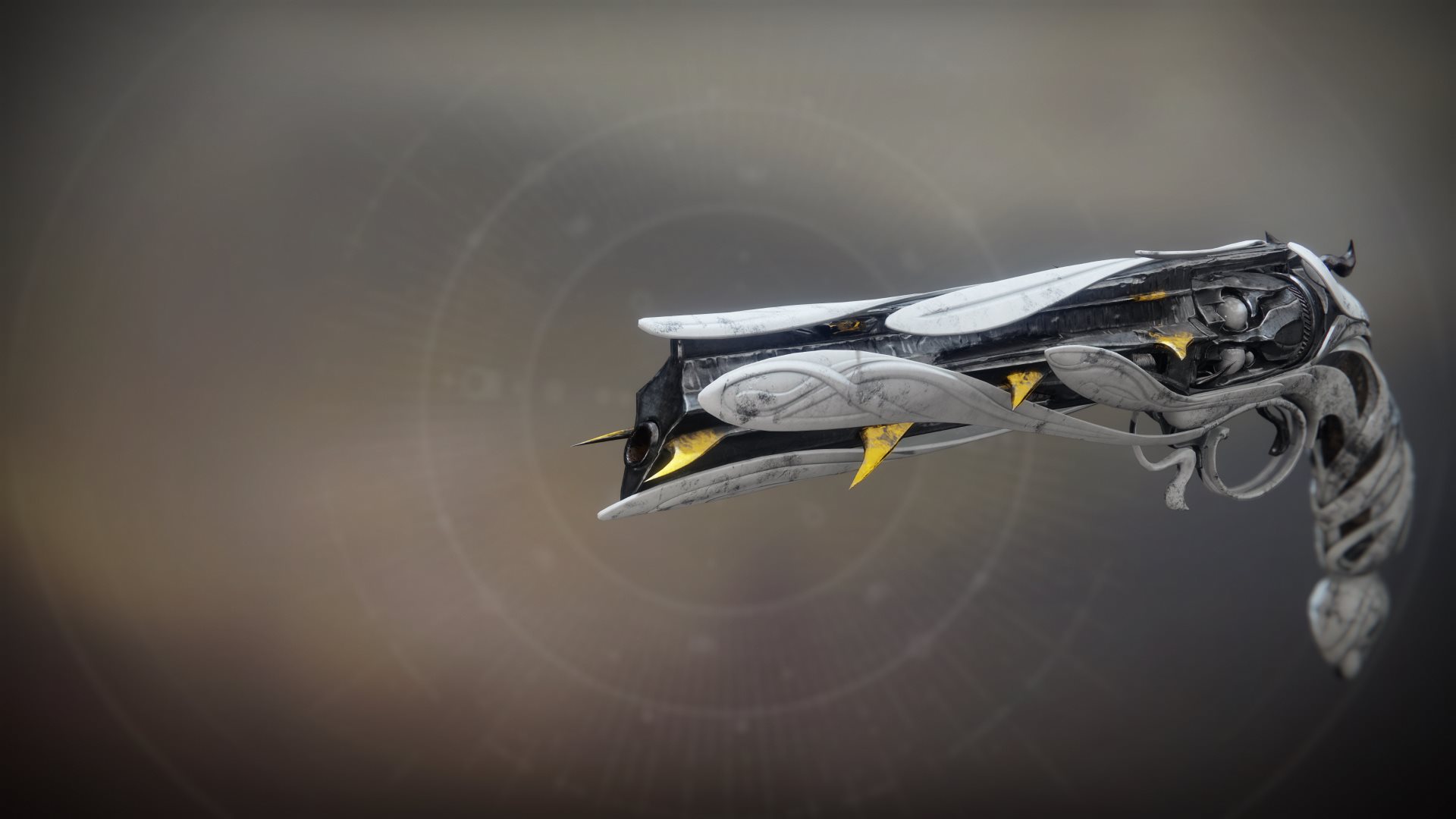 Lumina
Exotic
Hand Cannon
Kinetic
There must be meaning in my roar.
Read Lore
In young languages, we sketched for each other the seemings of stars and planets and the black between galaxies. We have devoted ourselves to listening. To the Cosmos, by crafting assemblers that can translate for us the mechanical language of Order. And to our own withins, by withstanding the howling storm until patience and humility made of chaos—if not sense, then at least peace. From beyond emptiness, a Gardener emerged, drawn from pseudophotons and impossible math. And our nest of colliding space dust was never the same. For it heard meaning in our roar.
Select Activity Type
Competitive PvP
Competitive PvP
Quickplay PvP
Competitive Co-Op
PvE
Survival
Countdown
Clash: Competitive
Control: Competitive
Crimson Doubles
Trials of the Nine
Elimination
Altar of Flame
The Burnout
Distant Shore
The Dead Cliffs
Endless Vale
Javelin-4
Pacifica
Meltdown
Bannerfall
Firebase Echo
Wormhaven
Convergence
Radiant Cliffs
Equinox
Legion's Gulch
Emperor's Respite
Midtown
The Citadel
Retribution
The Fortress
Solitude
Vostok
Gambler's Ruin
PvP Insights
Item Statistics
Selecting weapon perks and mods can alter the stats shown below.
| | | |
| --- | --- | --- |
| Impact | | 80 |
| Range | | 44 |
| Stability | | 46 |
| Handling | | 74 |
| Reload Speed | | 65 |
| Rounds/Min | | 150 |
| Magazine | | 13 |
| | | |
| --- | --- | --- |
| Aim Assistance | | 88 |
| Inventory Size | | 58 |
| Recoil Direction | | 95 |
| Zoom | | 14 |
Season 8
Destiny 2: Shadowkeep
Modified

-

10/28/2019

Modified

-

9/30/2019
Season 7
Season of the Opulence: Penumbra
Declassified

-

7/9/2019

Added

-

5/31/2019
Reviews
To write reviews and manage your Guardian while playing, install Destiny Item Manager.
Just shoot your teammate before fighting anything. Free buffs, reloads on kills, crispy aiming. Nothing bad with this gun at all.
4 days ago
on PlayStation
Nice when you're playing bubble titan and want to heal more, but it'd really help if it 1) let you see health bars, and 2) stacked with other damage buffs since it's a weapon-based buff
It's alright just not worth the exotic slot. If you really want to play support, well-lock heals better with phoenix protocol and 5 ordnance mods. (Essentially infinite grenades if you're hitting your nades somewhat often). I will say though, sort of works if you use it in PvP. HOWEVER... you have to play aggressive or you will not get your noble rounds and then you've just got a mediocre handcannon taking up your exotic slot. Just don't use Lumina until either a buff or a QoL change for the gun. Sorry to disappoint you if you were looking for a positive review. Much love, PimpNamedSlickback
1 week ago
on PlayStation
Good for PvE especially if you plan on doing the Nightfall: The Ordeal at Hero difficulty and up. Though a Titan bubble would tie well with this gun.
great gun for pvp, pve not so much.
If you could give yourself heals with this weapon, it would be a top tier. But its only a 3/5 since you cant.
1 week ago
on PlayStation
Meh. Meant for niche situations which are few and far between to be a viable use of an exotic slot.
yeah i mean its good if u know what ur doin
I really like the feel of the gun, not sure why some others bash it. It's not going to shred in everything over (Insert meta weapon here) but it's pretty fun if you use it in the right situations.
2 weeks ago
on PlayStation
I really want to love Lumina. I really do. This weapon has so much potential and could've pushed at least a few people into making support builds. Unfortunately, Lumina is being held back by a ton of forceful chains and none of them are in regards to the Hand Cannon nerfs. I honestly cannot think of a single situation in which there is a tactical advantage in using this gun over any other gun (and I'll have the audacity to exclude Recluse from this sample size), with the *possible* exception of Pinnacle activities like Nightfalls I say possible extremely lightly here because the better the activity is catered toward Lumina, the worse it seems to perform. The damage it does is not very great and you *need* to land final blows with the weapon in order obtain your Noble Rounds. In addition, you have no real way of seeing allies' health bars so you can't make full use of the healing factor. I spent a good hour (maybe more) of trying to fulfill a 100k Nightfall using Lumina and a support build that revolved around tossing all the Divine Protection grenades I could; and with every failed attempt, the two guys I recruited quit after the first wipe no less than 6 minutes in because Lumina just doesn't seem to do enough. Maybe I'm using it wrong, maybe my teammates weren't picking up their slack, but this Cannon is really suffering right now; with the combinations of QoL changes it could desperately benefit from to the lack of support (no pun intended) for healing/utility based builds (and the less I say about the Hand Cannon nerfs, the better), it pains me to say that Lumina is not a gun worth using, let alone picking up.
Great for pve and pvp, hard to use tho