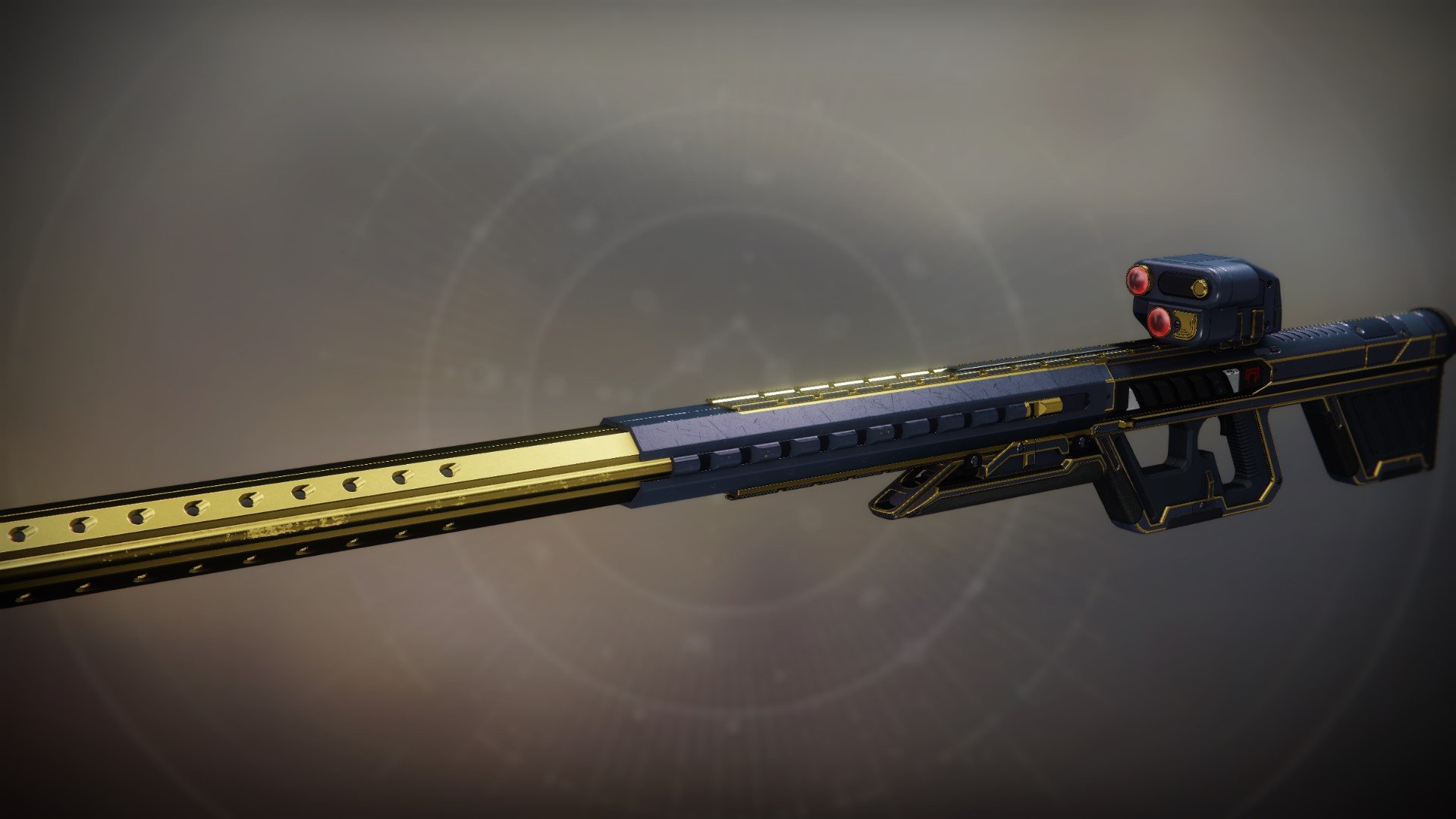 Trophy Hunter
Legendary
Sniper Rifle
Void
"I serve this broken Empire no longer." —Tazaroc
Select Activity Type
Competitive PvP
Competitive PvP
Quickplay PvP
Competitive Co-Op
PvE
Survival
Countdown
Clash: Competitive
Control: Competitive
Crimson Doubles
Trials of the Nine
Elimination
Altar of Flame
The Burnout
Distant Shore
The Dead Cliffs
Endless Vale
Javelin-4
Pacifica
Meltdown
Bannerfall
Firebase Echo
Wormhaven
Convergence
Radiant Cliffs
Equinox
Legion's Gulch
Emperor's Respite
Midtown
The Citadel
Retribution
The Fortress
Solitude
Vostok
Gambler's Ruin
PvP Insights
Item Statistics
Selecting weapon perks and mods can alter the stats shown below.
| | | |
| --- | --- | --- |
| Impact | | 90 |
| Range | | 80 |
| Stability | | 30 |
| Handling | | 31 |
| Reload Speed | | 41 |
| Rounds/Min | | 72 |
| Magazine | | 3 |
| | | |
| --- | --- | --- |
| Aim Assistance | | 46 |
| Inventory Size | | 39 |
| Recoil Direction | | 80 |
| Zoom | | 50 |
Source: Season Pass Reward
Reviews
To write reviews and manage your Guardian while playing, install Destiny Item Manager.
Feels great to use but the barrel could be a little longer, just for aesthetics
3 days ago
on PlayStation
L o n g BOI
Only Sniper that can roll Triple Tap Vorpal Weapon Extended Mag. Put on a Backup Mag, you have a gun thats supposed to have 3 in the mag with 7 shots and Vorpal Damage buff on top of it being Lowest Fire Rate. Chunky boy.
For those lone wolf players try to farm this before the season end. Prefered god roll for PvE is Extended mag (appended/tactical best alternative) + Triple-tap + Vorpal weapon (Lead from gold is a good alternative but not advised) If you can, a must MW roll is handling with handling perks (fluted barrel / arrowhead break)
6 days ago
on PlayStation
1 week ago
on PlayStation
1 week ago
on PlayStation
1 week ago
on PlayStation
Great legendary sniper for PvE. Vorpal give a great +15% against bosses and lead for gold you can focus your ammo loot mods on your heavy and pretty much be out of special ammo. Frees a heavy or kinetic slot for exotic.
2 weeks ago
on PlayStation
2 weeks ago
on PlayStation
I got the Appended Mag, Triple Tap, Vorpal Weapon roll (and put Boss Spec on it) and have been really enjoying it. Honestly, Vorpal Weapon could use a little bit of a buff to make it truly top-tier, but this is still a stellar special-ammo energy option for boss damage. I've seen testing that states it's a little behind the pack when it comes to DPS (as with all Aggressive snipers), but the total damage potential on bosses (especially stationary ones) is great. Additionally, it doesn't rely on hit-or-miss conditions to get its damage bonus (I.e. you don't need teammates near you like for Firing Line); the boss just needs to exist and then Vorpal weapon is up and running. It's easier to farm than Sole Survivor anyway! I highly recommend it. That is all related to the recommended PvE roll. Because it was about PvE, I didn't really mention the feel of the gun, but I'd be remiss not to mention that it does, indeed, just feel really good to use. I'm surprised because when I saw it, I said, "Wow, that is an absolute UNIT of a gun and I bet it will feel like aiming and shooting a cinderblock." But it doesn't! It feels great! And that does mean something in PvE, of course, but it makes me especially excited to try it out in PvP. I got another roll with Lead from Gold and Snapshot, which should be interesting. If I like it, I plan to chase that with Fluted Barrel and a Handling masterwork.