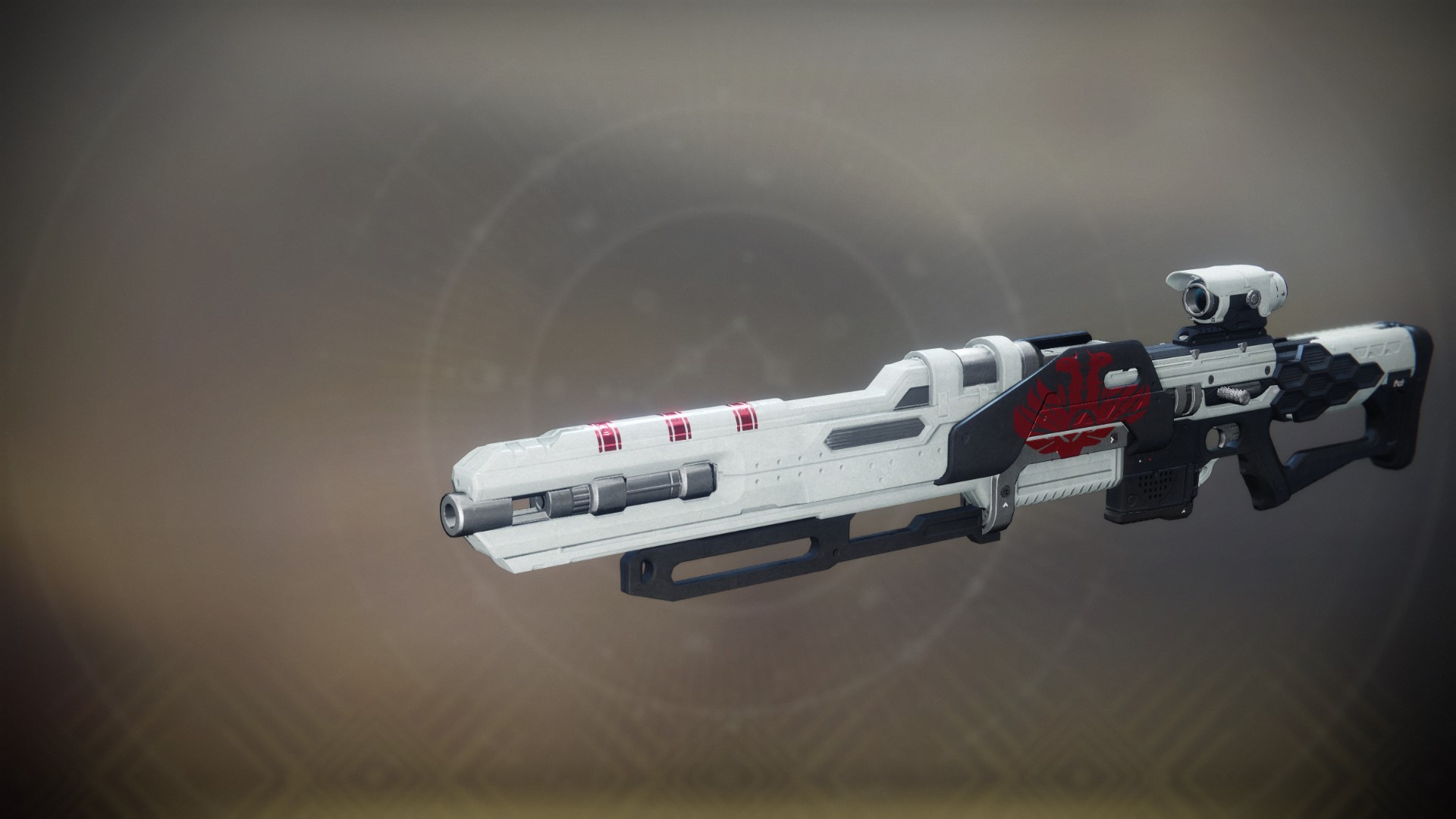 Revoker
Legendary
Sniper Rifle
Kinetic
When they have your back to the wall, when all seems lost—steel yourself! Command your future!
Competitive PvP

Quickplay PvP

Competitive Co-Op

PvE
Survival

Countdown

Clash: Competitive

Control: Competitive

Crimson Doubles

Trials of the Nine

Trials of Osiris

Elimination
Altar of Flame

The Burnout

Distant Shore

The Dead Cliffs

Endless Vale

Javelin-4

Pacifica

Meltdown

Bannerfall

Firebase Echo

Wormhaven

Convergence

Radiant Cliffs

Equinox

Legion's Gulch

Emperor's Respite

Midtown

The Citadel

Retribution

The Fortress

Solitude

Vostok

Gambler's Ruin
PvP Insights
Item Statistics
Selecting weapon perks and mods can alter the stats shown below.
| | | |
| --- | --- | --- |
| Impact | | 90 |
| Range | | 80 |
| Stability | | 34 |
| Handling | | 31 |
| Reload Speed | | 37 |
| Rounds/Min | | 72 |
| Magazine | | 3 |
| | | |
| --- | --- | --- |
| Aim Assistance | | 44 |
| Inventory Size | | 45 |
| Recoil Direction | | 72 |
| Zoom | | 35 |
Season 0
Modified

-

10/11/2021

Modified

-

9/13/2021
Season 14
Season of the Splicer
Modified

-

5/24/2021

Modified

-

5/10/2021
Season 13
Season of the Chosen
Season 12
Season of the Hunt
Season 11
Season of Arrivals
Season 10
Season of the Worthy
Season 9
Season of Dawn
Modified

-

1/27/2020

Modified

-

12/9/2019
Season 8
Destiny 2: Shadowkeep
Modified

-

11/11/2019

Modified

-

10/28/2019

Modified

-

9/30/2019
Season 7
Season of the Opulence: Penumbra
Reviews
To write reviews and manage your Guardian while playing, install Destiny Item Manager.
goes good with my not forgotten
1 year ago
on PlayStation
the perk was awesome!!!!!
This is by far the best sniper i have ever used in not only destiny 2 but in any game ever.
1 year ago
on PlayStation
Great Sniper to take risky shots with, you have nothing to lose and if you hit it's really damn satisfying, Go click some heads.
Snipe Selly reversial of fortion is great
I have nearly 5,000 Crucible kills on my Revoker and no other weapon has graced my Kinetic weapon slot since unlocking this weapon. Reversal of Fortune is the best perk in PvP period, basically granting you unlimited Special Ammo until you can land a shot - sometimes even giving you your shot back after a headshot kill. This rifle truly surprises me on a daily basis, even after using it season after season. Icarus Grip is my Weapon Mod of choice with Radar Tuner not being too far off the top spot. My Revoker can function as a slug shotgun or a traditional sniper rifle, as I have become quite accurate with this gun in close quarters. I pair mine with Luna's Howl & Truth. Both of these phenomenal weapons compliment my play style with Revoker. My subclass of choice has been bottom-tree Stromcaller (Arc Soul > Arc Web) w/ Healing Rift & Storm Grenades. I run Ophidian Aspects for improved melee range and the quicker reload/swap animations. Without any special ammo, I feel almost powerless with just my Luna's Howl, but thanks to Reversal of Fortune, Special/Sniper Ammo Scavenger, and a damn good shot, Revoker always gets the job done for me. I only need to hit 5,500 Glory in one more season to get the Unbroken title and my Revoker has been my go-to weapon every single game.
1 year ago
on PlayStation
Sniper duels were never this easy!
1 year ago
on PlayStation
hitboxes bigger than yo momma