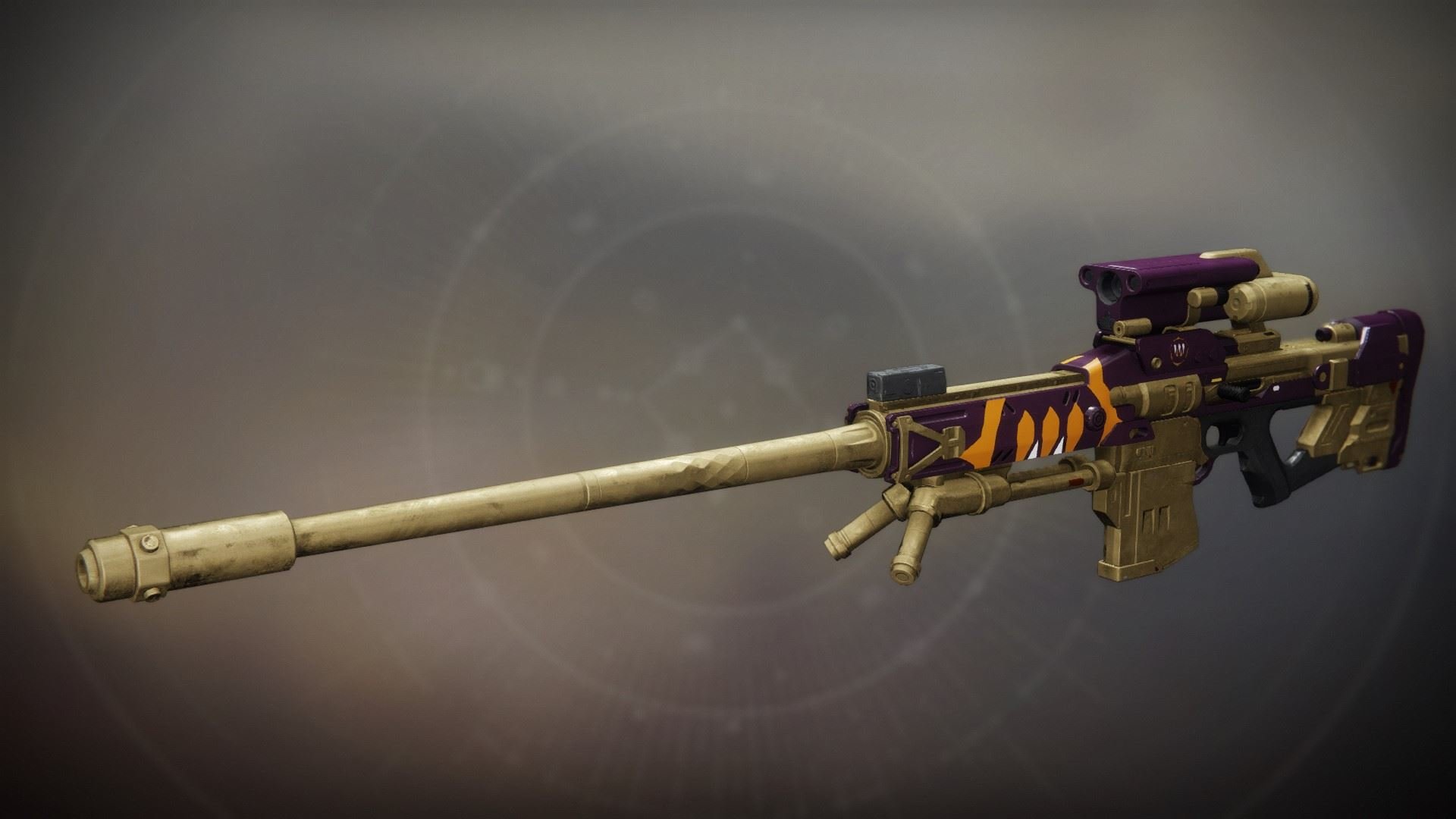 The Supremacy
Legendary
Sniper Rifle
Kinetic
"He didn't recognize me, at the end." —Jolyon Till the Rachis
Read Lore
"Here's the thing," he says. "No." Petra is trying to hide the hurt in her expression. Watching her is exhausting, so Jolyon keeps his eye pressed to his sniper scope. "I thought you would want to see it." "Why? He's dead. He died a long time before you shot him. Or if you didn't," Jolyon says, as if Petra flinched, "you helped that Guardian do it." "Jolyon," Petra starts. He holds up a hand. "I'm not interested in your secrets." Then, quieter, "Please." Silence falls over them as they lie side-by-side in a sniper's nest overlooking Rheasilvia. Both belly-down in the sand, clutching well-worn Supremacy rifles beneath their armpits. Petra takes a shot. A Taken Hive Knight seethes into nothingness. Finally, she gets up to go. Jolyon rolls onto his side, pushes himself half-up and calls after her. "I still dream about the Garden." She looks back. "I've dreamed about it, too," she says carefully. "Not like I have." Jolyon licks his lips, trying to figure out if he has anything else to say. He finally decides that he doesn't, so he rolls back onto his belly to settle his cheek against the Supremacy once more. "That's all. I just wanted someone to know."
Competitive PvP

Quickplay PvP

Competitive Co-Op

PvE
Survival

Countdown

Clash: Competitive

Control: Competitive

Crimson Doubles

Trials of the Nine

Trials of Osiris

Elimination
Altar of Flame

The Burnout

Distant Shore

The Dead Cliffs

Endless Vale

Javelin-4

Pacifica

Meltdown

Bannerfall

Firebase Echo

Wormhaven

Convergence

Radiant Cliffs

Equinox

Legion's Gulch

Emperor's Respite

Midtown

The Citadel

Retribution

The Fortress

Solitude

Vostok

Gambler's Ruin
PvP Insights
Item Statistics
Selecting weapon perks and mods can alter the stats shown below.
| | | |
| --- | --- | --- |
| Impact | | 55 |
| Range | | 39 |
| Stability | | 44 |
| Handling | | 71 |
| Reload Speed | | 66 |
| Rounds/Min | | 140 |
| Magazine | | 5 |
| | | |
| --- | --- | --- |
| Aim Assistance | | 77 |
| Inventory Size | | 42 |
| Recoil Direction | | 60 |
| Zoom | | 40 |
Season 11
Season of Arrivals
Season 10
Season of the Worthy
Season 9
Season of Dawn
Modified

-

1/27/2020

Modified

-

12/9/2019
Season 8
Destiny 2: Shadowkeep
Modified

-

11/11/2019

Modified

-

10/28/2019

Modified

-

9/30/2019
Season 5
Season of the Forge: Black Armory
Season 4
Destiny 2: Forsaken
Modified

-

9/17/2018

Modified

-

9/10/2018

Added

-

8/31/2018
Reviews
To write reviews and manage your Guardian while playing, install Destiny Item Manager.
7 months ago
on PlayStation
My prefered Sniper for PvP and PvE EVER ! Large Magasine , Snapshot Sight , Fast Fire ! And one of the Rarest Weapons from Destiny 1 !
snapshot/rampage, its crispy, feels like a primary slot Beloved
Be it PvE or PvP or gambit i love this thing, i pair it with the fighting lion and my roll has light mag,snapshot & rapid hit, but it's easily my favorite sniper in the game, it also doesnt hurt that it looks nice.
8 months ago
on PlayStation
One shot one kill
8 months ago
on PlayStation
its a good sniper to have against supers
40 zoom, 2nd-best in game aim assist, and it can roll incredibly good perks. My roll is Hammer-Forged, Accurized, Snapshot, Rapid Hit. What's not to like?
8 months ago
on PlayStation
This is one of those guns where as soon as you take it out and aim your enemies are already dead