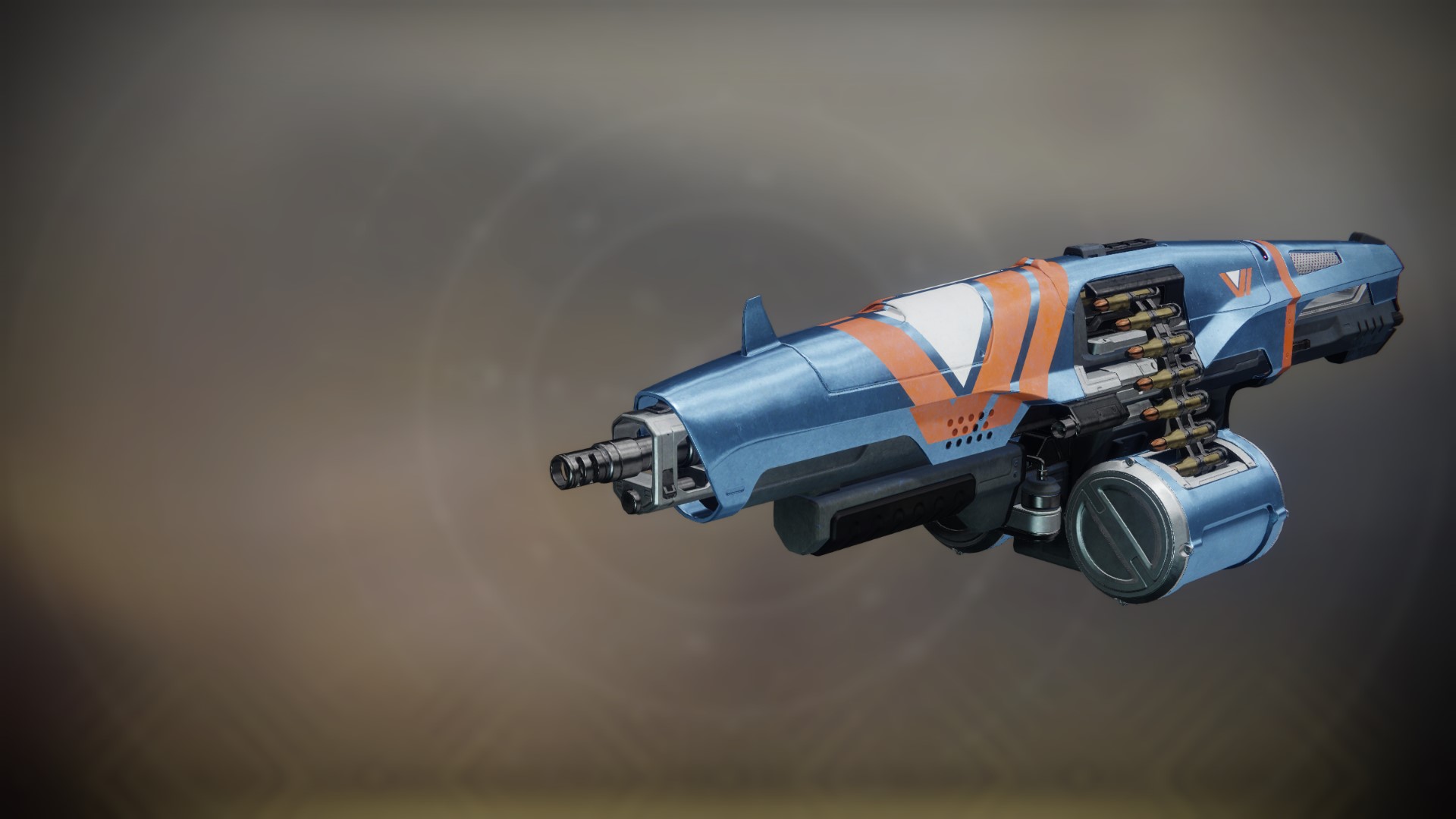 Edgewise
Legendary
Machine Gun
Solar
Don't let them get a word in.
Select Activity Type
Competitive PvP
Competitive PvP
Quickplay PvP
Competitive Co-Op
PvE
Survival
Countdown
Clash: Competitive
Control: Competitive
Crimson Doubles
Trials of the Nine
Elimination
Altar of Flame
The Burnout
Distant Shore
The Dead Cliffs
Endless Vale
Javelin-4
Pacifica
Meltdown
Bannerfall
Firebase Echo
Wormhaven
Convergence
Radiant Cliffs
Equinox
Legion's Gulch
Emperor's Respite
Midtown
The Citadel
Retribution
The Fortress
Solitude
Vostok
Gambler's Ruin
PvP Insights
Item Statistics
Selecting weapon perks and mods can alter the stats shown below.
| | | |
| --- | --- | --- |
| Impact | | 25 |
| Range | | 33 |
| Stability | | 38 |
| Handling | | 42 |
| Reload Speed | | 64 |
| Rounds/Min | | 900 |
| Magazine | | 73 |
| | | |
| --- | --- | --- |
| Aim Assistance | | 68 |
| Inventory Size | | 30 |
| Recoil Direction | | 50 |
| Zoom | | 16 |
Source: Complete the "A Loud Racket" quest.
Season 0
Modified

-

12/9/2019

Modified

-

11/11/2019
Season 8
Destiny 2: Shadowkeep
Modified

-

10/28/2019

Added

-

9/30/2019
Reviews
To write reviews and manage your Guardian while playing, install Destiny Item Manager.
Not really a "DPS THE BOSS RIGHT NOW!!" weapon, but makes up for it as a grenade heavy build weapon. Demolitionist and Field Prep is the combo I run with for grenade builds. Also pairs nicely with Well locks as the healing grenade process Demo.
在没有21%的时候这把机枪还挺好用的,打火盾也挺好用的,总体来说还不错
Excellent weapon. It has Feeding Frenzy and Rampage on it and of all things those abilities are very favorable. Throw on a Rampage Spec modification and go wild. Couple these effects with 900 RPM so the weapon shoots like a bat out of hell and laugh as enemies melt before you.
1 week ago
on PlayStation
its a lmg thats shoots faster than your ass after taco bell
437 rounds in reserves with Field Prep? Yes please. This thing will mow through adds like your asshole neighbor mows his lawn every Saturday at the crack of dawn.
3 weeks ago
on PlayStation
It won't replace 21% Delirium, but it's a great weapon to use in a grenade-heavy build. Best combination to use is Field Prep + Demolitionist; throw those Grenades, cut down some enemies, then repeat.
1 month ago
on PlayStation
1 month ago
on PlayStation
Demolitionist is love and life. Except for your enemies. Then it's death. By grenades, lot of them. Seriously run this gun with Field Prep+Demolitionist. 21% Delirium is better than using Rampage on this one. You can spam grenades to victory every few kills.
this weapon is not designed to be a generic machine gun like 21% or hammerhead. it's designed to be a grenade booster for specific builds (e.g. bottom tree void warlock), and it's an absolute monster when paired with those builds. pick field prep and demolitionist, not feeding frenzy / rampage
Where this gun shines is when taking advantage of Demolitionist for particular builds. With (enhanced) ashes to assets, Demolitionist will rapidly accelerate your super gain, not to mention how good grenades generally are at clearing out waves of adds. If you're just using it to slay out with feeding frenzy/rampage, I'd rather use a Hammerhead or probably 21% delirium. Also, it's solar making it good at clearing out captains in gambit.