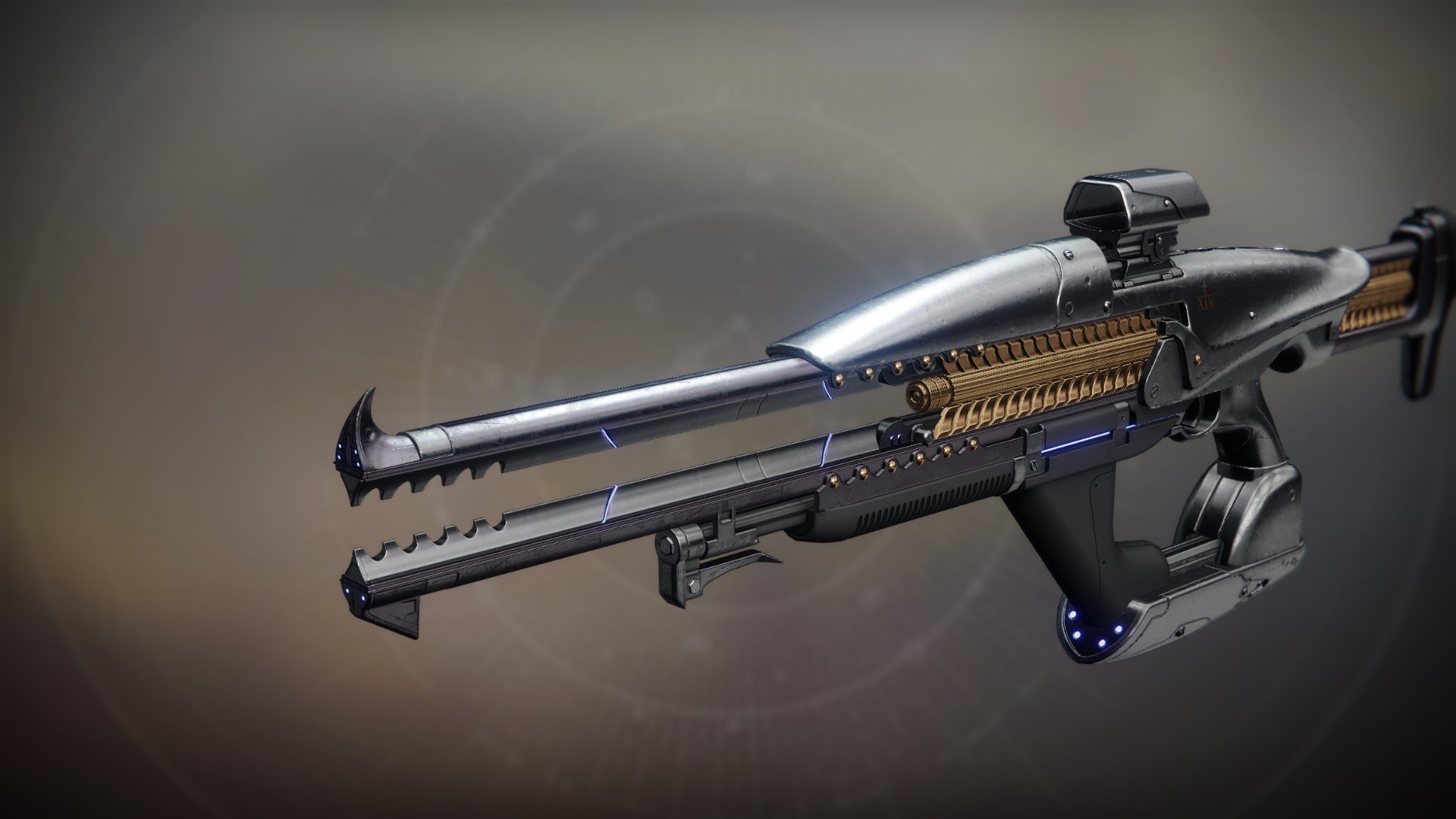 Line in the Sand
Legendary
Linear Fusion Rifle
Arc
No farther.
Read Lore
"The Vex are oppressive; Minotaurs fall over themselves to get the jump on me. I've exhausted my options. I need to use the distance to my advantage. I peer out over the rock's edge—they seem to have lost me in the scuffle. "The gentle hum begins, and I feel my weapon charging between my hands. I take out two with the first shot. Another two with the next. They scatter now, confused and irate. They seek me out desperately. All I can offer is another barrage that depletes their numbers and creates more scrap. The last two couldn't get within ten meters of me. It's a small victory, and I am alone once more. "It helps to set boundaries." —Saint-14
Competitive PvP

Quickplay PvP

Competitive Co-Op

PvE
Survival

Countdown

Clash: Competitive

Control: Competitive

Crimson Doubles

Trials of the Nine

Trials of Osiris

Elimination
Altar of Flame

The Burnout

Distant Shore

The Dead Cliffs

Endless Vale

Javelin-4

Pacifica

Meltdown

Bannerfall

Firebase Echo

Wormhaven

Convergence

Radiant Cliffs

Equinox

Legion's Gulch

Emperor's Respite

Midtown

The Citadel

Retribution

The Fortress

Solitude

Vostok

Gambler's Ruin
PvP Insights
No data for the last 30 days, please change the filter.
Item Statistics
Selecting weapon perks and mods can alter the stats shown below.
| | | |
| --- | --- | --- |
| Impact | | 41 |
| Range | | 36 |
| Stability | | 48 |
| Handling | | 33 |
| Reload Speed | | 31 |
| Charge Time | | 533 |
| Magazine | | 5 |
| | | |
| --- | --- | --- |
| Aim Assistance | | 60 |
| Inventory Size | | 28 |
| Recoil Direction | | 63 |
| Zoom | | 25 |
Season 13
Season of the Chosen
Season 12
Season of the Hunt
Season 11
Season of Arrivals
Season 10
Season of the Worthy
Season 9
Season of Dawn
Modified

-

1/27/2020

Added

-

12/9/2019
Reviews
To write reviews and manage your Guardian while playing, install Destiny Item Manager.
Rapid Hit + Firing Line is a damn good combo for this beast of a LFR
1 year ago
on PlayStation
God-roll is Rapid-Hit + Firing Line no ifs and buts.
Firing line is pretty good
1 year ago
on PlayStation
Pretty good extra dmg for extented Dps phases when your izanagis ammo is gone
1 year ago
on PlayStation
1 year ago
on PlayStation
Liquid Coils / Rapid Hit / Firing Line makes this compete as one of the strongest DPS weapons in the game. Can compete with Izanagi but only over a longer DPS period. Well worth picking up with Firing Line minimum. Try go for stability on the MW / sights for easier follow ups
Very good Boss phase DPS if rolled with Rapid Hit and Firing line. Dont use "Charge time" as it will exponentially decrease the impact and not pay off the firing rate increase against the lower damage inflicted.