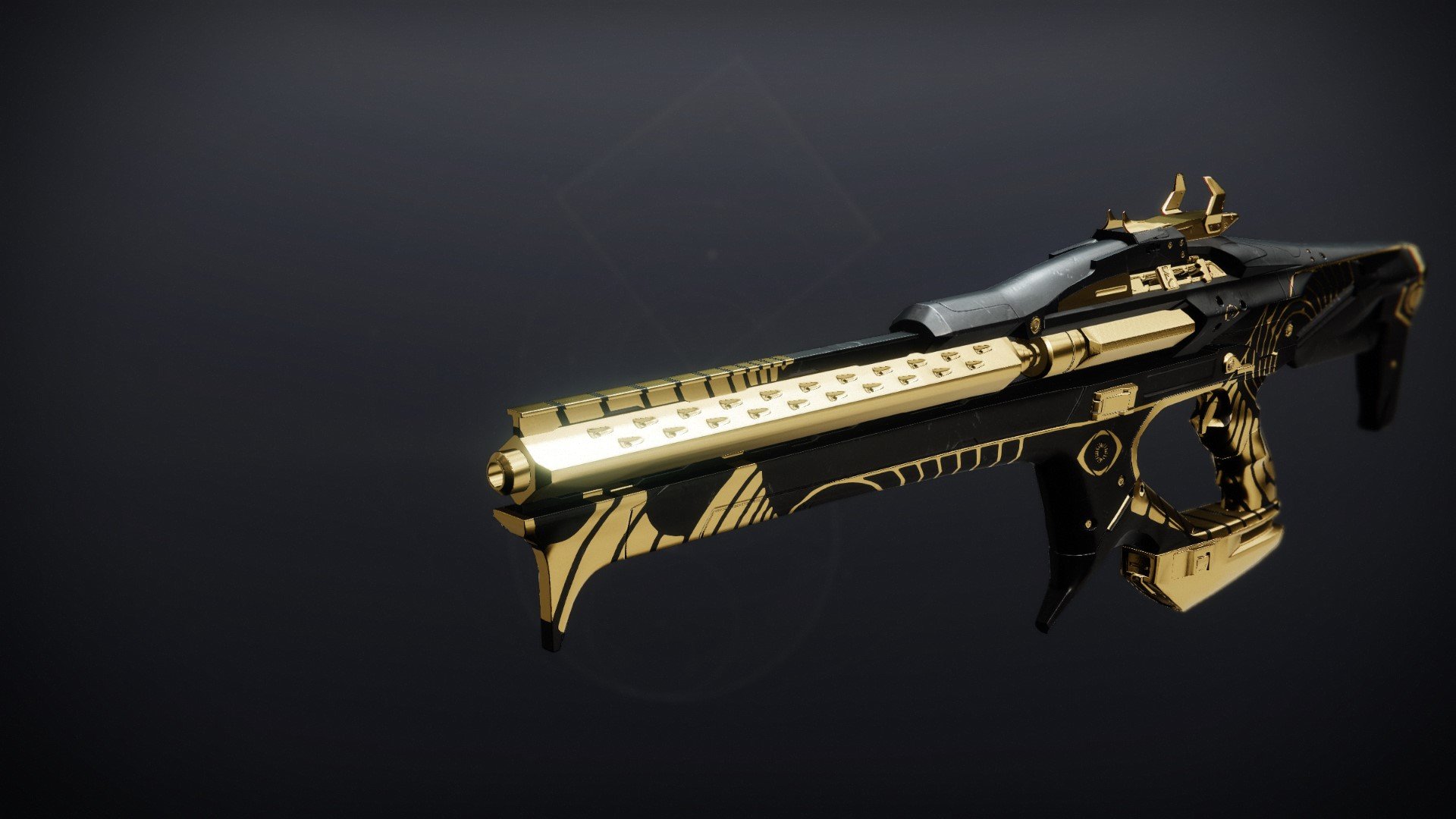 Reed's Regret
Legendary
Linear Fusion Rifle
Stasis
Read Lore
A ceiling light flickers to life with a buzzing click, radiating a florescent pink glow. Moths scatter among the racks of weapons mounted on the walls. Reed-7 ducks into the room, barely able to shut the door behind him. The space is little more than a closet: an arms locker stuffed to the ceiling with a collection of weapons. His hip brushes past a workbench, where a black-and-gold-plated fusion rifle marked with the Eye of Osiris rests. He sinks into the seat at the workbench, shoulders slouched forward. The chair groans in protest under his weight. There are notes scrawled on loose papers around the fusion rifle, all in his friend Shayura's handwriting. A fine layer of dust covers everything. Reed turns the fusion rifle over in his hands. He remembers when Saint-14 gave this to Shayura for her accomplishments in the Trials. He remembers a few months later when Shayura had a breakdown during a match and nearly killed another Guardian. He remembers the fallout. The anger. The pain. "Do not worry for Shayura," Osiris had told him. Reed can still hear his voice haunting the back of his mind. "I am no stranger to these kinds of traumas. I can look after her. Guide her." Reed's grip around the fusion rifle tightens. "Show her the way back to clarity." His hand trembles. "You can trust me."
Competitive PvP

Quickplay PvP

Competitive Co-Op

PvE
Survival

Countdown

Clash: Competitive

Control: Competitive

Crimson Doubles

Trials of the Nine

Trials of Osiris

Elimination
Altar of Flame

The Burnout

Distant Shore

The Dead Cliffs

Endless Vale

Javelin-4

Pacifica

Meltdown

Bannerfall

Firebase Echo

Wormhaven

Convergence

Radiant Cliffs

Equinox

Legion's Gulch

Emperor's Respite

Midtown

The Citadel

Retribution

The Fortress

Solitude

Vostok

Gambler's Ruin
PvP Insights
Item Statistics
Selecting weapon perks and mods can alter the stats shown below.
| | | |
| --- | --- | --- |
| Impact | | 41 |
| Range | | 51 |
| Stability | | 53 |
| Handling | | 38 |
| Reload Speed | | 35 |
| Charge Time | | 533 |
| Magazine | | 6 |
| | | |
| --- | --- | --- |
| Aim Assistance | | 66 |
| Inventory Size | | 40 |
| Recoil Direction | | 76 |
| Zoom | | 25 |
Season 15
Season of the Lost
Reviews
To write reviews and manage your Guardian while playing, install Destiny Item Manager.