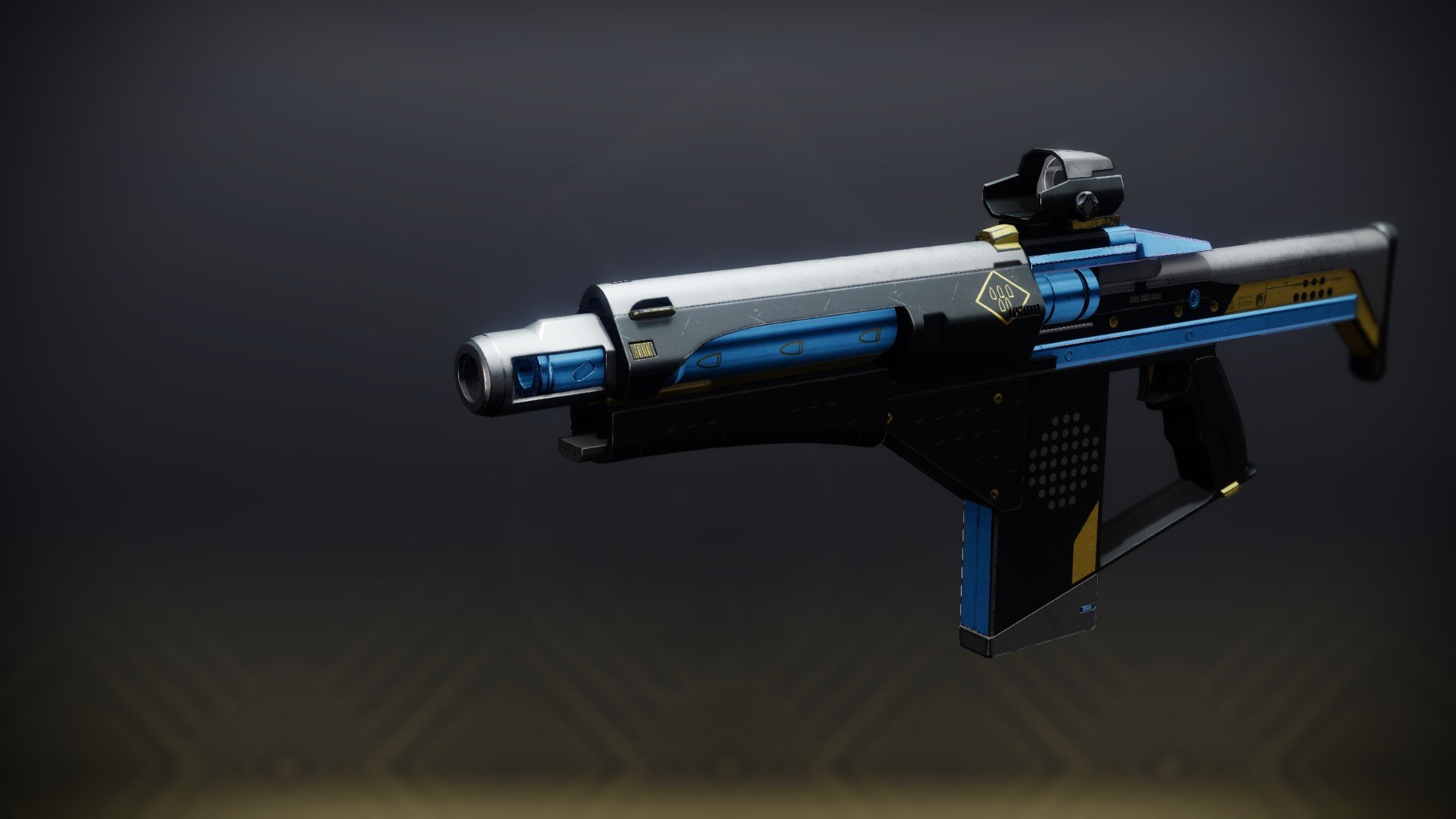 Null Composure
Legendary
Fusion Rifle
Void
Read Lore
The five Splicers sat motionless around the small access point that jutted from the dark stone. It pulsed softly, checked and rechecked the permissions that summoned it, and then pushed a data spike solidly into the Vex domain. The Splicers' consciousnesses spiraled into the network and they immediately sensed the colors changing around them. They were being hunted. Exclusion fields manifested and chased them, sizzling over the dataplanes as they passed. With a confident laugh, Grainslayer blinked into a silver fractal of unbound Light. The field shattered and split to follow him. Chroniclekel spun cool blue towers of mandatory protocols stretching into infinity, then duplicated his trace and sent himself hurtling down all possibilities at once. The domain chugged and hitched as he moved. Anomaly focused his Light and caught a bucking ripple of the domain, pushed, and pried a crack into the deep cipher beneath. Collide and Corrosion plunged through. Corrosion, her Light a scythe, tore fiercely at the smothering strands of replicating data. Collide reached into the blinding heart of the domain, grasping at the decompiling wisps, feeling them retract from his access. He centered himself and willed the correct strand to appear before him. It took all his strength and skill to bend it, to change a one to a zero. And as he thought it, it happened. The access point dissipated, leaving the five Splicers back in the dark stone room. They turned to Collide, and when he nodded, they collapsed into joyful, relieved laughter: they had erased the Vex's knowledge of Misraaks's daughter, Eido. Collide caught his breath and shrugged with false modesty. "Provoke the eminendum—" he began. "—perish as the residuum," Corrosion finished for him, before she fell into a fit of laughter once more.
Competitive PvP

Quickplay PvP

Competitive Co-Op

PvE
Survival

Countdown

Clash: Competitive

Control: Competitive

Crimson Doubles

Trials of the Nine

Trials of Osiris

Elimination
Altar of Flame

The Burnout

Distant Shore

The Dead Cliffs

Endless Vale

Javelin-4

Pacifica

Meltdown

Bannerfall

Firebase Echo

Wormhaven

Convergence

Radiant Cliffs

Equinox

Legion's Gulch

Emperor's Respite

Midtown

The Citadel

Retribution

The Fortress

Solitude

Vostok

Gambler's Ruin
PvP Insights
Item Statistics
Selecting weapon perks and mods can alter the stats shown below.
| | | |
| --- | --- | --- |
| Impact | | 55 |
| Range | | 36 |
| Stability | | 42 |
| Handling | | 60 |
| Reload Speed | | 53 |
| Charge Time | | 460 |
| Magazine | | 6 |
| | | |
| --- | --- | --- |
| Aim Assistance | | 38 |
| Inventory Size | | 55 |
| Recoil Direction | | 55 |
| Zoom | | 16 |
Season 0
Modified

-

10/11/2021

Modified

-

9/13/2021
Season 15
Season of the Lost
Season 14
Season of the Splicer
Modified

-

5/24/2021

Added

-

5/10/2021
Reviews
To write reviews and manage your Guardian while playing, install Destiny Item Manager.