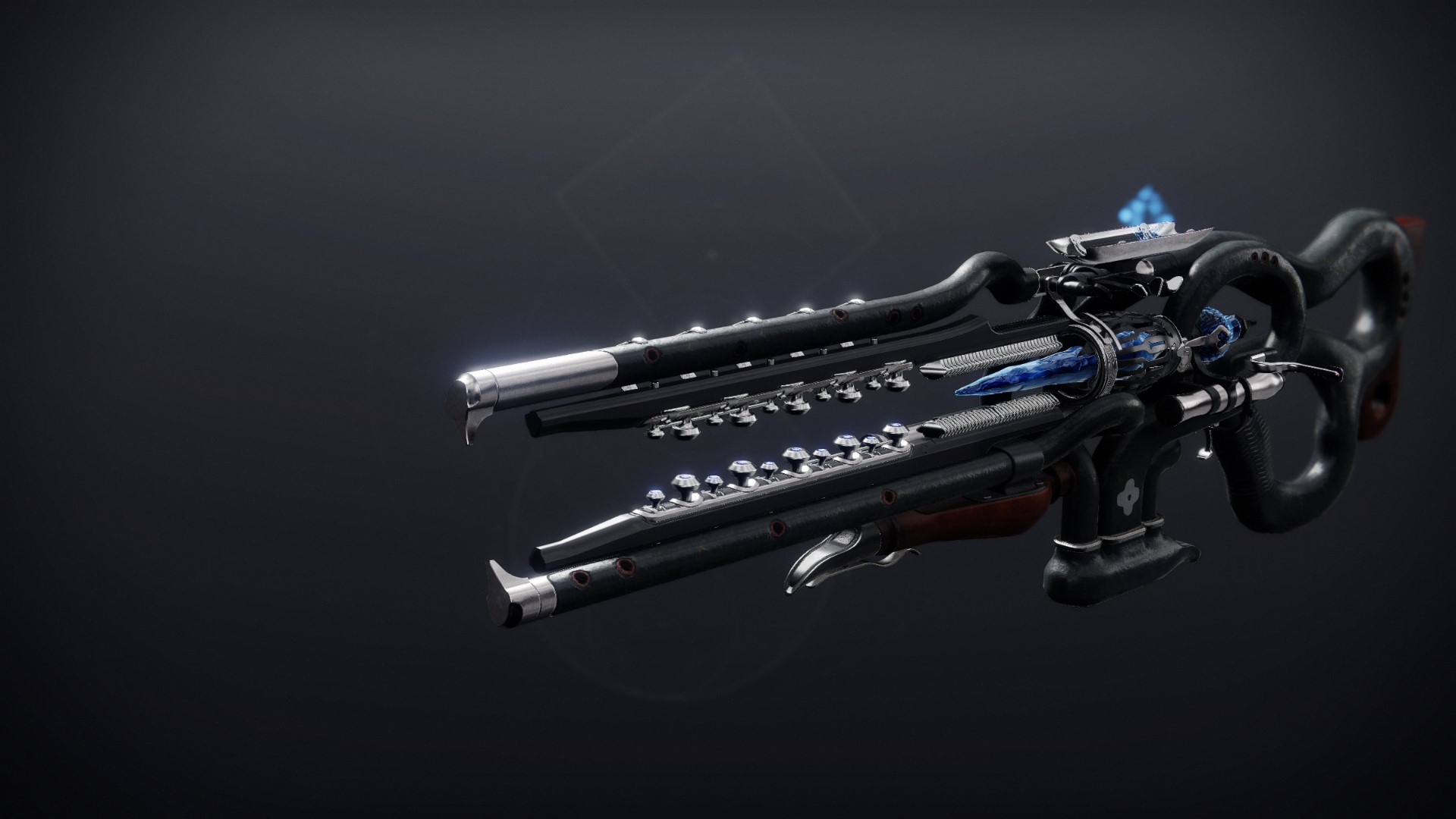 Ager's Scepter
Exotic
Trace Rifle
Stasis
Keep it secret. Keep it safe.
Read Lore
Mara Sov watched her brother imitate a swooping bird as he entertained a semicircle of children. They flocked to him as if the stories he spun were confections. Uldren lurched to his feet—his shadow casting a heroic pose against a canopy of towering Baryon trees—and thrust a slender blade into the air. "Straight through the storm!" he howled as Awoken children shrieked with laughter and applause. "That's right. The two kestrels were like blades sailing on the wind," he said, sheathing the fine steel. "As long as they were together, nothing could stop them." Mara turned to survey the Awoken flotilla anchored deep within their borders, suspended around a floating starport. Soon they would disembark. This night was for revelry. For families to enshrine in their memories should loved ones fail to return. In the morning, Saturn waited. Far-off asteroids groaned like thunder, sending the children into a frenzy of gasps. "Sounds like Ager's having another battle," Uldren said, stepping onto a bench to get a better view. He brought a hand to his brow, as if sighting an advancing stormfront. A young Awoken child, no older than six, stood. Uldren watched the worry well in her eyes. "Is he okay? Can you see them fighting?" "Oh yes," Uldren answered. "Come here." The child stepped forward. "If I'm not mistaken, your name is Erith, isn't it?" Uldren asked. The girl nodded, awestruck. Uldren pulled a looking glass from his belt and placed it in her hand. "Look where I'm pointing." Erith followed the prince's direction to a spot in the sky that flashed with color. "I see Ager!" she proclaimed proudly. "I see Rega!" Uldren patted her shoulder and smiled. "As long as the two of them are together, nothing can stop them. Just like us. Stand with your cousins, and you'll be all right." Mara met his eyes and stepped forward. "That's enough. The prince has a long journey in the morning, and he must rest. Run along now." Once the children were beyond eyesight, Mara's expression shifted to a glare. "These stories…" She leaned into Uldren. "Stop filling their heads with nonsense."
Competitive PvP

Quickplay PvP

Competitive Co-Op

PvE
Survival

Countdown

Clash: Competitive

Control: Competitive

Crimson Doubles

Trials of the Nine

Trials of Osiris

Elimination
Altar of Flame

The Burnout

Distant Shore

The Dead Cliffs

Endless Vale

Javelin-4

Pacifica

Meltdown

Bannerfall

Firebase Echo

Wormhaven

Convergence

Radiant Cliffs

Equinox

Legion's Gulch

Emperor's Respite

Midtown

The Citadel

Retribution

The Fortress

Solitude

Vostok

Gambler's Ruin
PvP Insights
Item Statistics
Selecting weapon perks and mods can alter the stats shown below.
| | | |
| --- | --- | --- |
| Impact | | 6 |
| Range | | 69 |
| Stability | | 79 |
| Handling | | 52 |
| Reload Speed | | 55 |
| Rounds/Min | | 1000 |
| Magazine | | 97 |
| | | |
| --- | --- | --- |
| Aim Assistance | | 100 |
| Airborne Effectiveness | | 15 |
| Inventory Size | | 44 |
| Recoil Direction | | 96 |
| Zoom | | 16 |
Season 17
Season of the Haunted
Season 16
Season of the Risen
Season 15
Season of the Lost
Modified

-

12/15/2021

Modified

-

12/6/2021

Modified

-

10/11/2021

Declassified

-

9/13/2021

Added

-

8/23/2021
Reviews
To write reviews and manage your Guardian while playing, install Destiny Item Manager.