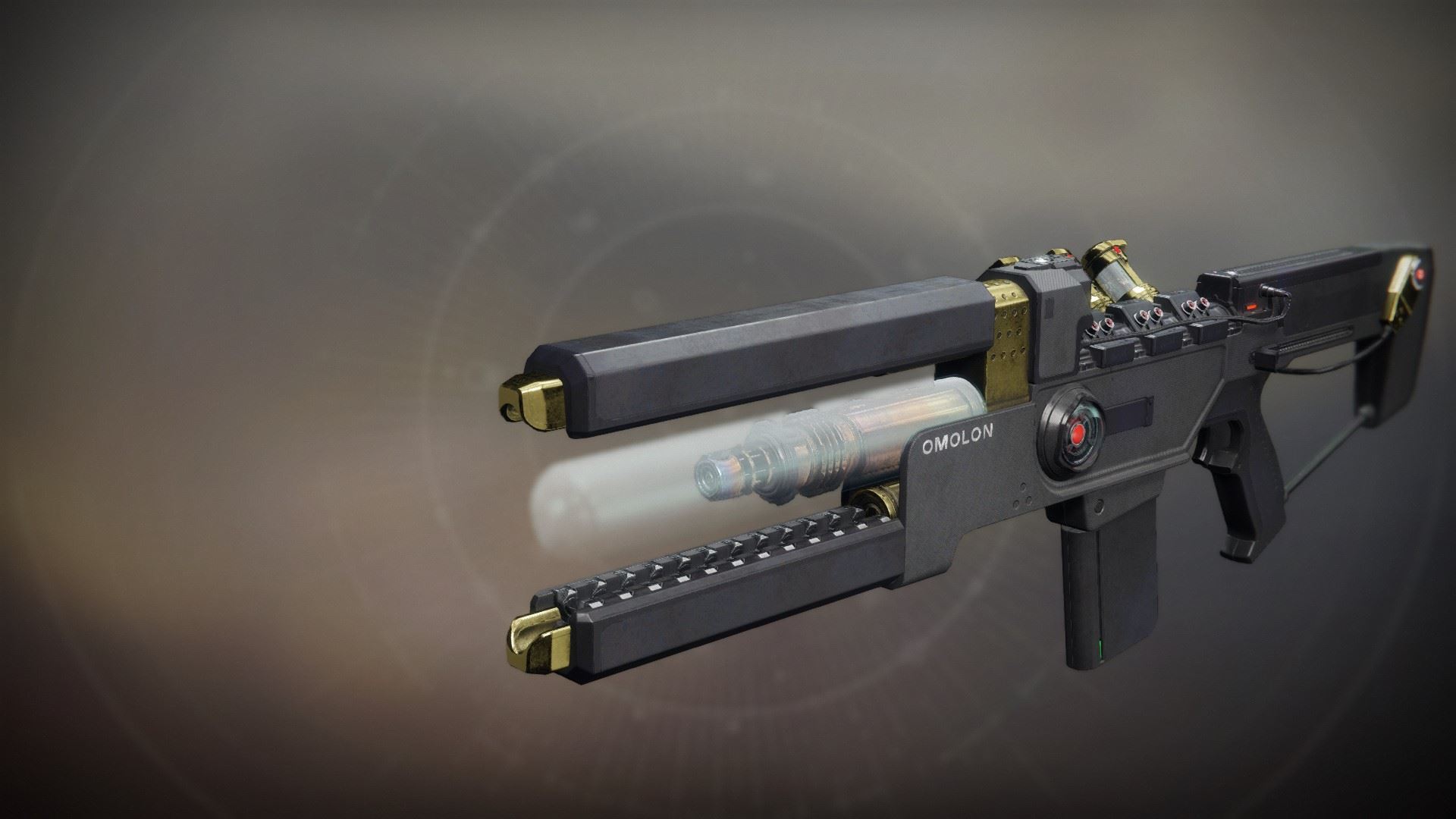 Omolon's newest breakthrough uses focused sonic waves to superheat electrons into a devastating energy beam.
Read Lore
From the makers of the Coldheart comes the latest in breakthrough City Age technology: the Wavesplitter. Here are the three most frequently asked questions we get about our revolutionary weaponized sound system. Q: If the Wavesplitter fires sound waves, does it need ammo packs? A: The Wavesplitter does need ammo packs, but the onboard matter transmuter turns that ammo into electrical energy that powers the waveform emitter. Q: What does it sound like when you're hit by it? A: Our Guardian testers give us many different answers. Some say it sounds like a scream you hear in your bones. Others say it sounds like a dying star. Still others say it reminds them of a knife shaped like a B flat. Q: Can the Wavesplitter be used as a musical instrument? A: The Wavesplitter was not designed to be a musical instrument. That said, we at Omolon are in the business of giving Guardians options, not taking them away.
Select Activity Type
Competitive PvP
Competitive PvP
Quickplay PvP
Competitive Co-Op
PvE
Survival
Countdown
Clash: Competitive
Control: Competitive
Crimson Doubles
Trials of the Nine
Elimination
Altar of Flame
The Burnout
Distant Shore
The Dead Cliffs
Endless Vale
Javelin-4
Pacifica
Meltdown
Bannerfall
Firebase Echo
Wormhaven
Convergence
Radiant Cliffs
Equinox
Legion's Gulch
Emperor's Respite
Midtown
The Citadel
Retribution
The Fortress
Solitude
Vostok
Gambler's Ruin
PvP Insights
Item Statistics
Selecting weapon perks and mods can alter the stats shown below.
| | | |
| --- | --- | --- |
| Impact | | 6 |
| Range | | 70 |
| Stability | | 78 |
| Handling | | 56 |
| Reload Speed | | 51 |
| Rounds/Min | | 1000 |
| Magazine | | 94 |
| | | |
| --- | --- | --- |
| Aim Assistance | | 100 |
| Inventory Size | | 50 |
| Recoil Direction | | 100 |
| Zoom | | 16 |
Season 8
Destiny 2: Shadowkeep
Season 7
Season of the Opulence: Penumbra
Season 6
Season of the Drifter: Joker's Wild
Modified

-

5/6/2019

Modified

-

4/10/2019

Modified

-

3/4/2019
Season 5
Season of the Forge: Black Armory
Modified

-

1/28/2019

Modified

-

11/30/2018
Season 4
Destiny 2: Forsaken
Modified

-

9/17/2018

Modified

-

8/31/2018

Added

-

8/27/2018
Reviews
To write reviews and manage your Guardian while playing, install Destiny Item Manager.
D2 Y3 S1 IB... It just Melts!!!
Amazing gun that melts face. 'Nuff said.
It sooooo good at console pvp and pve
If you want to use this thing to it's full potential then equip Wendigo in your heavy slot to allow you to collect orbs even at full super. Enjoy the melting.
Random damage? No thanks. Keep RNG out of my damage and abilities please.
Take this into the final quest for deathbringer. Melts void wizards in less than 5 seconds.
Why have I never heard of this thing?!
it's a unique trace rifle that I believe is the only varying damage weapon as it's based on the waves on its monitor grab an orb of light and the damage jacks up to the highest for this weapon it does have competition with​ its brothers while coldheart is the king of dps for trace rifles and promethus is king for add clear wavesplitter is more of a all around trace rifle with the potenial of being a dps machine
This is THE trace rifle (not counting Divinity). Just hits that little bit harder than Coldy or the Lens