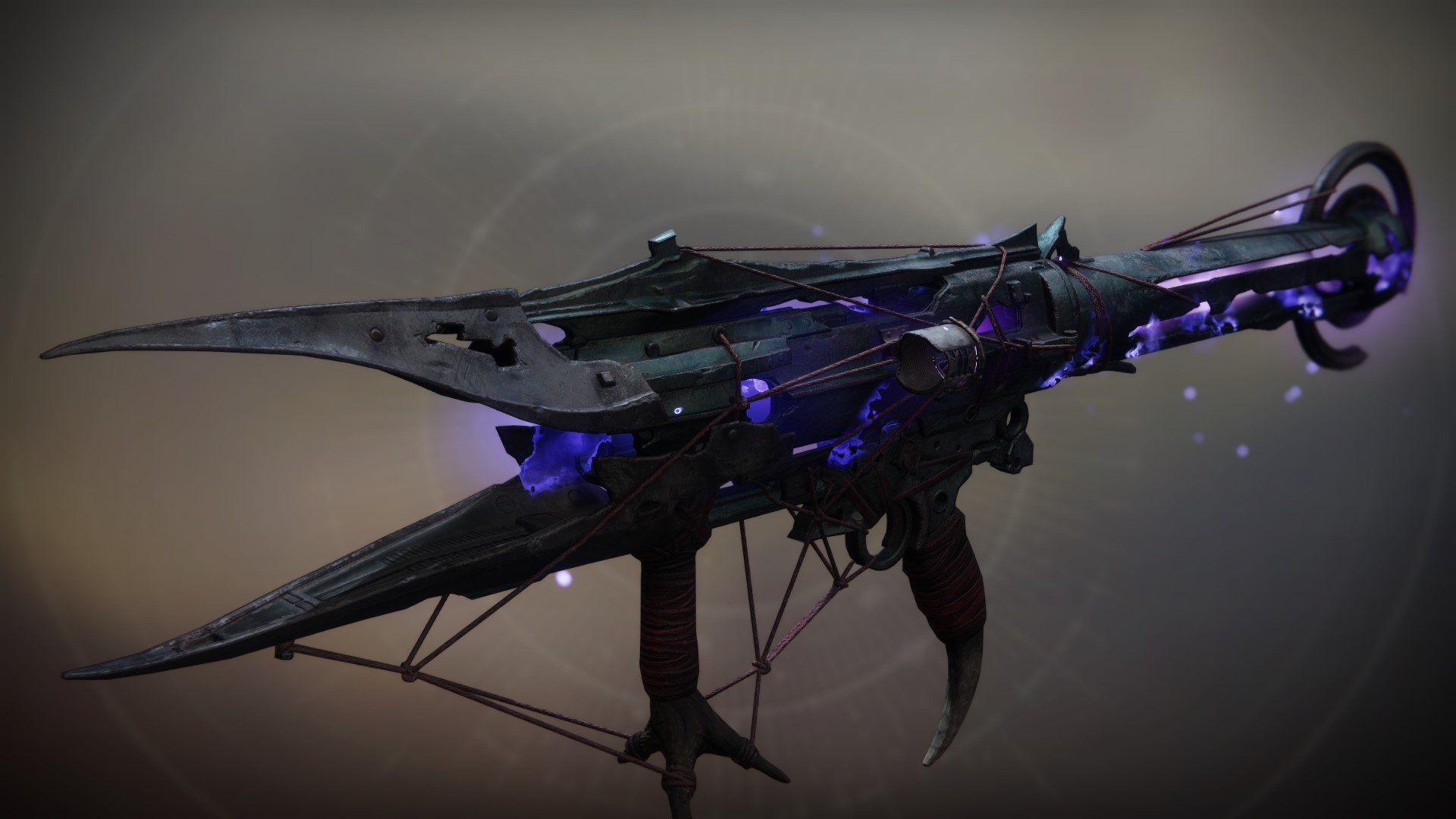 Deathbringer
Exotic
Rocket Launcher
Void
"Sing them a lullaby of death and nothing more."
Read Lore
"The Song is the antithesis. The Song is destruction. The failure to master the harmonies of life has birthed the anti-creation—the sullen frequencies of ruin. Those sweet melodies carry with them more than death—a rending of spirit and mind, a flaying of the physical self till nothing remains. "The beauty of the cascading notes. The imperfect inflection of their tune… There has ever been, and will ever be, art in creation. So too in the act of annihilation—erasure and bittersweet finality. This is the Song's truest gift… "In its wake, once the echoes have rung their last, there is only silence and the grand splendor of nothingness. "Thus is the Song an end, and those who join its Choir are death, and nothing more." —Unknown
Select Activity Type
Competitive PvP
Competitive PvP
Quickplay PvP
Competitive Co-Op
PvE
Survival
Countdown
Clash: Competitive
Control: Competitive
Crimson Doubles
Trials of the Nine
Elimination
Altar of Flame
The Burnout
Distant Shore
The Dead Cliffs
Endless Vale
Javelin-4
Pacifica
Meltdown
Bannerfall
Firebase Echo
Wormhaven
Convergence
Radiant Cliffs
Equinox
Legion's Gulch
Emperor's Respite
Midtown
The Citadel
Retribution
The Fortress
Solitude
Vostok
Gambler's Ruin
PvP Insights
Item Statistics
Selecting weapon perks and mods can alter the stats shown below.
| | | |
| --- | --- | --- |
| Blast Radius | | 95 |
| Velocity | | 46 |
| Stability | | 62 |
| Handling | | 69 |
| Reload Speed | | 40 |
| Rounds/Min | | 15 |
| Magazine | | 1 |
| | | |
| --- | --- | --- |
| Aim Assistance | | 72 |
| Inventory Size | | 36 |
| Recoil Direction | | 58 |
| Zoom | | 20 |
Source: An Exotic quest or challenge.
Season 8
Destiny 2: Shadowkeep
Reviews
To write reviews and manage your Guardian while playing, install Destiny Item Manager.
6 hours ago
on PlayStation
19 hours ago
on PlayStation
20 hours ago
on PlayStation
3 days ago
on PlayStation
the child of dragonsbreath and g-horn the key thing is highet not distance for this weapon
Dope excellent nasty tracking orbs
3 days ago
on PlayStation
i love launching a rocket in the general direction of the Enemy and all of a sudden their name pops up up in the kill feed even tho they were behind cover 10/10 can kill superz ez
This is a lot of fun to use.
4 days ago
on PlayStation
Has a steep learning curve, but once you learn it, shits gonna start feeling the pain. Good for both Boss DPS and add clear.
It's like the 2019 version of a slightly more balanced ghorn