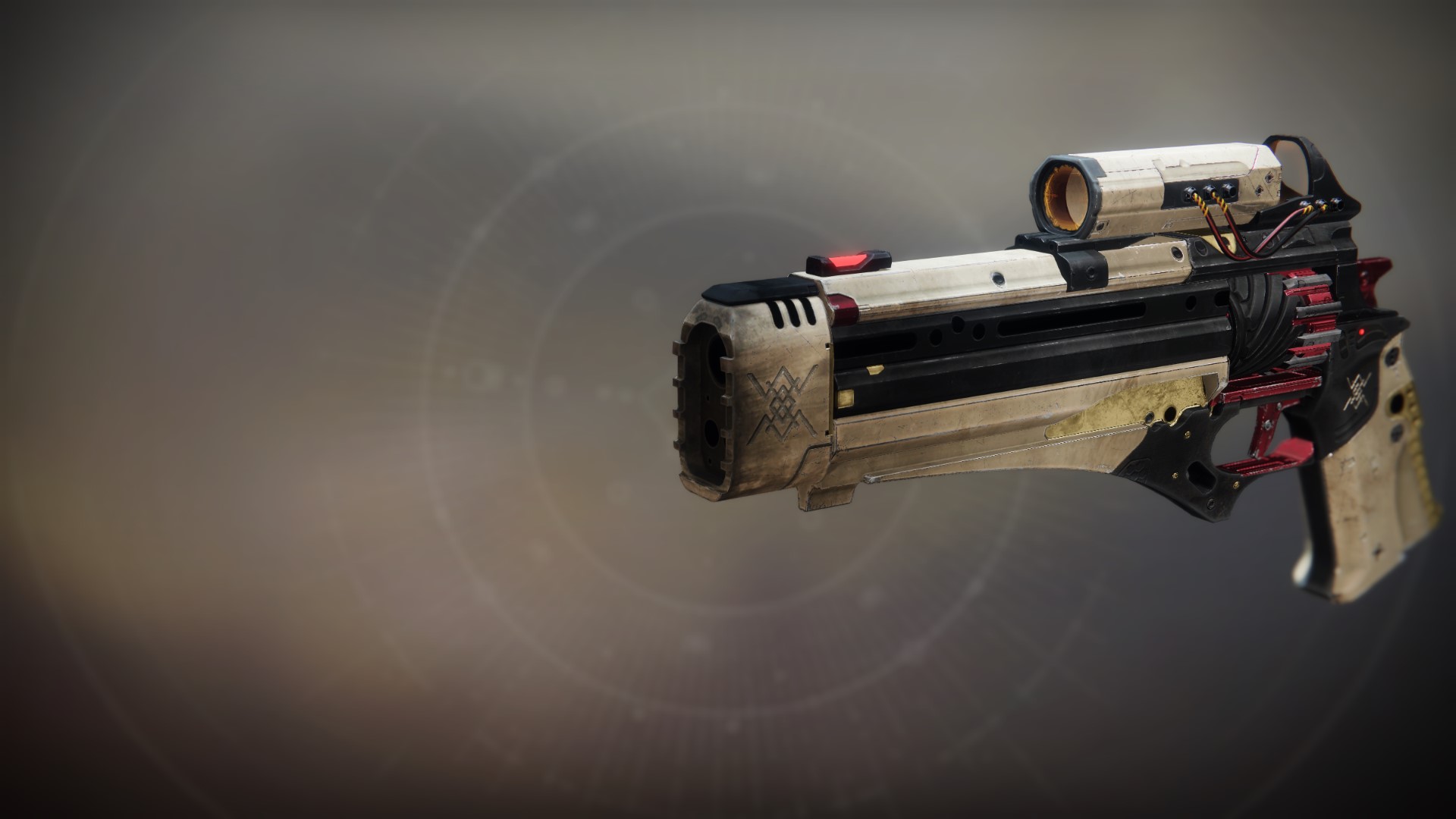 A light in the dark.
Read Lore
Omar: This place reeks of death. Toland: Worse. Rebirth. Sai: Once something is gone, it should stay that way. Eriana-3: I can't share that sentiment. Sai: You will never find peace if you can't accept your loss. Eriana-3: I'll find peace when I rip that monster's beating heart from his chest. Eris: I have never known vengeance to bring peace. Eriana-3: What do you think I should hope for, then? All I have left is my vengeance and my gun. Eris: A Hand Cannon with a sight, yet you see nothing but rage. Don't allow it to cloud your judgement. Wei gave you the weapon for a purpose. Eriana-3: Yeah, to keep me at a distance from the Hive. And now I'm heading straight toward them. Somewhere out there, she's shaking a fist at me. Eris: We can honor her still by ridding the world of the disease that is Crota. Eriana-3: There is no world for me after Crota. Eris: What you are feeling… is to be expected. In time, we can forge a new world. Together. Eriana-3: I want to believe that is possible. Vell: I hate to interrupt this touching moment, but does anyone else hear that? Sai: That rumble? Toland: Thralls… I think they mean to welcome us. Eriana-3: Let them come. I'll be the last Light they ever see.
Select Activity Type
Competitive PvP
Competitive PvP
Quickplay PvP
Competitive Co-Op
PvE
Survival
Countdown
Clash: Competitive
Control: Competitive
Crimson Doubles
Trials of the Nine
Elimination
Altar of Flame
The Burnout
Distant Shore
The Dead Cliffs
Endless Vale
Javelin-4
Pacifica
Meltdown
Bannerfall
Firebase Echo
Wormhaven
Convergence
Radiant Cliffs
Equinox
Legion's Gulch
Emperor's Respite
Midtown
The Citadel
Retribution
The Fortress
Solitude
Vostok
Gambler's Ruin
PvP Insights
Item Statistics
Selecting weapon perks and mods can alter the stats shown below.
| | | |
| --- | --- | --- |
| Impact | | 100 |
| Range | | 100 |
| Stability | | 37 |
| Handling | | 31 |
| Reload Speed | | 32 |
| Rounds/Min | | 90 |
| Magazine | | 6 |
| | | |
| --- | --- | --- |
| Aim Assistance | | 80 |
| Inventory Size | | 0 |
| Recoil Direction | | 100 |
| Zoom | | 24 |
Season 0
Modified

-

12/9/2019

Modified

-

11/11/2019
Season 8
Destiny 2: Shadowkeep
Modified

-

10/28/2019

Added

-

9/30/2019
Reviews
To write reviews and manage your Guardian while playing, install Destiny Item Manager.
Awkward and mediocre until you grind your face off for the catalyst to then get 500 kills with it and finally make it useful (not amazing, just useful). Possibly one of the worst exotics at launch, as this exotic without the catalyst is actually worse this season without enhanced hand cannon loader readily available (hence the need to grind the catalyst to make it useful). Bummer of a release as a huge fan of Warlock lore and Eriana.
6 days ago
on PlayStation
Eriana's Vow
1 week ago
on PlayStation
This weapon is deceptively good. It's not just a pocket sniper rifle with anti-barrier properties and auto-loading holster. It is an ammo-summoning machine. I swear I never, ever run out of ammo for the Vow; it must have an increased green box drop rate. Slap Hand Cannon Scavenger on this puppy and you can use it like a Primary.
1 week ago
on PlayStation
Best nightfall anti-barrier gun.
1 week ago
on PlayStation
Great for nightfall with barrier champs and gambit against envoys
My favorite sniper rifle. Just don't use it while under fire.
You know the magnum from Resident Evil 2? Yeah, that magnum. This is its lovechild.
The catalyst is a long but simple grind, and imo it is worth it. Brings the clip up to 9 and gived auto-loading holster. Superb vanilla, even crazier when masterworked
4 weeks ago
on PlayStation
1 month ago
on PlayStation
Pops shields like butter. Great in Gambit Prime for blopping those envoys.