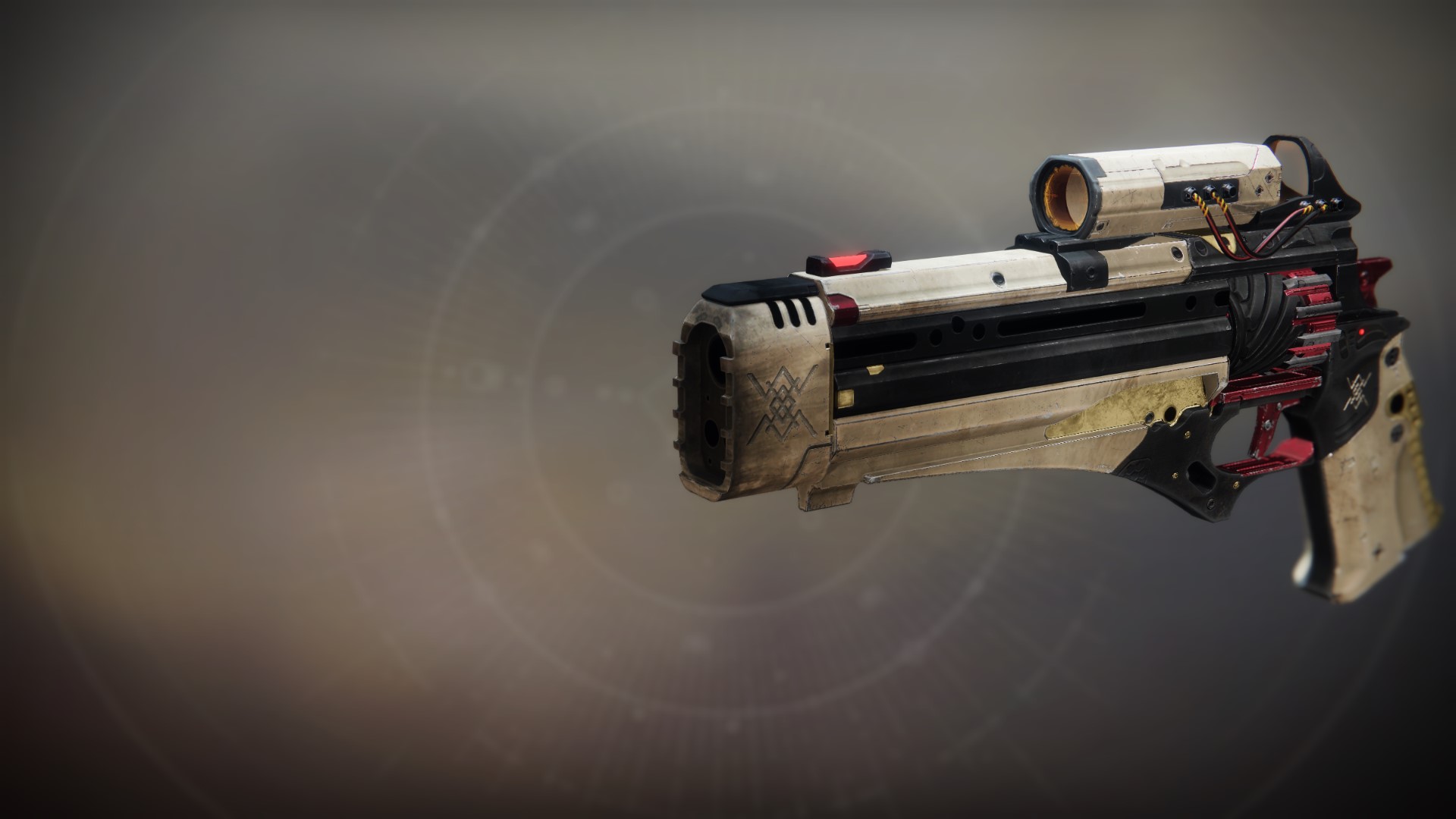 A light in the dark.
Read Lore
Omar: This place reeks of death. Toland: Worse. Rebirth. Sai: Once something is gone, it should stay that way. Eriana-3: I can't share that sentiment. Sai: You will never find peace if you can't accept your loss. Eriana-3: I'll find peace when I rip that monster's beating heart from his chest. Eris: I have never known vengeance to bring peace. Eriana-3: What do you think I should hope for, then? All I have left is my vengeance and my gun. Eris: A Hand Cannon with a sight, yet you see nothing but rage. Don't allow it to cloud your judgement. Wei gave you the weapon for a purpose. Eriana-3: Yeah, to keep me at a distance from the Hive. And now I'm heading straight toward them. Somewhere out there, she's shaking a fist at me. Eris: We can honor her still by ridding the world of the disease that is Crota. Eriana-3: There is no world for me after Crota. Eris: What you are feeling… is to be expected. In time, we can forge a new world. Together. Eriana-3: I want to believe that is possible. Vell: I hate to interrupt this touching moment, but does anyone else hear that? Sai: That rumble? Toland: Thralls… I think they mean to welcome us. Eriana-3: Let them come. I'll be the last Light they ever see.
Competitive PvP

Quickplay PvP

Competitive Co-Op

PvE
Survival

Countdown

Clash: Competitive

Control: Competitive

Crimson Doubles

Trials of the Nine

Trials of Osiris

Elimination
Altar of Flame

The Burnout

Distant Shore

The Dead Cliffs

Endless Vale

Javelin-4

Pacifica

Meltdown

Bannerfall

Firebase Echo

Wormhaven

Convergence

Radiant Cliffs

Equinox

Legion's Gulch

Emperor's Respite

Midtown

The Citadel

Retribution

The Fortress

Solitude

Vostok

Gambler's Ruin
PvP Insights
Item Statistics
Selecting weapon perks and mods can alter the stats shown below.
| | | |
| --- | --- | --- |
| Impact | | 100 |
| Range | | 100 |
| Stability | | 30 |
| Handling | | 23 |
| Reload Speed | | 24 |
| Rounds/Min | | 90 |
| Magazine | | 6 |
| | | |
| --- | --- | --- |
| Aim Assistance | | 80 |
| Airborne Effectiveness | | 9 |
| Inventory Size | | 0 |
| Recoil Direction | | 100 |
| Zoom | | 24 |
Season 17
Season of the Haunted
Season 16
Season of the Risen
Season 15
Season of the Lost
Modified

-

12/15/2021

Modified

-

10/11/2021

Modified

-

8/23/2021
Season 14
Season of the Splicer
Season 13
Season of the Chosen
Modified

-

4/19/2021

Modified

-

2/8/2021
Season 12
Season of the Hunt
Season 11
Season of Arrivals
Season 10
Season of the Worthy
Modified

-

4/20/2020

Modified

-

3/9/2020
Season 9
Season of Dawn
Modified

-

1/27/2020

Modified

-

12/9/2019
Season 8
Destiny 2: Shadowkeep
Modified

-

11/11/2019

Modified

-

10/28/2019

Added

-

9/30/2019
Reviews
To write reviews and manage your Guardian while playing, install Destiny Item Manager.
2 years ago
on PlayStation
Great gun once it's masterworked. The shield busting perk is extremely useful for taking down Hydras and barrier nightmares.
Has one use but is good at it
2 years ago
on PlayStation
Someone said you only had to get 400 kills to be able to use the catalyst for this gun. I'm in the middle of that quest right now. I don't know how many kills need to be made because the kills are counted by percentage. However, I can tell you it took at over 400 gambits, crucibles, and strikes to get the catalyst in my inventory. The catalyst quest says 400 events, but advancement depends on wins or losses. I sure hope this gun is worth it...the quests are painfully and ridiculously long.
if you can't use beloved..