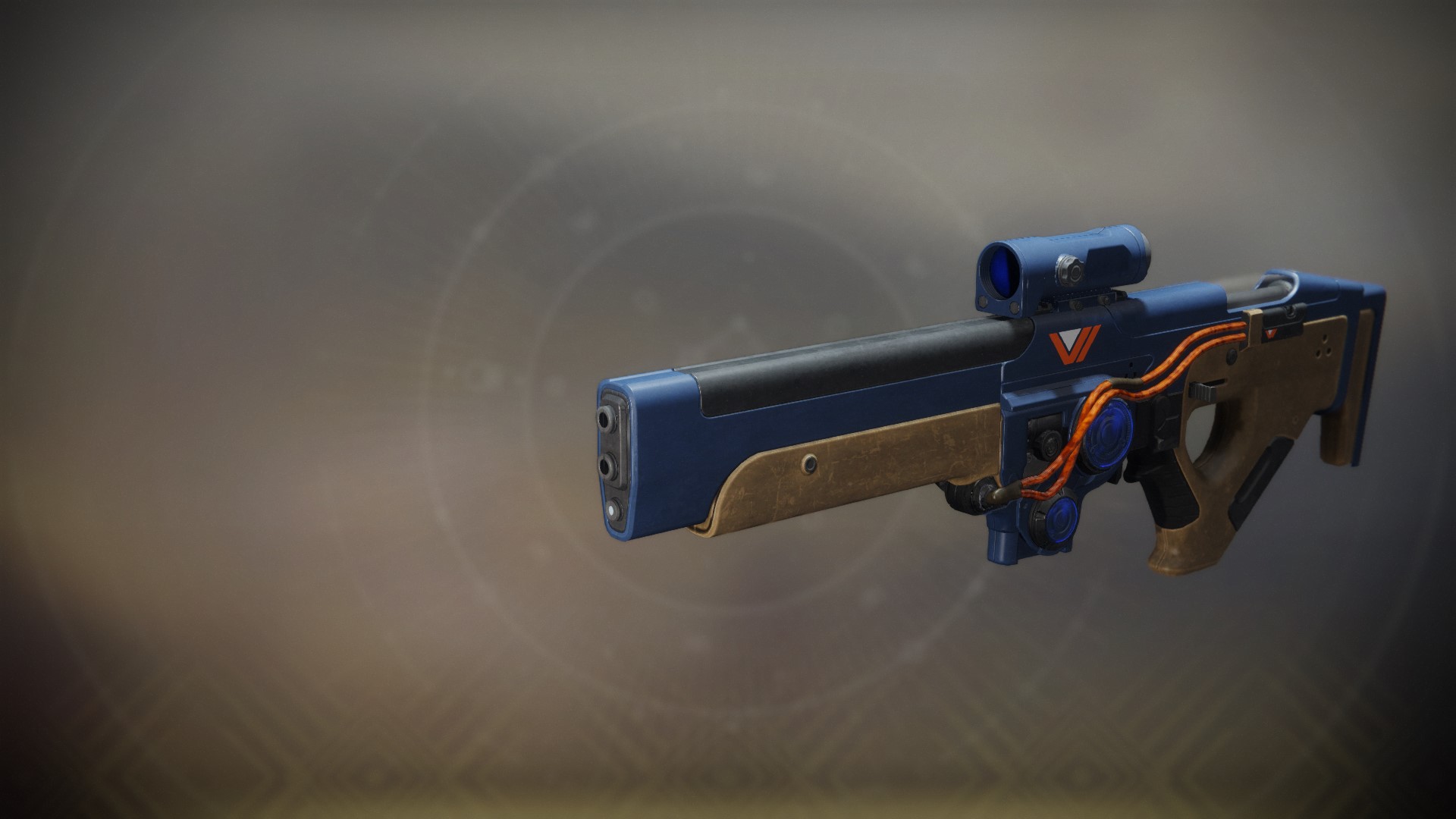 Oxygen SR3
Legendary
Scout Rifle
Solar
Fight on. You're still breathing.
Read Lore
Scarves of mist gusted through the Tower bazaar. It was quiet: The civilians had taken shelter hours ago when the rain was coming down in earnest, and most Guardians still awake had congregated in the Courtyard. Zavala and Ikora sat together on a wooden trellis, legs dangling, soaked to the bone, looking out at the City lights below. "Aunor leaked about a dozen documents today," Ikora said. Despite himself, Zavala smiled. "Did she?" "I managed to redact a few, but. She embedded the rest in your manifests." "She reminds me a lot of you." Ikora nodded, then leaned back to look up at the rain as it fell. "Yes. I agree." Rain beaded on the tip of Zavala's nose. He raised his hand to brush it away, keeping his gaze fixed steadily on the City. "What would you have me do?" "Nothing. She's mine to manage, and… She's not a child. None of them are, Zavala. We owe them all more than we're giving." "Yes…" he agreed, then added gently, "But they owe us more than they're giving, too." Ikora chuckled dryly. "Yes. Of course. The benefit of the doubt. And compassion. But." She squinted against the rain. "Our feelings don't matter right now. We need to be people they want to follow, not people they mistrust and want to fight." "Respect is mutual," Zavala said, "but I agree." He took a deep breath, looking up at the belly of the Traveler: present but inert. Completely, maddeningly, heartrendingly inert. "We will be better. This will pass." Ikora closed her eyes. They were quiet a while. "I wish Cayde were here," she whispered. Zavala set his hand on Ikora's knee and swallowed a knot in his throat. "Me, too."
Select Activity Type
Competitive PvP
Competitive PvP
Quickplay PvP
Competitive Co-Op
PvE
Survival
Countdown
Clash: Competitive
Control: Competitive
Crimson Doubles
Trials of the Nine
Elimination
Altar of Flame
The Burnout
Distant Shore
The Dead Cliffs
Endless Vale
Javelin-4
Pacifica
Meltdown
Bannerfall
Firebase Echo
Wormhaven
Convergence
Radiant Cliffs
Equinox
Legion's Gulch
Emperor's Respite
Midtown
The Citadel
Retribution
The Fortress
Solitude
Vostok
Gambler's Ruin
PvP Insights
Item Statistics
Selecting weapon perks and mods can alter the stats shown below.
| | | |
| --- | --- | --- |
| Impact | | 62 |
| Range | | 50 |
| Stability | | 51 |
| Handling | | 47 |
| Reload Speed | | 50 |
| Rounds/Min | | 180 |
| Magazine | | 16 |
| | | |
| --- | --- | --- |
| Aim Assistance | | 67 |
| Inventory Size | | 54 |
| Recoil Direction | | 60 |
| Zoom | | 20 |
Source: Complete this weapon's associated Vanguard quest.
Season 8
Destiny 2: Shadowkeep
Season 6
Season of the Drifter: Joker's Wild
Reviews
To write reviews and manage your Guardian while playing, install Destiny Item Manager.
Is preferred for zero hour, very rounded weapon.
2 days ago
on PlayStation
Even with the MASSIVE scout rifle buff its still absolute shit.
3 days ago
on PlayStation
got way better for PvE, Really good if u can land headshots, Really helpful for ad clear
5 days ago
on PlayStation
6 days ago
on PlayStation
6 days ago
on PlayStation
In the current meta a lot of people in crucible just love to bunch up and group together to teamshot with scout rifles or pulse rifles, if you land your crits on one enemy the explosion combined with a dragonfly spec mod can kill any enemy around meaning the teamshot method crumbles beneath the perk on this gun. I would also reccomend a Jade Rabbit and recluse combo for the same reason btw
LLS @ the Polaris comment but yeah this gun doesn't feel good esp for a MW weapon.
If you've ever tried to complete the polaris lance catalyst, you know why this thing is trash
1 week ago
on PlayStation
absolute trash. maybe we will see a buff in 3 years
1 week ago
on PlayStation
By no means will this be the go-to weapon for every engagement. This weapon is designed to deal one thing and one thing only, make explosions. Be accurate, pick your fights, and this will reward you with a wonderful explosion. I love it and it's helping me get my RTK quest done.
1 week ago
on PlayStation
putting this huge raid dps weapon here to uh, annoy people