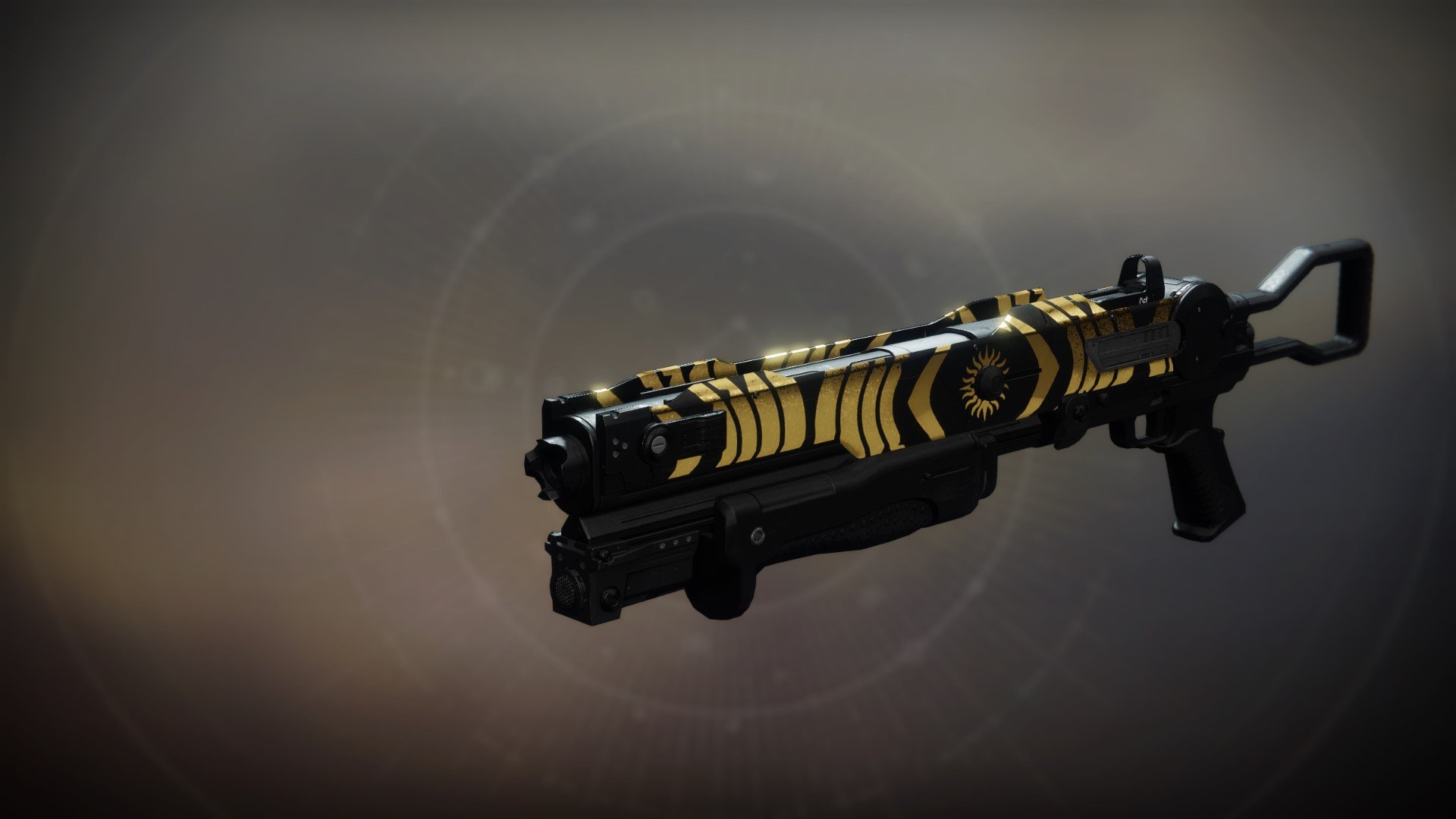 Astral Horizon
Legendary
Shotgun
Kinetic
Even the brightest stars eventually set.
Read Lore
Sadhij opened comms first. "I'm flanking. They're not going to know what hit them." "Don't over-extend, Sadhij. Trestin and I are pushing A-side. Those damn wheels block our firing lines." The words flew from Yara's lips with concerned purpose. Trestin chimed in, "Crimiq's on their fireteam. He laid me out in Crucible a few weeks back—just so you know." "Can't stop the lightning, Yara. I just ride it where it takes me." Sadhij's smile was almost audible. "You're a goober." "You're going to be a dead goober." Trestin added. "If you die, die with honor, Guardian!" Yara's tone struck a chord in his heart, and Sadhij quickened his pace. He locked eyes with a Guardian down-lane and charged, Shotgun in hand, whipping a lightning grenade toward Pillar to cover his side. Sadhij heard the distinctive revving of a fusion weapon building power and leapt into the air. "I hope you're watching…" Sadhij felt the current surge through him and arc through the air, connecting him to his target. As his opponent's Fusion Rifle let loose, Sadhij surrendered himself to the Light. His muscles convulsed as droves of Arc energy pulsed through his nervous system and overtook him. He was a bolt, screaming across the Burning Shrine and painting the arena in the glow of static glory. A saintly voice confirmed his strike. A smile split across his face. A rifle fired in the distance. A grounded thud heard by none.
Competitive PvP

Quickplay PvP

Competitive Co-Op

PvE
Survival

Countdown

Clash: Competitive

Control: Competitive

Crimson Doubles

Trials of the Nine

Trials of Osiris

Elimination
Altar of Flame

The Burnout

Distant Shore

The Dead Cliffs

Endless Vale

Javelin-4

Pacifica

Meltdown

Bannerfall

Firebase Echo

Wormhaven

Convergence

Radiant Cliffs

Equinox

Legion's Gulch

Emperor's Respite

Midtown

The Citadel

Retribution

The Fortress

Solitude

Vostok

Gambler's Ruin
PvP Insights
Item Statistics
Selecting weapon perks and mods can alter the stats shown below.
| | | |
| --- | --- | --- |
| Impact | | 80 |
| Range | | 32 |
| Stability | | 34 |
| Handling | | 35 |
| Reload Speed | | 40 |
| Rounds/Min | | 55 |
| Magazine | | 4 |
| | | |
| --- | --- | --- |
| Aim Assistance | | 34 |
| Inventory Size | | 40 |
| Recoil Direction | | 62 |
| Zoom | | 12 |
Season 13
Season of the Chosen
Season 12
Season of the Hunt
Season 11
Season of Arrivals
Season 10
Season of the Worthy
Reviews
To write reviews and manage your Guardian while playing, install Destiny Item Manager.