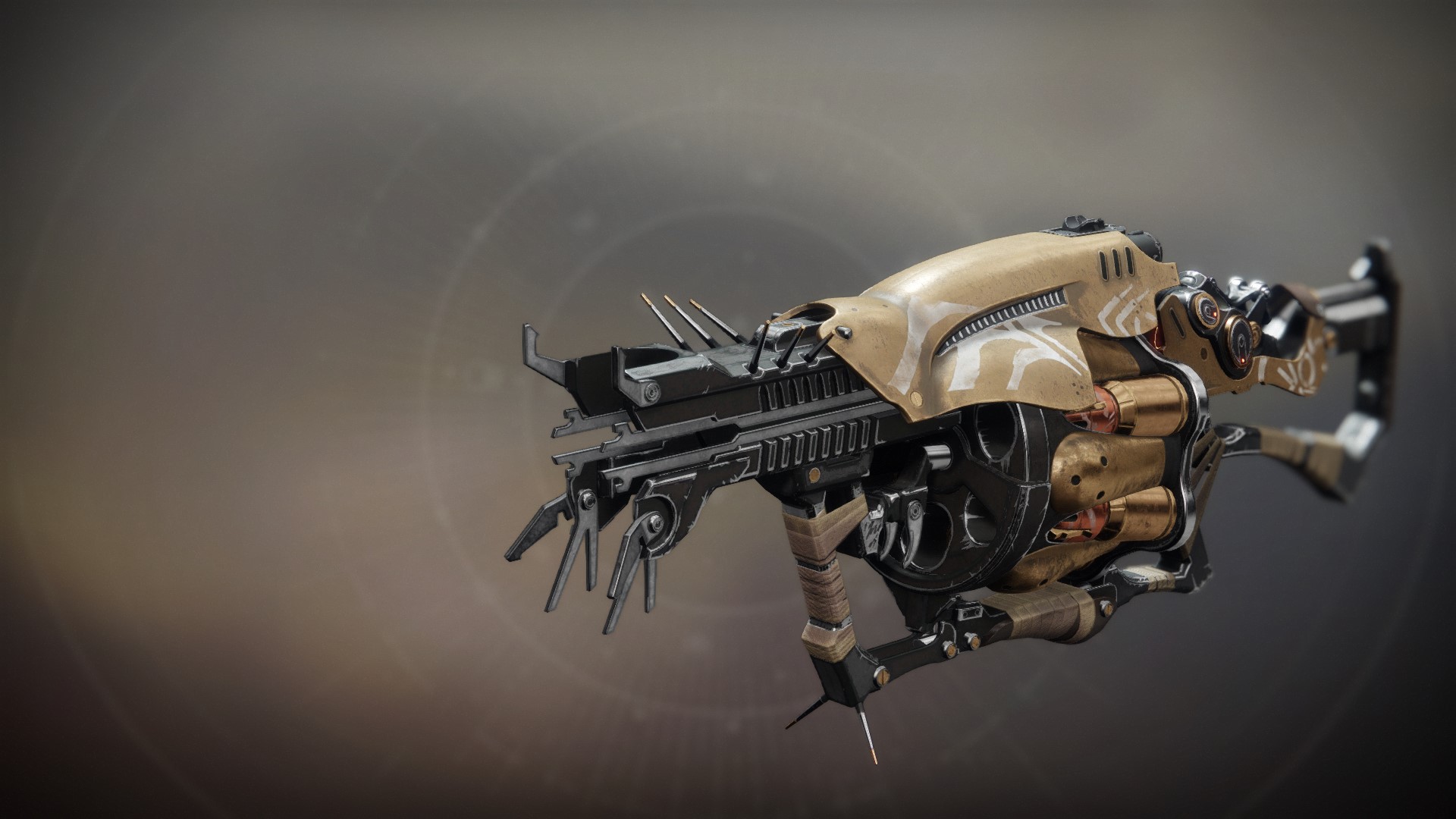 Anarchy
Exotic
Grenade Launcher
Arc
"Stick to wall, ground, human… then FFFFFRRRRRYYYYY! Hehehehehehehe." —Siviks, Lost to None
Read Lore
"You little rat. You took my warm hospitality and stomped all over it like an ungrateful child. Is that any way to treat one of your dear 'brethren'?" Siviks laughed. A cold, twisted laugh. Then offered up a large wad of spit at the Spider's feet. The Spider just rolled his eyes. "Let me know when you're ready to make nice," he said. Siviks' laugh now grew into something maniacal. He topped it off with another wad of spit, this time directly in the Spider's face. Once he'd wiped his brow, the Spider leaned forward, looking Siviks in the eyes, and said, "I think our little rat here needs a time out. Perhaps someplace with the rest of the vermin." The many hands of Spider's men gripped and restrained Siviks. As they dragged him off, he shouted, "You… as bad as all Fallen! Worse, even! A friend even to humans… All must die!" The Spider simply waved goodbye, taunting, "Bon voyage, my friend!" Once Siviks had gone, the Spider looked longingly toward where he had stood. He sighed a deep, regretful sigh before continuing with business as usual.
Competitive PvP

Quickplay PvP

Competitive Co-Op

PvE
Survival

Countdown

Clash: Competitive

Control: Competitive

Crimson Doubles

Trials of the Nine

Trials of Osiris

Elimination
Altar of Flame

The Burnout

Distant Shore

The Dead Cliffs

Endless Vale

Javelin-4

Pacifica

Meltdown

Bannerfall

Firebase Echo

Wormhaven

Convergence

Radiant Cliffs

Equinox

Legion's Gulch

Emperor's Respite

Midtown

The Citadel

Retribution

The Fortress

Solitude

Vostok

Gambler's Ruin
PvP Insights
Item Statistics
Selecting weapon perks and mods can alter the stats shown below.
| | | |
| --- | --- | --- |
| Blast Radius | | 40 |
| Velocity | | 100 |
| Stability | | 64 |
| Handling | | 63 |
| Reload Speed | | 67 |
| Rounds/Min | | 150 |
| Magazine | | 6 |
| | | |
| --- | --- | --- |
| Aim Assistance | | 69 |
| Inventory Size | | 0 |
| Recoil Direction | | 50 |
| Zoom | | 13 |
Season 15
Season of the Lost
Season 14
Season of the Splicer
Season 13
Season of the Chosen
Modified

-

4/19/2021

Modified

-

2/8/2021
Season 12
Season of the Hunt
Season 11
Season of Arrivals
Season 10
Season of the Worthy
Season 9
Season of Dawn
Modified

-

1/27/2020

Modified

-

12/9/2019
Season 8
Destiny 2: Shadowkeep
Modified

-

11/11/2019

Modified

-

10/28/2019

Modified

-

9/30/2019
Season 6
Season of the Drifter: Joker's Wild
Modified

-

5/6/2019

Modified

-

3/4/2019
Season 5
Season of the Forge: Black Armory
Modified

-

1/28/2019

Declassified

-

12/10/2018

Added

-

11/20/2018
Reviews
To write reviews and manage your Guardian while playing, install Destiny Item Manager.
1 year ago
on PlayStation
cool weapon for tactical use.
1 year ago
on PlayStation
One of the very few weapons that is very good at ad clear aswell as boss damage (if damage phase is long enough) and the only weapon that can do both at once. Pop a few grenades on the boss and a few on the floor around you and you're cooking
it was worth my 10 week wait to get it to drop.
I imagine this doesn't have any reviews cuz no one has been able to get it to drop.
1 year ago
on PlayStation
This is the strongest but most underused and underappreciated weapon in the Destiny-franchise. Insane Utility, even more when playing solo. Also very fun to play with.