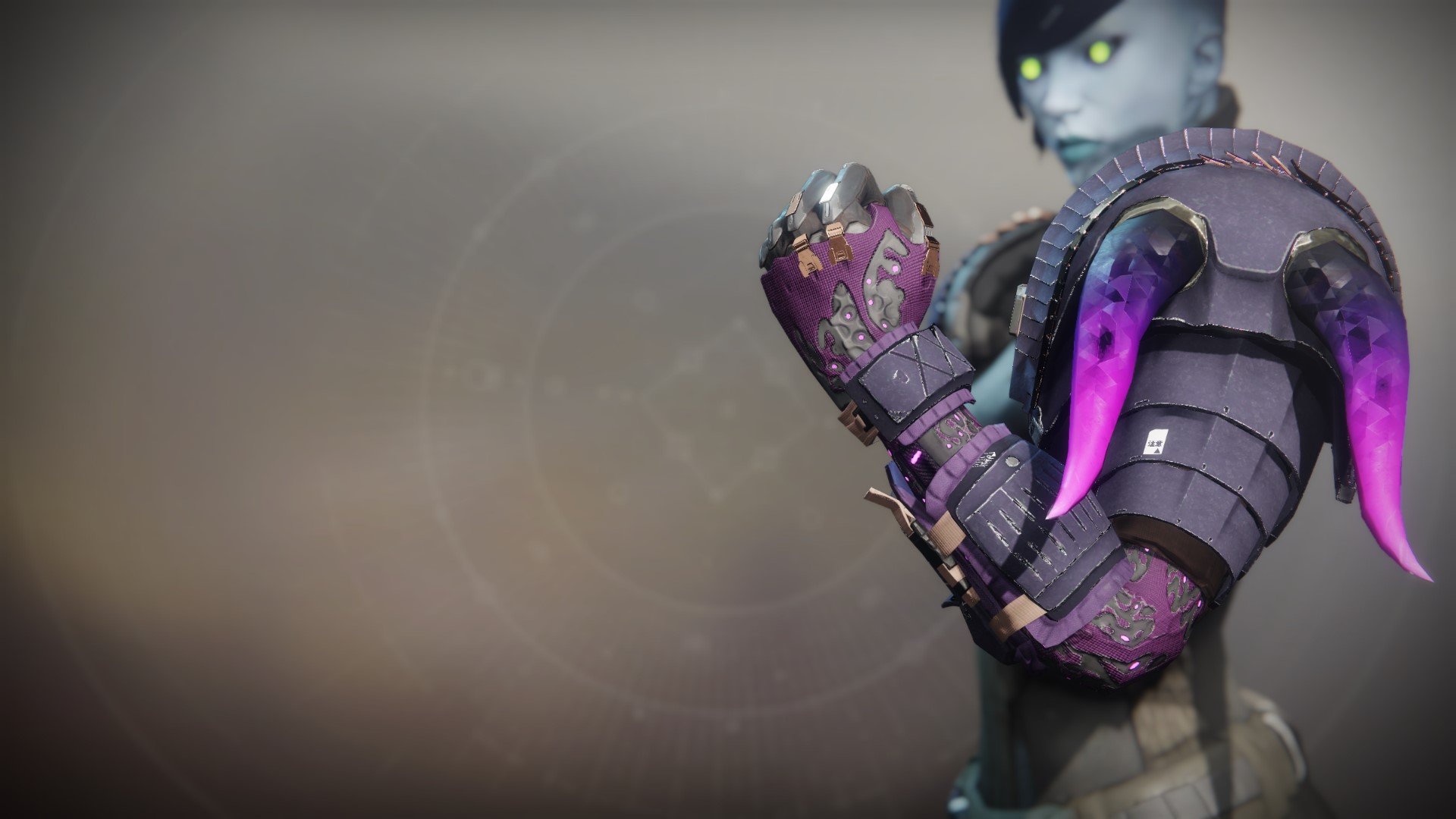 Nobody calls it that.
Read Lore
"It was a Warlock who first worked out that the fangs could be used as some kind of conductive amplifier when specific light frequencies were run through 'em. I don't know the science. That's not for me. I just know they work. And in battle what works is what's best. "Is it weird? Yeah. Maybe. Science fangs and space magic. But I've seen enough strange out there to understand normal ain't the norm. Anyway, the Warlock called 'em 'Bio-Conductive Trouble Breakers'. I call 'em 'Doom Fangs' 'cause of the fang, which is obvious, and then there's the doom we tend to inflict on a situation. "Plus it just sounds cooler." – Unknown Titan
Item Statistics
Selecting weapon perks and mods can alter the stats shown below.
| | | |
| --- | --- | --- |
| Mobility | | |
| Resilience | | 1 |
| Recovery | | 1 |
| | | |
| --- | --- | --- |
| Discipline | | |
| Intellect | | |
| Strength | | |
Season 15
Season of the Lost
Season 14
Season of the Splicer
Modified

-

5/24/2021

Modified

-

5/10/2021
Season 13
Season of the Chosen
Modified

-

4/19/2021

Modified

-

2/8/2021
Season 12
Season of the Hunt
Season 11
Season of Arrivals
Season 10
Season of the Worthy
Season 9
Season of Dawn
Modified

-

1/27/2020

Modified

-

12/9/2019
Season 8
Destiny 2: Shadowkeep
Modified

-

11/11/2019

Modified

-

10/28/2019

Added

-

9/30/2019
Reviews
To write reviews and manage your Guardian while playing, install Destiny Item Manager.
1 year ago
on PlayStation
Only time I take this off in PVE is for jumping puzzles. Run with middle tree sentinal for an infinite super if used properly as well as all the bonuses from the void stickies!
Really fun exotic to use id say its pretty good for crucible
With bottom-tree Sentinel's second shield, you can extend a super out to 4x or 5x the normal length as long as there are adds to smash. Not quite Orpheus Rigs or Phoenix Protocol tier, but close.
1 year ago
on PlayStation
Best Exotic armor for PVE. Infinite super as long you keep killing.
Imagine having a super that lasts as long as you do in bed. Posted by Doom Fang gang.
Perfect for Sentinel titans who never want to stop role playing as Captain America.