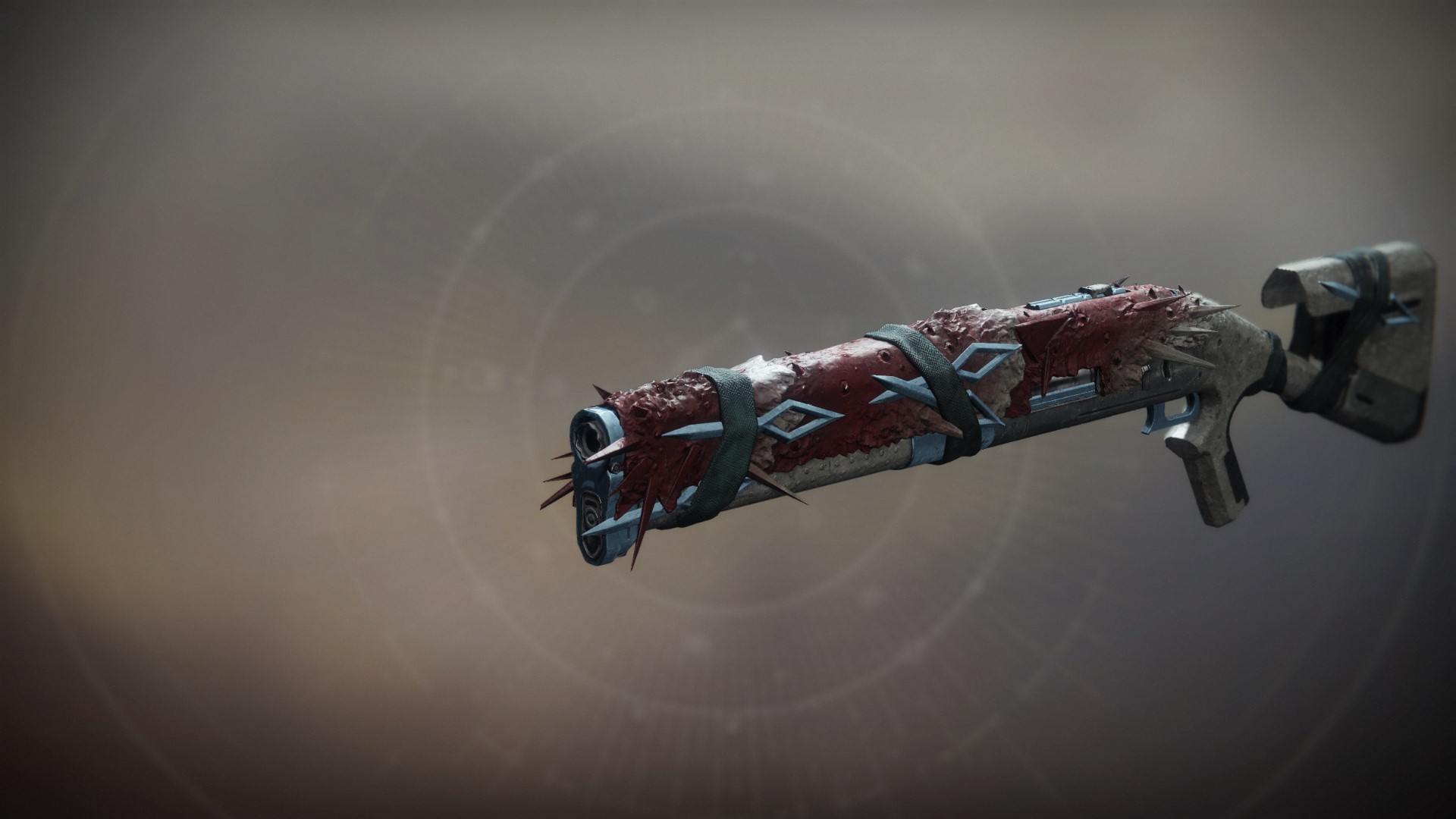 Blasphemer
Legendary
Shotgun
Kinetic
"The logic is ineluctable: Those who die deserve oblivion." —Kuldax
Read Lore
The Pit. The depths where light dies and Light is a sin greater than heresy. There, in the crimson palaces of ancient legions where the plotters of ruin gaze with keen eye upon the harsh caress of beauteous carnage. There, where the armies of marrow clash for the honored glory of oblivion or its opposite—evolution through pain, evolution through force of will and the shattering of all deemed unworthy by the right of blade and fist and heel and tooth and claw. The Pit. The sunken paradise of blood and dust where a Prince was once celebrated with the gift of slaughter, his sword dulled upon the rigid bone of violent sacrifice. There, where a lost Swarm sought a new King of Depths, Lord of Chaos and Ruin. There, in the absence of He Who Mastered Shapes, where that Hidden Swarm found themselves unfit for the logic's prize, where no champion could stand, where a heartbroken Daughter looked upon sin and saw not damnation but the desperate lie of its other. There, in the deepest chambers of decay, proud Hashladûn found salvation in the twisting of the logic's truth. The Pit. The sacred hollow where the Daughters of the Breaker of Worlds, the beloved Granddaughters of the Taker of Will, denied the logic. There, where a shattered champion—a failure according to all that was holy—was resurrected. Not to rule, but to ensure that a tattered lineage held claim to a broken throne through force and lies and war—a joining of the Three. The Pit. The temple where mighty Zulmak fought and died and was risen—no longer a champion, no longer anything but death born of lies and bred anew to conqueror life until life was no more.
Select Activity Type
Competitive PvP
Competitive PvP
Quickplay PvP
Competitive Co-Op
PvE
Survival
Countdown
Clash: Competitive
Control: Competitive
Crimson Doubles
Trials of the Nine
Elimination
Altar of Flame
The Burnout
Distant Shore
The Dead Cliffs
Endless Vale
Javelin-4
Pacifica
Meltdown
Bannerfall
Firebase Echo
Wormhaven
Convergence
Radiant Cliffs
Equinox
Legion's Gulch
Emperor's Respite
Midtown
The Citadel
Retribution
The Fortress
Solitude
Vostok
Gambler's Ruin
PvP Insights
Item Statistics
Selecting weapon perks and mods can alter the stats shown below.
| | | |
| --- | --- | --- |
| Impact | | 70 |
| Range | | 62 |
| Stability | | 46 |
| Handling | | 49 |
| Reload Speed | | 49 |
| Rounds/Min | | 65 |
| Magazine | | 6 |
| | | |
| --- | --- | --- |
| Aim Assistance | | 61 |
| Inventory Size | | 48 |
| Recoil Direction | | 60 |
| Zoom | | 12 |
Source: Altars of Sorrow
Season 8
Destiny 2: Shadowkeep
Declassified

-

10/28/2019

Added

-

9/30/2019
Reviews
To write reviews and manage your Guardian while playing, install Destiny Item Manager.
Chaperone 2 the electric boogaloo
Excellent. Maybe even better than Chaperone because you can put Icarus on it and keep the exotic slot free.
Feels like the chaperone but legendary.
Best shotgun ever. Baby Chaperone
With a curated roll it's a legendary Chaperone. Combo this with a high firerate weapon that uses primary ammo or heavy weapon like colony.
Imagine Chaperone, but now its legendary and you can equip the colony to really go all out!
6 days ago
on PlayStation
mini chaperone
Surprisingly good aim assist.
chaperone but with in air accuracy. chap has more potential to snowball but this is just so much more consistent and easy to use.