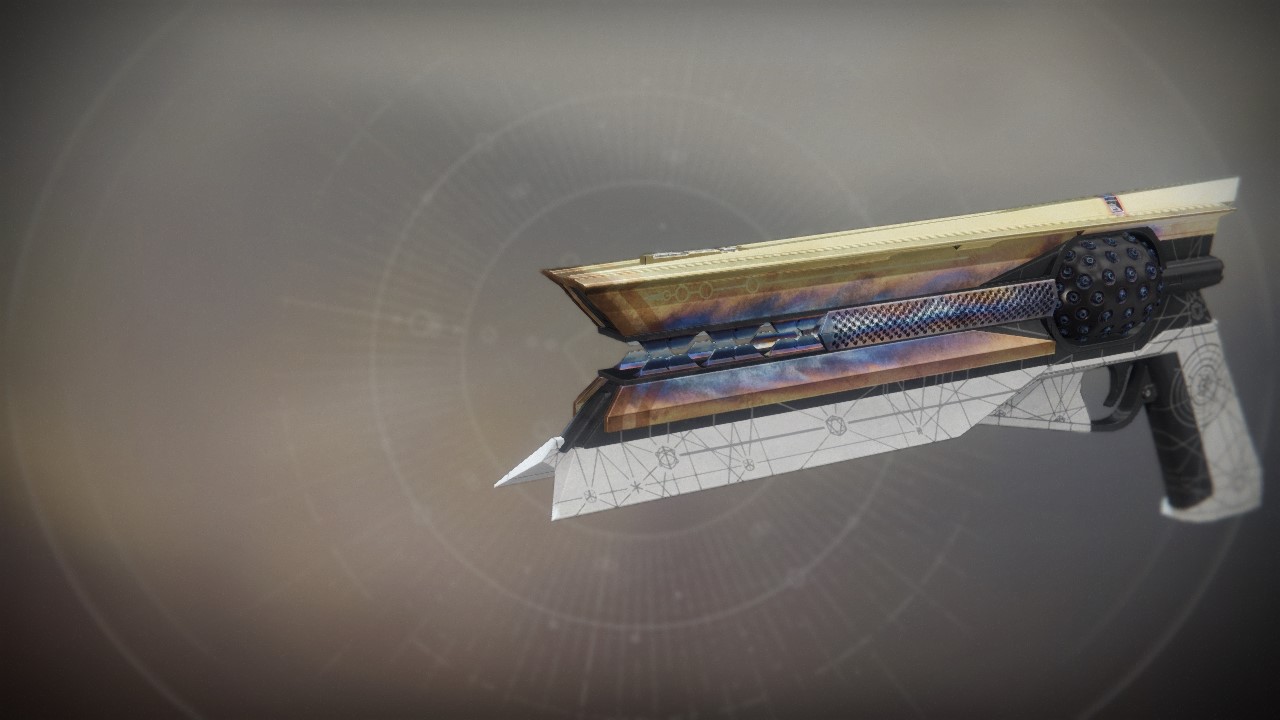 Power

750
"Can't outrun the sunrise." —Liu Feng
Read Lore
She bowed her head, heat shimmering from her fist. A silent salute to the Hive closing around her, their eyes forming a glowing jade ring. She was a Sunbreaker. A mercenary from days before the City. Not like the new Lights from the Tower. She was weary. But there was no rest out here, where the City Lights didn't reach. She and her allies were committed to their arduous, solitary task. But they could always use more numbers. Sometimes, they left trinkets for the City. Meant as challenge and bribe at once—we offer you this. Come find us. She had forged the Warlock gauntlets herself. Ouros laughed in her face when she told her their name. She wasn't very good at names. A gun. She would forge a gun, next. It would speak like her Hammer. And burn like fire. The ring of jade eyes closed on her. Liu Feng laughed, her arms open for a fiery embrace.
Select Activity Type
Competitive PvP
Competitive PvP
Quickplay PvP
Competitive Co-Op
PvE
Survival
Countdown
Clash: Competitive
Control: Competitive
Crimson Doubles
Trials of the Nine
Elimination
Altar of Flame
The Burnout
Distant Shore
The Dead Cliffs
Endless Vale
Javelin-4
Pacifica
Meltdown
Bannerfall
Firebase Echo
Wormhaven
Convergence
Radiant Cliffs
Equinox
Legion's Gulch
Emperor's Respite
Midtown
The Citadel
Retribution
The Fortress
Solitude
Vostok
Gambler's Ruin
PvP Insights
Item Statistics
Selecting weapon perks and mods can alter the stats shown below.
| | | |
| --- | --- | --- |
| Impact | | 80 |
| Range | | 38 |
| Stability | | 46 |
| Handling | | 83 |
| Reload Speed | | 75 |
| Rounds/Min | | 150 |
| Magazine | | 12 |
| | | |
| --- | --- | --- |
| Aim Assistance | | 60 |
| Inventory Size | | 53 |
| Recoil Direction | | 108 |
| Zoom | | 14 |
Source: Exotic engrams; extremely rare world drops.
Season 8
Destiny 2: Shadowkeep
Season 7
Season of the Opulence: Penumbra
Season 6
Season of the Drifter: Joker's Wild
Season 5
Season of the Forge: Black Armory
Modified

-

1/28/2019

Modified

-

11/30/2018
Season 4
Destiny 2: Forsaken
Modified

-

9/17/2018

Modified

-

8/31/2018

Modified

-

8/27/2018
Season 3
Destiny 2 Expansion II: Warmind
Modified

-

6/26/2018

Modified

-

5/23/2018

Modified

-

5/15/2018

Modified

-

5/7/2018
Season 2
Destiny 2 Expansion I: Curse of Osiris
Modified

-

4/3/2018

Modified

-

1/23/2018

Modified

-

12/11/2017

Modified

-

12/4/2017
Season 1
Destiny 2 Release
Modified

-

11/14/2017

Modified

-

10/18/2017

Added

-

9/5/2017
Reviews
To write reviews and manage your Guardian while playing, install Destiny Item Manager.
Literally just Graviton Lance, but without the damage or range or blast radius. The ONLY thing this has over GL is that the chain explosion works on Shanks and Harpies. Just use Graviton Lance, it's better in literally every way. You're a 2-digit IQ idiot if you use this over Graviton Lance.
14 hours ago
on PlayStation
When you absolutely must explode everything in your path. Great look, great sounds, great reload, great explosions. My new (old) favorite gun in shadowkeep
3 days ago
on PlayStation
great weapon
the sandbox change has made this lethal in pvp
3 days ago
on PlayStation
Finally Sunshot has the place it deserves! I use it in Pve for ad clearing and in Pvp paired with the Revoker.
After getting mag size buff it's crispy. Get the catalyst. It makes a huge difference to range / stability.
easy ad clear gun and god PvP gun
Exceptionally stellar for clearing trash. AOE effect sets off a chain reaction, precision hits are best, especially now in Shadow Keep. Definitely get the catalyst and level it pronto. It nearly increase every stat to almost 90% roughly.
In addition to the firing animation looking cleaner, the mag buff is a great QOL change for Sunshot. Sunshot's weaknesses weren't in damage, but rather being able to hit the damn target with enough ammo.
5 days ago
on PlayStation