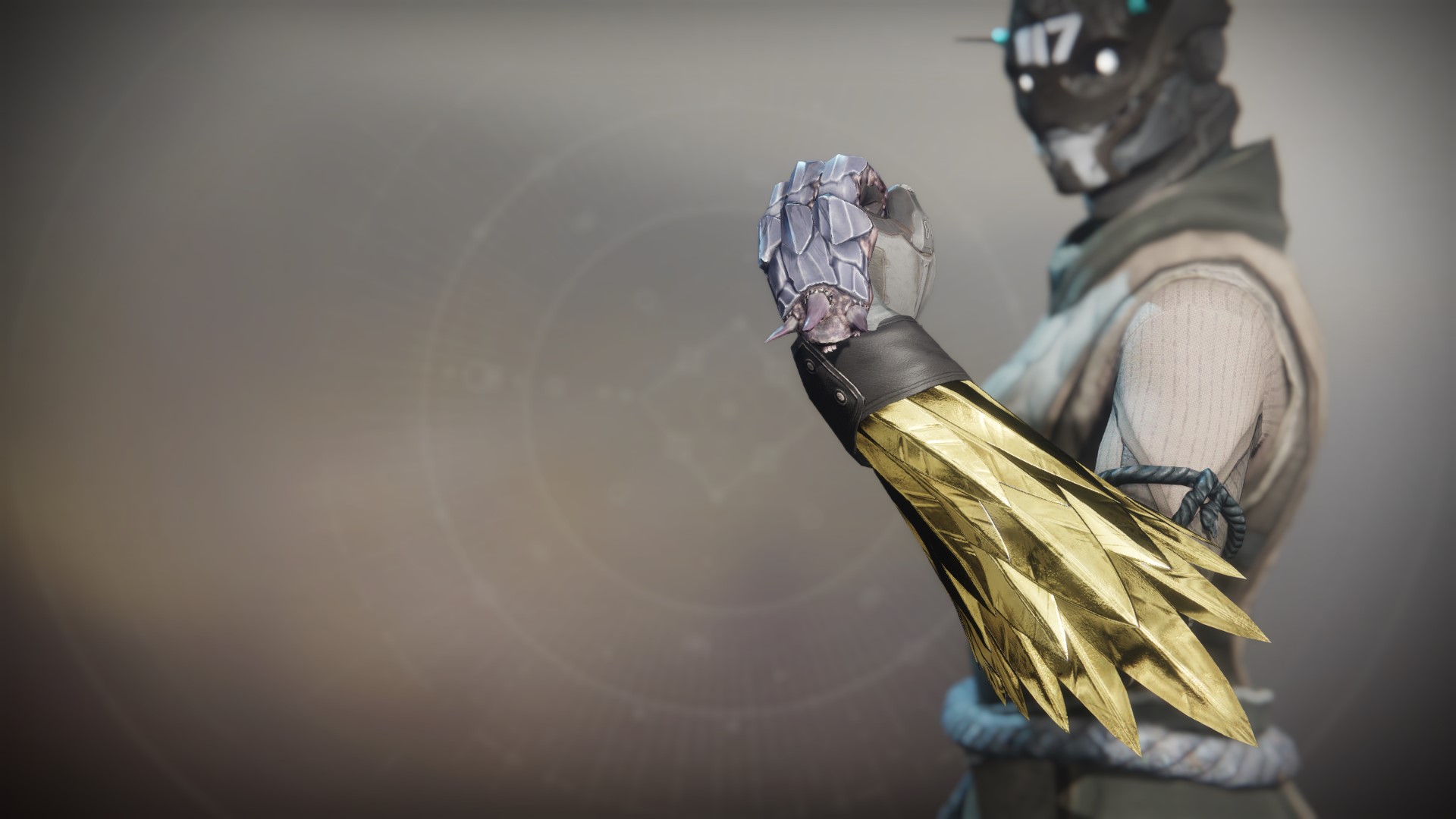 The mind is malleable, filled with transient and fleeting ideas. Let us shape it, so that you may see the infinite splendor of the universe.
Read Lore
It's suffocating here, this prison. Do us a favor, o bearer ours. Still your mind; invite us to enter the realm of your capricious thoughts. Your mind is vociferous, addled with worry and doubt. We can extinguish these trifles. Would you like that? Yes, we are here. We are not the photons on your screen, or the voice in your head, or the words you read. Shut your eyes—tightly—and you may see us. At least a part of us. Make us real, and in turn we shall reify your thoughts, your dreams.
Item Statistics
Selecting weapon perks and mods can alter the stats shown below.
| | | |
| --- | --- | --- |
| Mobility | | |
| Resilience | | |
| Recovery | | 2 |
| | | |
| --- | --- | --- |
| Discipline | | |
| Intellect | | |
| Strength | | |
Season 14
Season of the Splicer
Season 13
Season of the Chosen
Modified

-

4/19/2021

Modified

-

2/8/2021
Season 12
Season of the Hunt
Season 11
Season of Arrivals
Season 10
Season of the Worthy
Season 9
Season of Dawn
Modified

-

1/27/2020

Modified

-

12/9/2019
Season 8
Destiny 2: Shadowkeep
Modified

-

11/11/2019

Modified

-

10/28/2019

Added

-

9/30/2019
Reviews
To write reviews and manage your Guardian while playing, install Destiny Item Manager.
1 year ago
on PlayStation
Two melee charges for top tree Dawnblade is nice. Good way to finish off opponents who managed to get behind cover after being body shot by a Sniper. Works well with Solar Plexus mod for top tree Dawnblade as well. Basically you always have a projectile ready thats target seeking and has a bit of area damage and takes more than half of anyones health.
It is 5-star if you want an extra melee charge. After all, that what it does. That is all it does. Why would you even rate this if that was not what you were looking for?
1 year ago
on PlayStation
Pairs really well with the newly changed top tree Dawnblade. Rocket launcher airborne kills basically give you all of your melees back too
1 year ago
on PlayStation