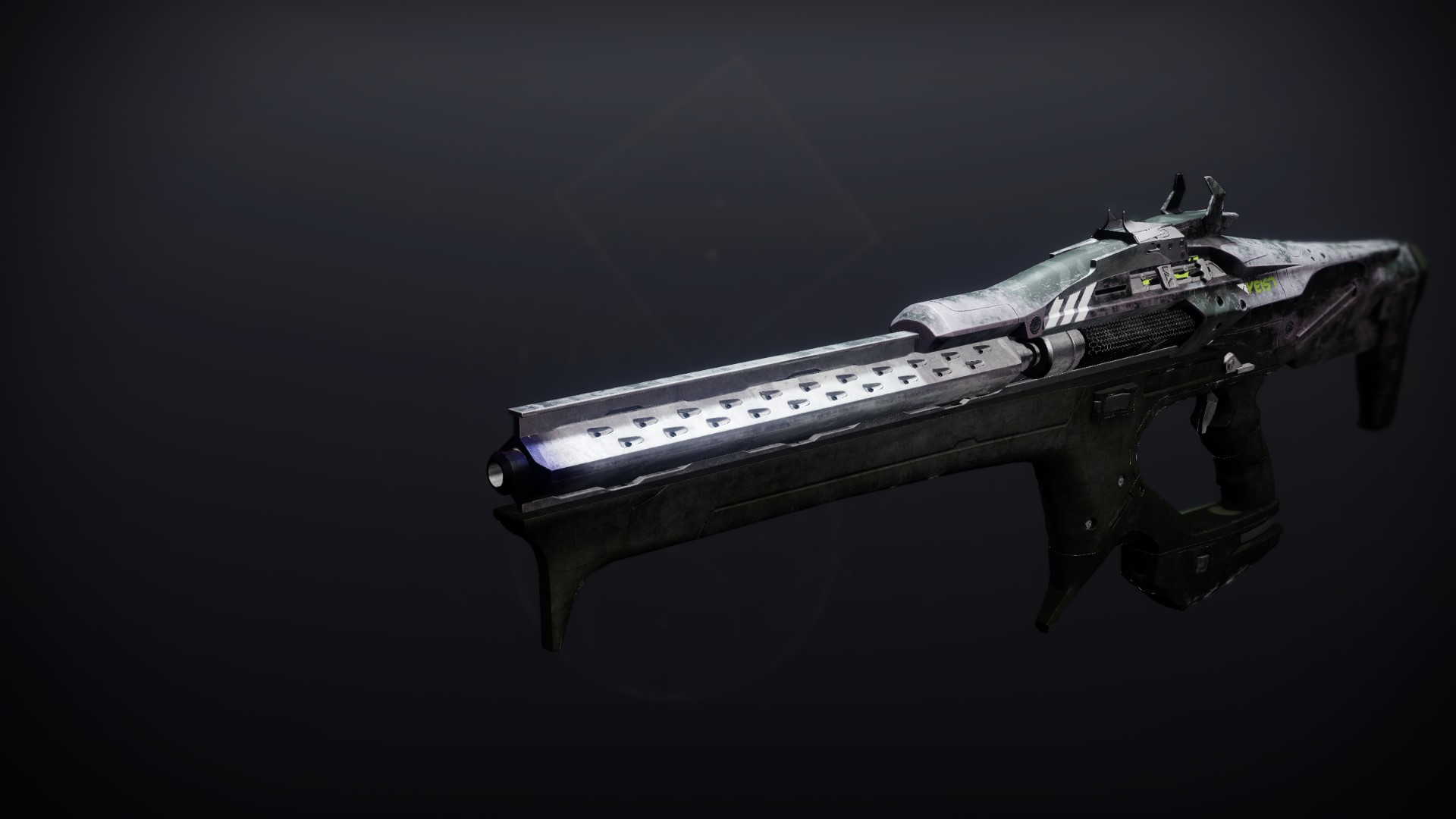 Tarantula
Legendary
Linear Fusion Rifle
Arc
Read Lore
"You can't be serious, Arrha. Nothing? You couldn't even scrape off a little stone to bring me?" Arrha shook his head. "The Spider asked for information," he answered in Eliksni, "But Cabal have found nothing, and House Salvation is still scattered." "I know what I asked for. And you know better than to return to me empty-handed. At least I thought you knew." Spider narrowed his eyes at his trembling Associate. "I do, the Spider. I… I have information, but not about Darkness. I saw the Crow. Tailing the Golem and his crew." "The Vanguard has him sniffing around Basilius, hm? So we do have something to trade with the empress after all. Not that it'll do her any good; my little bird is devilishly hard to catch." Spider leaned forward. "Now HE would've gotten me something useful from Europa. You might've learned from him." "Yes, the Spider." Arrha nodded vigorously. The faint sounds of revelry drifted in from down the hall, where the other Associates were enjoying their week's earnings. "Avrok already told me about Crow's new assignment as Vanguard agent. Apparently, he's placed quite the wager on one of the Cabal's silly Rites ," the Spider chuckled. "Avrok should've dared him to bet his freedom. Could stand to win my whole trove, he's that valuable." "Yes, the Spider," Arrha repeated. Out of corner of his eye, he could see his share of Ether waiting in the corner. "Oh, take your wages and go. I ought to dock you for bringing me nothing, but I'm feeling generous this week." Spider's voice dropped into a growl. "Remember that I am good to you, Arrha." Arrha nodded as he scrambled to grab his Ether tanks and get out. Finally alone, the Spider sat back in his throne. "It's Crow, really, that needs the reminder," he mused aloud. "I wonder how I might give it to him?"
Competitive PvP

Quickplay PvP

Competitive Co-Op

PvE
Survival

Countdown

Clash: Competitive

Control: Competitive

Crimson Doubles

Trials of the Nine

Trials of Osiris

Elimination
Altar of Flame

The Burnout

Distant Shore

The Dead Cliffs

Endless Vale

Javelin-4

Pacifica

Meltdown

Bannerfall

Firebase Echo

Wormhaven

Convergence

Radiant Cliffs

Equinox

Legion's Gulch

Emperor's Respite

Midtown

The Citadel

Retribution

The Fortress

Solitude

Vostok

Gambler's Ruin
PvP Insights
Item Statistics
Selecting weapon perks and mods can alter the stats shown below.
| | | |
| --- | --- | --- |
| Impact | | 41 |
| Range | | 60 |
| Stability | | 43 |
| Handling | | 33 |
| Reload Speed | | 31 |
| Charge Time | | 533 |
| Magazine | | 6 |
| | | |
| --- | --- | --- |
| Aim Assistance | | 58 |
| Inventory Size | | 30 |
| Recoil Direction | | 65 |
| Zoom | | 25 |

Fragile Prismatic Lens
Focused Umbral Engram,

Legendary
A Focused Umbral Engram containing reforged weapons from the Red War.

Fragile Prismatic Lens
Fragile Prismatic Lens,

Legendary
A limited-use Prismatic Lens with the ability to focus an Umbral Engram. Remaining Uses: 1
Season 0
Modified

-

10/11/2021

Modified

-

9/13/2021
Season 14
Season of the Splicer
Modified

-

5/24/2021

Modified

-

5/10/2021
Season 13
Season of the Chosen
Modified

-

4/19/2021

Added

-

2/8/2021
Reviews
To write reviews and manage your Guardian while playing, install Destiny Item Manager.