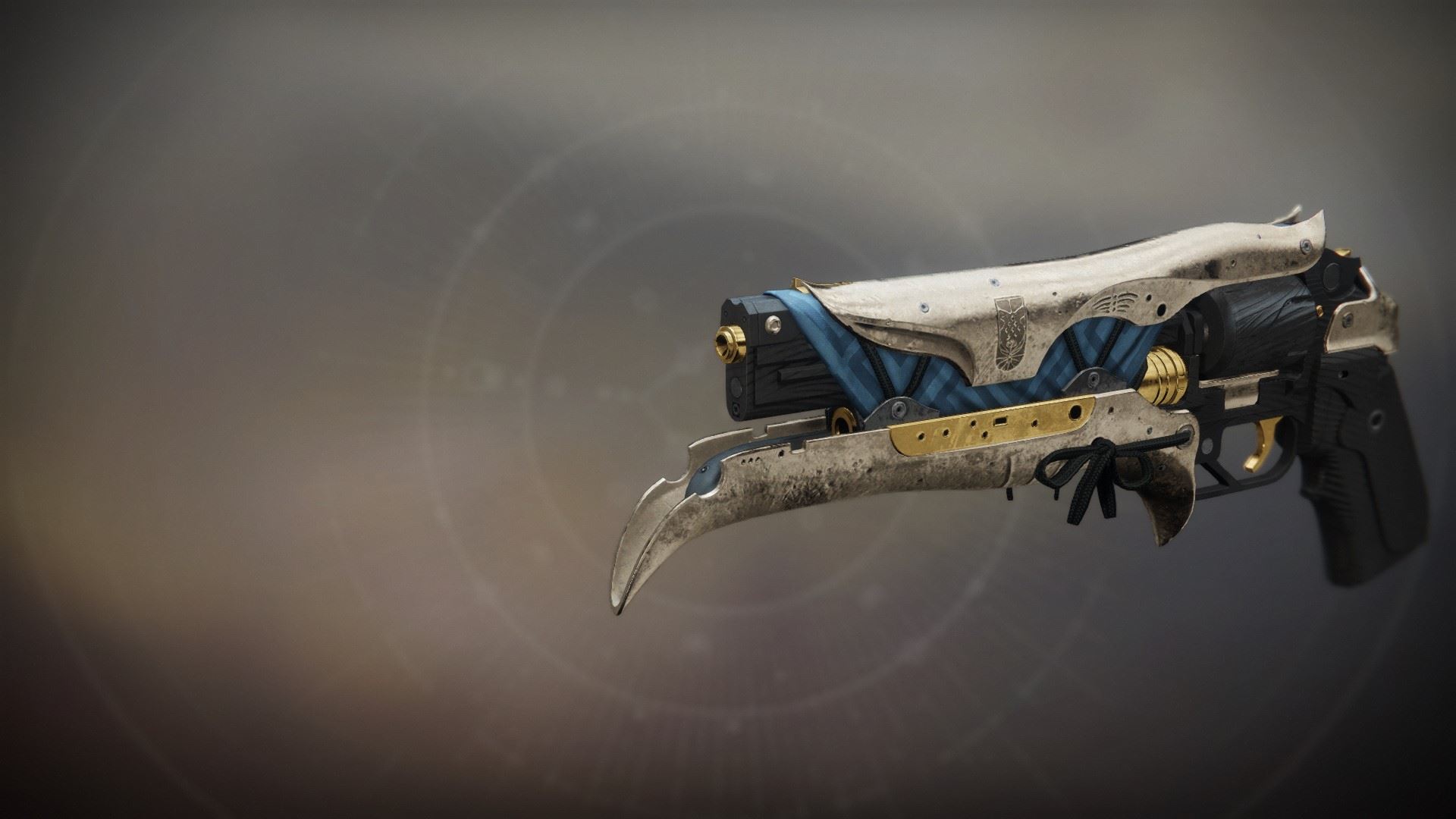 Waking Vigil
Legendary
Hand Cannon
Arc
"We have a duty to this solar system that goes deeper than blood, deeper than oaths." —Paladin Devi Cassl
Read Lore
Pranav sucks his cheeks between his molars as he considers his options. "Stop that," Devi says, swatting playfully at his hand. "It makes you look stupid." "Ashamed of your stupid brother?" he teases, vacuuming his cheeks even further into his mouth. "Never," Devi says fiercely, forgetting the joke. They fall quiet. Eventually, she reaches for her hand cannon and rises to leave. "Anyway, I… I understand why you left. You've done so much good here." She looks out over the valley that Pranav has protected for the centuries since he left the Reef. "I just wanted to say that, in case…" Pranav is quiet. Then he stands, fetches his rifle. "And I understand why you stayed. I'm coming with you. Assuming Petra welcomes me back." Relief and delight takes Devi's breath away. She throws her arms around him. "She will! She's just a baby, but she's practical, Pranav, you'll see. And anyway, we… There aren't enough of us now to turn away you Earth-lovers. We need all the help we can get."
Select Activity Type
Competitive PvP
Competitive PvP
Quickplay PvP
Competitive Co-Op
PvE
Survival
Countdown
Clash: Competitive
Control: Competitive
Crimson Doubles
Trials of the Nine
Elimination
Altar of Flame
The Burnout
Distant Shore
The Dead Cliffs
Endless Vale
Javelin-4
Pacifica
Meltdown
Bannerfall
Firebase Echo
Wormhaven
Convergence
Radiant Cliffs
Equinox
Legion's Gulch
Emperor's Respite
Midtown
The Citadel
Retribution
The Fortress
Solitude
Vostok
Gambler's Ruin
PvP Insights
Item Statistics
Selecting weapon perks and mods can alter the stats shown below.
| | | |
| --- | --- | --- |
| Impact | | 80 |
| Range | | 38 |
| Stability | | 44 |
| Handling | | 67 |
| Reload Speed | | 60 |
| Rounds/Min | | 150 |
| Magazine | | 12 |
| | | |
| --- | --- | --- |
| Aim Assistance | | 85 |
| Inventory Size | | 46 |
| Recoil Direction | | 98 |
| Zoom | | 14 |
Source: Complete activities in the Dreaming City.
Season 8
Destiny 2: Shadowkeep
Season 5
Season of the Forge: Black Armory
Season 4
Destiny 2: Forsaken
Modified

-

9/17/2018

Modified

-

8/31/2018

Added

-

8/27/2018
Reviews
To write reviews and manage your Guardian while playing, install Destiny Item Manager.
Really amazing hand cannon. Feels really good to shoot
4 days ago
on PlayStation
5 days ago
on PlayStation
Too good
The single best hand cannon in the game. Slide shot/opening shot with range perks and every other HC feels lackluster.
1 week ago
on PlayStation
if good roll good gun very kill
1 week ago
on PlayStation
Dragonfly High Cal Rounds Zen Moment was my go-to for the longest time. It was a sleeper powerhouse of a PVE weapon. Since the adjustments to damage with hand cannons, its not as incredible as it used to be but its still one of my favorite guns. Maybe one day it will be able to headshot vandals again but for now my baby is hurt and i can't abandon it.