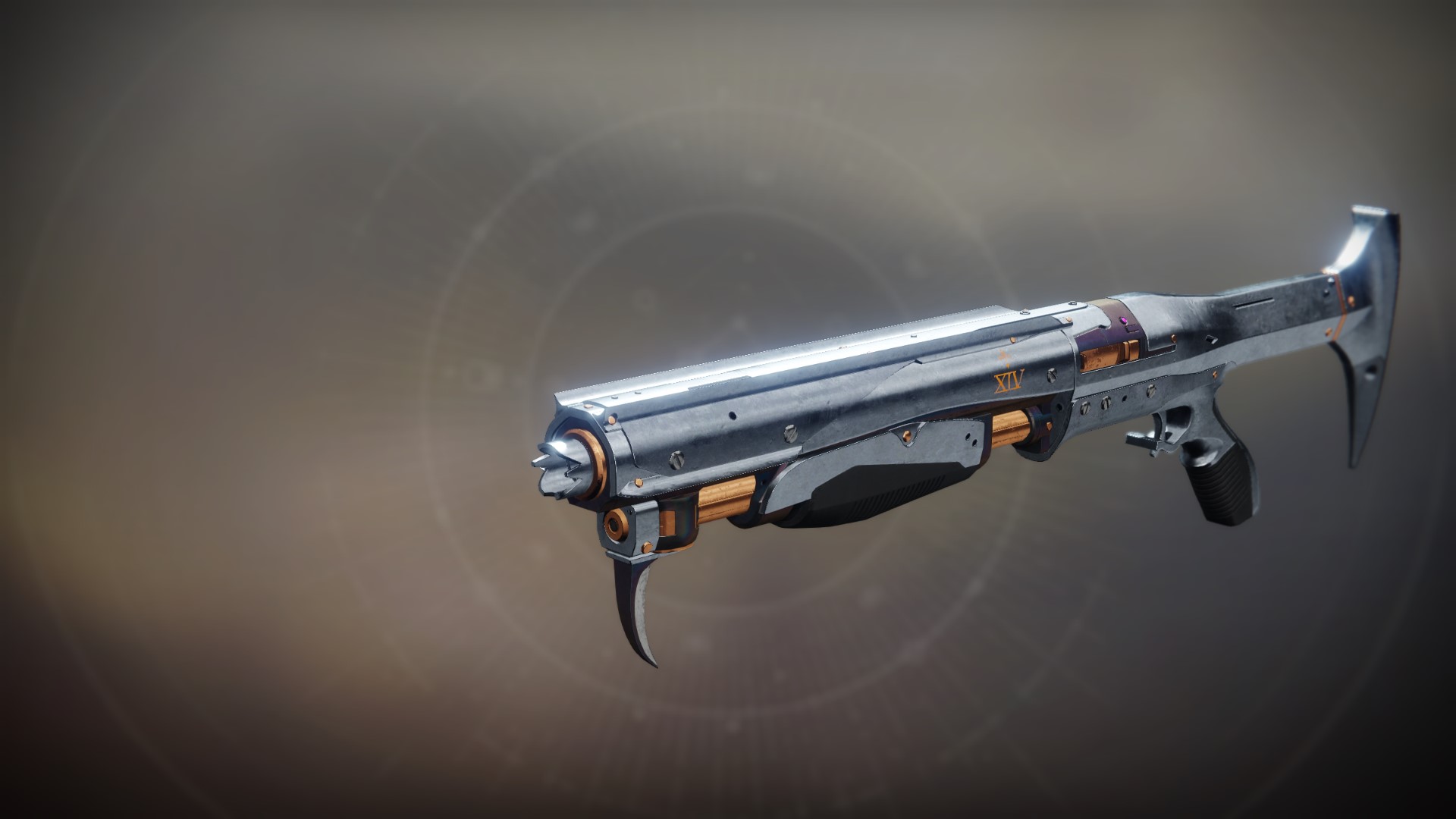 Perfect Paradox
Legendary
Shotgun
Kinetic
A tale that's different from the rest: the thread unfurls against the clocks. The one the Speaker loved the best must have a perfect paradox.
Read Lore
I never found Osiris, but I've killed enough Vex to end a war. And they, in turn, struck a fatal blow: they completed a Mind with the sole function to drain the Light from me. It worked very well. Don't worry (not that you worry much). It took them centuries to build, keyed to the unique frequency of my Light. And I sit atop its shattered husk. I mourn that I will never reach the heights you have. To me, you represent everything a Guardian can become. Yours is a thriving City. So different from mine. My whole fourteenth life I fought to make my City yours. I never finished. All I have left is this weapon. The Cryptarchs say you crafted it yourself, built it out of scraps and Light and sheer will, inside the Infinite Forge. I'll make sure it finds its way back to you. When you gave it to me, I swore I would make it my duty to follow your example. I'm still trying. —Saint-14
Select Activity Type
Competitive PvP
Competitive PvP
Quickplay PvP
Competitive Co-Op
PvE
Survival
Countdown
Clash: Competitive
Control: Competitive
Crimson Doubles
Trials of the Nine
Elimination
Altar of Flame
The Burnout
Distant Shore
The Dead Cliffs
Endless Vale
Javelin-4
Pacifica
Meltdown
Bannerfall
Firebase Echo
Wormhaven
Convergence
Radiant Cliffs
Equinox
Legion's Gulch
Emperor's Respite
Midtown
The Citadel
Retribution
The Fortress
Solitude
Vostok
Gambler's Ruin
PvP Insights
Item Statistics
Selecting weapon perks and mods can alter the stats shown below.
| | | |
| --- | --- | --- |
| Impact | | 65 |
| Range | | 39 |
| Stability | | 42 |
| Handling | | 49 |
| Reload Speed | | 68 |
| Rounds/Min | | 140 |
| Magazine | | 7 |
| | | |
| --- | --- | --- |
| Aim Assistance | | 70 |
| Inventory Size | | 54 |
| Recoil Direction | | 61 |
| Zoom | | 12 |
Reviews
To write reviews and manage your Guardian while playing, install Destiny Item Manager.
14 hours ago
on PlayStation
Good for PVE. 3 shots punch --> over again
4 days ago
on PlayStation
Not only can you get Threat Level replacement with this shotgun, but with the higher end of the season pass rewards you can get two perks to chose from instead of just one, and you can roll trench barrel AND one-two punch for a double god-roll.
It can drop with demolitionist + 1/2Punch and Swashbuckler. If you get this roll, it's a great kinetic shotty. Especially if you've unlocked having two final perks and switch between Punch and Swash. Less amazing in PvP. Not bad, just fine.
1 week ago
on PlayStation
Amazing for taking down enemies with a lot of hp quickly
1 week ago
on PlayStation
Best Full Auto Shotgun I've obtained so far. Though I wish it's Masterwork was anything other than Handling.
2 weeks ago
on PlayStation
Ridiculously good perk pool for PvE... absolute god tier. Demolitionist with One Two Punch, Trench Barrel, Rampage, or Swash. Doesn't get much better. Farm the shit out of this.
Field prep + trench barrel = ez
This is a good rapid-fire shotgun that's not too hard to get and farm. It can roll with one-two punch or trench barrel which are both great for melee builds.