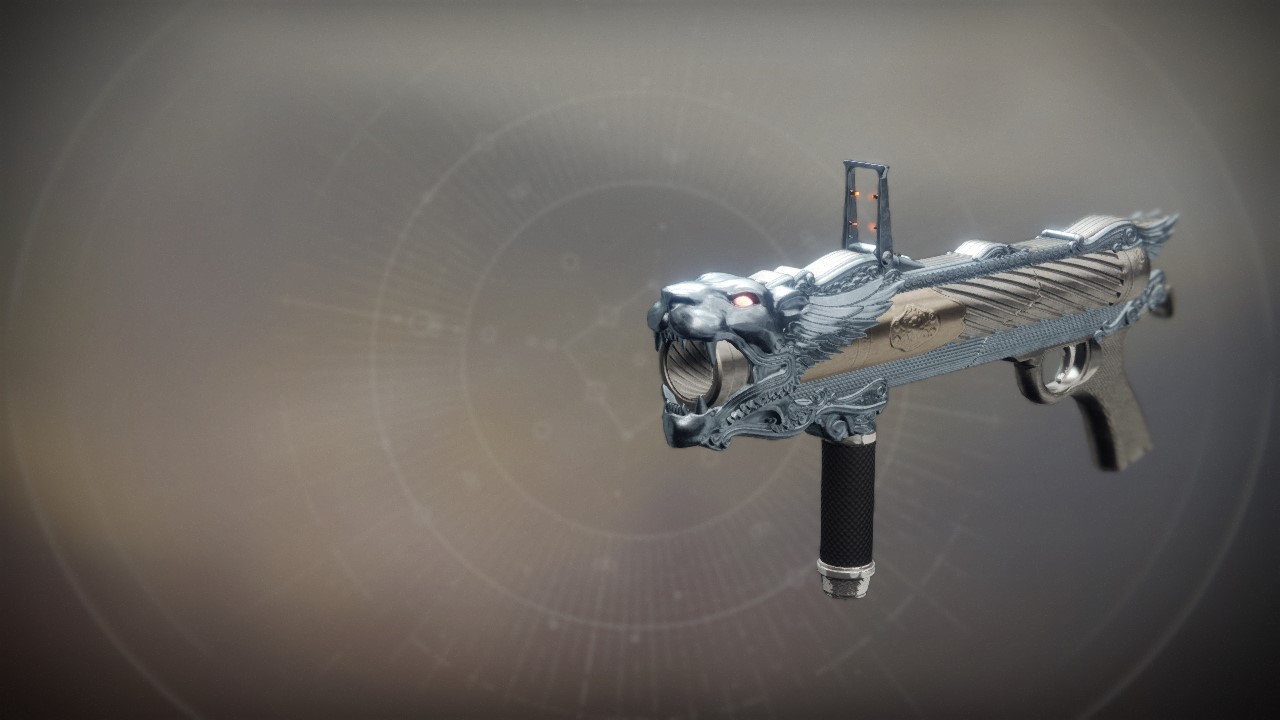 Fighting Lion
Exotic
Grenade Launcher
Void
"I call it the Zhang Fei. It hits almost as hard as I do." —Wei Ning
Read Lore
Wei Ning punched the mountain. It moved. A microscopic shudder, but enough to make her punch it again. "They're just angry that you keep winning without a gun." Her Ghost danced fretfully around her fist. "That's why they say these things. Jealousy." "I tell you," Ning grunted, shattering granite, "someday they'll lose their smart guns and fancy ships, and then they'll wish they'd listened! There's one weapon you can always count on, and it's your strong hand." "Eriana would be sad to hear you dismissing machines." Her Ghost bobbed slyly up to her shoulder. "Eriana would ask if those mighty hands could build a machine in the image of your strength. Just like she was made in the image of a woman." Wei Ning tapped her fists together. "Huh," she said.
Select Activity Type
Competitive PvP
Competitive PvP
Quickplay PvP
Competitive Co-Op
PvE
Survival
Countdown
Clash: Competitive
Control: Competitive
Crimson Doubles
Trials of the Nine
Elimination
Altar of Flame
The Burnout
Distant Shore
The Dead Cliffs
Endless Vale
Javelin-4
Pacifica
Meltdown
Bannerfall
Firebase Echo
Wormhaven
Convergence
Radiant Cliffs
Equinox
Legion's Gulch
Emperor's Respite
Midtown
The Citadel
Retribution
The Fortress
Solitude
Vostok
Gambler's Ruin
PvP Insights
Item Statistics
Selecting weapon perks and mods can alter the stats shown below.
| | | |
| --- | --- | --- |
| Blast Radius | | 55 |
| Velocity | | 46 |
| Stability | | 55 |
| Handling | | 82 |
| Reload Speed | | 55 |
| Rounds/Min | | 72 |
| Magazine | | 1 |
| | | |
| --- | --- | --- |
| Aim Assistance | | 80 |
| Inventory Size | | 0 |
| Recoil Direction | | 90 |
| Zoom | | 13 |
Source: Exotic engrams; extremely rare world drops.
Season 8
Destiny 2: Shadowkeep
Season 7
Season of the Opulence: Penumbra
Season 6
Season of the Drifter: Joker's Wild
Season 5
Season of the Forge: Black Armory
Modified

-

1/28/2019

Modified

-

11/30/2018
Season 4
Destiny 2: Forsaken
Modified

-

10/11/2018

Modified

-

9/17/2018

Modified

-

8/31/2018

Modified

-

8/27/2018
Season 3
Destiny 2 Expansion II: Warmind
Modified

-

6/26/2018

Modified

-

6/25/2018

Modified

-

5/23/2018

Modified

-

5/15/2018

Modified

-

5/7/2018
Season 2
Destiny 2 Expansion I: Curse of Osiris
Modified

-

4/3/2018

Modified

-

2/6/2018

Modified

-

1/23/2018

Modified

-

12/11/2017

Modified

-

12/4/2017
Season 1
Destiny 2 Release
Modified

-

11/14/2017

Modified

-

10/18/2017

Added

-

9/5/2017
Reviews
To write reviews and manage your Guardian while playing, install Destiny Item Manager.
Great damage against groups, and pretty much infinite ammo. Even against single targets it is still pretty great.
Awesome for PvE and PvP. Just work on your timing for the remote detonation and you will love this thing too. Can't wait to finish the catalyst and get that quick reload speed.
2 days ago
on PlayStation
the fact that this uses primary ammo made me fall in love with it pretty quickly
not really a PvP weapon, but it melts anything in PvE. Spend some time getting used to remotely detonating it with trigger control and canceling post-fire delay by reloading right away and there'll be no ads to fear. The weapon truly shines in the hands of a Nezerec warlock, who can fire up to 3 shots mid-air without falling down and risking killing self. Keep in mind all grenade launchers are perfectly accurate from hip-fire.
Satisfying to use in PVP, it is just so good
3 days ago
on PlayStation
Simply amazing, as much as I try to mix up my loadout I always seem to fall back on the Lion when it gets really nasty out there. Forges, EP, Vex invasions--this thing will save your life. Master the "remote detonation" of your shot and this gun is unmatched.
1 week ago
on PlayStation
this is the only gun in the game. no other guns exist. fuck you.
This is the single greatest weapon in the game Post-Warmind when it was buffed into godhood. The best primary weapon in the game. All you need is a good Kinetic weapon.
Crazy good for crucible. Banking a kill around the corner is one of the best feelings in there.