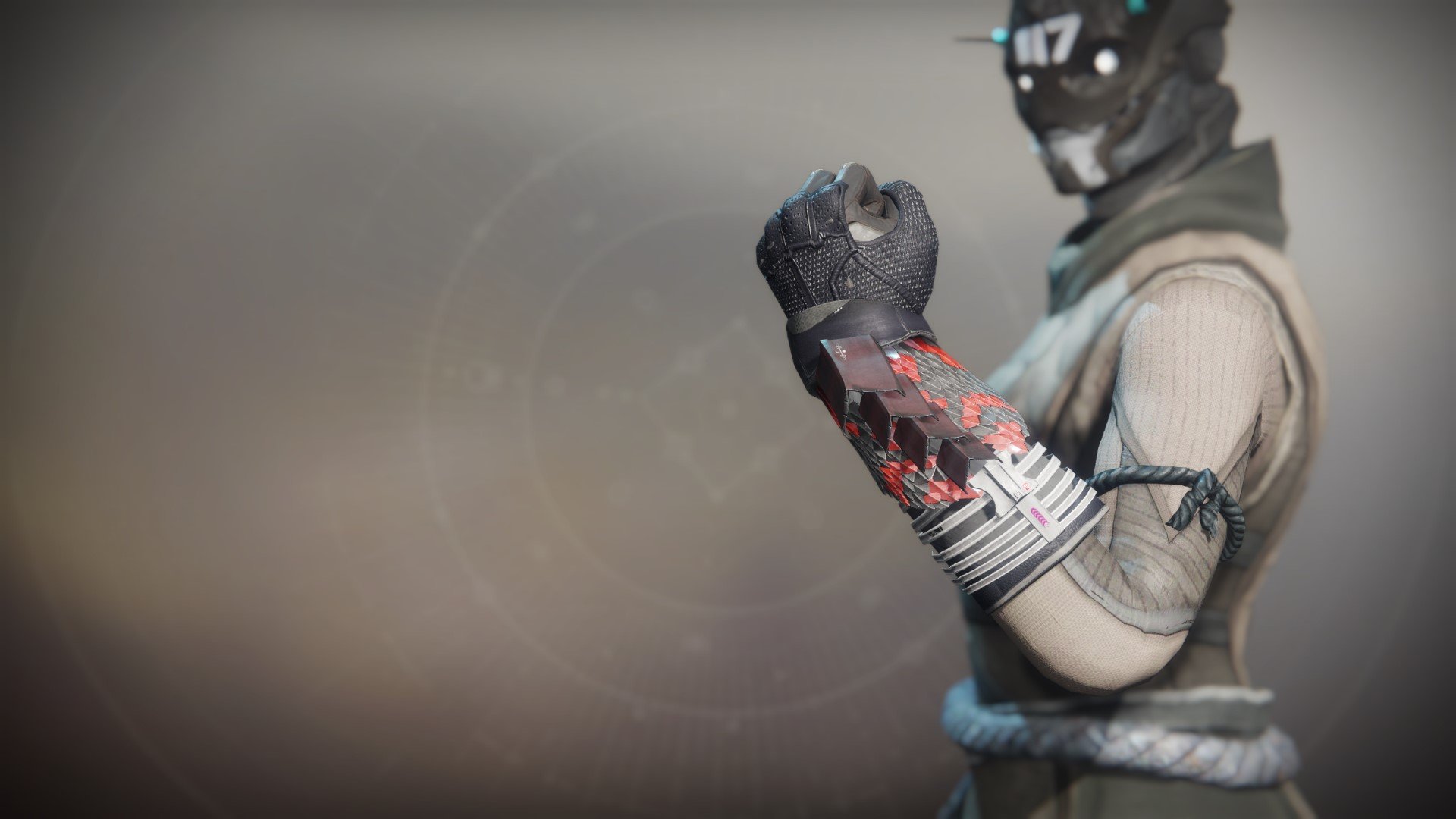 "You are mine, you shall be mine, you and I are one for ever."
Read Lore
As you test the armlet, a regal voice sounds in your mind. "Listen! I made this armlet to help you in your quests. Will you help me in mine? "I remember a woman from my first life. I remember she was mine, my love, my wife. And I was hers, her love, her wife. I remember nothing else except the hole in my heart. I live in hope that she, too, has been reincarnated somewhere on this new Earth. "I built this armlet with a neuromech trawl. It will scour whatever mind it touches, flesh or machine, for any hint of my beloved. The trawl will drink power to feed you. And if anyone you touch has seen my wife, the trawl will know. If, only and ever if, I have remembered her truly."
Item Statistics
Selecting weapon perks and mods can alter the stats shown below.
| | | |
| --- | --- | --- |
| Mobility | | |
| Resilience | | 1 |
| Recovery | | 1 |
| | | |
| --- | --- | --- |
| Discipline | | |
| Intellect | | |
| Strength | | |
Season 14
Season of the Splicer
Season 13
Season of the Chosen
Modified

-

4/19/2021

Modified

-

2/8/2021
Season 12
Season of the Hunt
Season 11
Season of Arrivals
Season 10
Season of the Worthy
Season 9
Season of Dawn
Modified

-

1/27/2020

Modified

-

12/9/2019
Season 8
Destiny 2: Shadowkeep
Modified

-

11/11/2019

Modified

-

10/28/2019

Added

-

9/30/2019
Reviews
To write reviews and manage your Guardian while playing, install Destiny Item Manager.
Very good for survive, Kill little Mob and regen
Very good for survive, Kill little Mob and regen
If you really want to be this tanky you should probably just run bottom tree voidwalker. The two together is overkill, and these with any other subclass doesn't really justify the slot
Is almost a year i use those and they are awesome if you want a more "tanky" (and melee) Warlock. They saved me countless times in many situations. They really shine when you are swarmed by gazillion of small mobs. If you really want to overkill, pair them with the bottom Void class for an almost "i'm unkillable" feel. If your playstyle is long distance killer, dont use them
Универсальная вещь. Получил слишком много урона и спрятаться негде - найди крипа или почти добитого врага. Это лучший вариант выжить в окружении крипов, переагрив их также на себя.